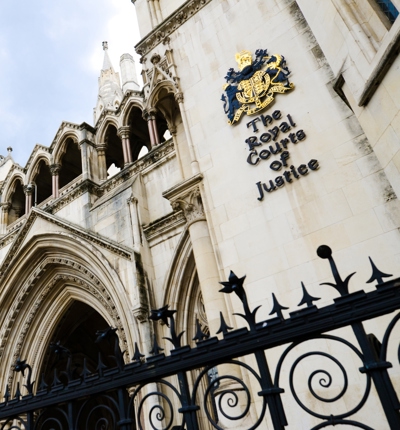 Government intelligence sharing led to arrest and torture of British citizen in India, it is claimed
UK citizen Jagtar Singh Johal claims intelligence sharing by MI5 led to him being picked up by an Indian police force, tortured and then held in custody for five years.
Mr Johal, a blogger who has been critical of human rights violations committed by the Indian Government against Sikhs and has attended protests in the UK in support of India's Sikh community, was arrested while on his honeymoon in the Punjab in October 2017. He was hooded, forced into an unmarked vehicle and driven away.
 
Since that time Mr Johal has been detained in India. He has suffered torture including electrocution, sleep deprivation, being stripped naked and being subjected to long hours of interrogation.
 
Video footage of a forced confession obtained under torture has been broadcast on Indian TV.
 
His case was raised by former Prime Minister Theresa May during a visit to India in 2018 and has also been highlighted by the United Nations Working Group on Arbitrary Detention.
 
Mr Johal remains detained in Tihar Jail in New Delhi. The charges against him carry a maximum sentence of the death penalty.
 
Last week a claim was lodged in the High Court in London against the Foreign Office, the Home Office and the Attorney General, claiming that it was information sharing by intelligence agencies that led to Mr Johal's abduction, torture and subsequent five-year detention.
 
Represented by Leigh Day, Mr Johal claims that a report published by the Investigatory Powers Commissioner's Office (IPCO) in 2018 describes a case study which he believes is his own. Section 10 of the report states that MI5 passed intelligence to a liaison partner via the Secret Intelligence Service. The subject of the intelligence was arrested by the liaison partner in their country. The individual told the British Consular Official that he had been tortured.
 
At a Punjab Police press conference held in November 2017 Mr Johal was named as one of four suspects alleged to have been involved in a number of high-profile killings in collaboration with Pakistan intelligence agency, Inter-Service Intelligence.
 
The Indian press reported that Mr Johal had been "on the radar" of the intelligence wing of the Punjab Police for more than one year before his arrest and that Mr Johal came "under the scanner after a source in the UK provided the Punjab Police with "vague information" about a key man "Johal" as one of the conspirators in the killings".
 
The Indian press also reported a statement that Mr Johal's PayPal account was closed by the UK Government, which was said to have "suspected something".
 
In his legal claim, Mr Johal points out that the UK Government has expressly recognised that the Indian Government has not ratified the UN Convention Against Torture.
 
He seeks damages for breach of the Data Protection Act 1998, assault and battery, negligence and misfeasance in public office. He claims damages for personal injury from torture and inhuman and degrading treatment and loss of liberty. He also claims damages to compensate for cruelty, death threats, the constant fear that his wife and family would also be subject to torture and the failure of the Foreign Office, Home Office and Attorney General to acknowledge their role in all of the suffering endured.
 
Leigh Day partner Waleed Sheikh said:
 
"Our client is a British man from Dumbarton who has now been detained in an Indian prison for more than four and a half years, without prospect of trial or release in the near future. It is vitally important for our client and his family to understand whether or not and to what extent the UK authorities were involved in sharing intelligence that may have led to our client's arrest and subsequent detention and torture. It would be totally unacceptable for the UK Government's actions to have placed an individual, let alone a British citizen, at risk of torture or the death penalty."
Gurpreet Singh Johal, Jagtar's brother, said:
 
"I never imagined the scenes I'd seen in horror movies of people being abducted by a foreign Government and violently tortured could become a reality for someone in my family. When it did, I expected our Government would do everything in its power to save my brother. The twist is that not only has our Government abandoned one of its own citizens, it's actively betrayed him.
 
"If this can happen to my brother, it could happen to any British national travelling overseas. Jagtar's only 'crime' was writing blogs exposing the Indian Government's mistreatment of Sikhs, and the United Nations says this is the reason he's been targeted. The UK should be championing free speech around the world, not assisting repressive regimes to torture and lock up British nationals who dare to criticise them. We need answers and accountability to make sure no other British family is put through this living hell."
 
Rupert Skilbeck, Director of REDRESS, who are supporting Mr Johal's claim, said:
 
"Jagtar's case demonstrates how important it is that there is a full review of the way that the UK government responds when UK citizens are tortured abroad, including a careful examination of the role of the intelligence community in this case. Where there is any suggestion of collusion then there must be a full investigation, as there can be no immunity for torture."
 
Maya Foa, Director of Reprieve, who are also supporting Mr Johal's claim, said:
 
"It was already a scandal that when a British national was snatched off the street by Indian authorities while on his honeymoon, Boris Johnson left him to rot for five years before finally admitting he was being arbitrarily detained. Now it appears the UK Government hasn't just been negligent, but may have unlawfully enabled his abduction and brutal torture through a tip off to the Indian authorities.


"We're talking about a British blogger who United Nations experts say has been targeted because he spoke out against abuses committed against the Sikh community in India. The very least we can expect of our Government is not to share intelligence that leads to us being detained and tortured overseas."
 
Mr Johal is represented by Waleed Sheikh and Erin Alcock of Leigh Day together with Richard Hermer QC of Matrix Chambers and Nikolaus Grubeck and Ciar McAndrew of Monckton Chambers.