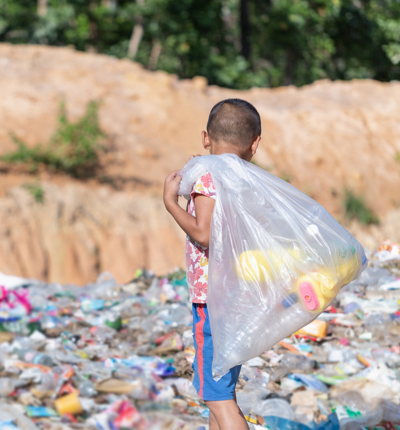 Modern slavery & human trafficking
Our international team represents victims of human trafficking. We help them pursue civil claims against British companies and organisations involved in, or profiting from, the exploitation which they are subjected.
Sadly, cases of modern slavery in the UK and by British companies and organisations overseas continue to exist. This can include vulnerable people being exploited for servitude and forced or compulsory labour, on both a domestic and international level.
Alongside representing victims of human trafficking and modern slavery, we also advocate for improved laws. For example, through our work, we have submitted evidence to the British and Australian Parliaments regarding improvements that could be made to the law to give greater protection to those at risk.
We work with a range of activists seeking to improve access to justice for the victims of exploitation and modern slavery.
Contact Leigh Day today to discuss your case if you or someone you know is or has been a victim of modern slavery and/or human trafficking.
What is modern slavery?
Modern slavery is the exploitation of people for personal, financial or commercial gain. It occurs when people are controlled by others, often forced into labour through threats – whether of violence, deportation or other actions. Most of the time, such slavery happens out of sight.
Exploitation and modern slavery are big business across the world:
The modern slavery market is estimated to be worth £115 billion worldwide.
More than 40 million people are believed to be affected.
Almost 25 million people are thought to be trapped in forced labour.
The overwhelming majority of modern slavery victims are subjected to labour exploitation in the private sector. This is often in construction, agriculture or domestic work.
Corporate accountability for these widespread and serious human rights abuses is essential to end the suffering of victims. It's also vital to prevent more people from being subjected to such abusive practices in the future.
Discover more about modern slavery and employment claims.
Modern slavery and the law
The Modern Slavery Act 2015 was introduced to consolidate existing offences into one act. It provides law enforcement with the tools to better support and protect victims, while also ensuring severe punishments can be handed out to those found guilty of modern slavery crimes.
Under the act, any commercial business supplying goods or services in the UK that has a turnover of £36 million or more must produce a yearly Transparency Statement. This discloses any actions the organisation is taking across its operations and supply chains to prevent human trafficking and modern slavery cases in the UK.
Any breach of the act could indicate an instance of modern slavery and/or human trafficking. If this occurs, then the organisation responsible could face severe penalties. These range in scale, depending on whether the business was directly or indirectly involved, and based on other factors including the:
Number of victims
Age of the victims
Type of exploitation
Length of the ordeal
Use of violence and/or threats
Involvement of abduction and sustained/systematic psychological abuse.
Modern slavery in global supply chains
Unfortunately there are millions of victims of modern slavery who are exploited whilst working within the global supply chains of international corporations.
Forced labour and other exploitative practices, that corporations unjustly profit from, can be found in all stages of the supply chain - from the extraction of raw materials, to manufacturing and final assembly of products.
Leigh Day is currently bringing unprecedented legal cases to hold well-known UK brands accountable for harm and losses suffered by individuals working for their key international suppliers. UK corporations have a legal responsibility to ensure that their supply chains are free from exploitation.
We currently represent Nepalese and Bangladeshi migrant workers in a case of alleged forced labour against Dyson. The claimants worked in a factory in Malaysia which predominantly manufactured products for Dyson. The workers further argue that Dyson was unjustly enriched as a result of the unlawful, exploitative and dangerous conditions at the factory, which include having their passports retained for the duration of employment.
We also have expertise in challenges against global industries shrouded in secrecy. We represent thousands of impoverished tenant tobacco farmers and their family members, all working on small tobacco farms in Malawi, in a claim against British American Tobacco (BAT), Imperial Brands, their parent companies and subsidiaries. The claimants allege they have been subject to conditions, such as violence or threats of violence, that amount to child and forced labour. BAT and Imperial Brands are also accused of creating industry-wide schemes which claim to prevent child labour, forced labour and dangerous working practices, but which are only really whitewashing the true situation.
We specialise in representing modern slavery victims that have been subjected to dire work and living conditions overseas, such as child labour, false imprisonment, and debt bondage.
Discover more about our work representing migrant workers in claims against Dyson for forced labour conditions in a Malaysian factory that manufactured their products. As well as our work representing Malawian tobacco farmers and their families in claims against British American Tobacco and Imperial where the courts have refused requests to have the claim struck out.
How Leigh Day can help
At Leigh Day, our specialist international team of solicitors deal with modern slavery cases to help victims of such crimes seek justice and rebuild their lives. We can assist those who are currently living under modern slavery or human trafficking conditions, those who have escaped and anyone who believes an organisation is breaching the Modern Slavery Act 2015.
Our years of experience mean we can offer specialist advice in a wide range of circumstances, to help many victims secure slavery compensation against UK organisations and the individuals responsible.
Types of modern slavery
Determining the type of modern slavery at play is important to ensure an appropriate claim is made. Our specialist team can assess your case to work out the best course of action. Common forms of modern slavery can include:
Human trafficking – Violence, threats and coercion are used to recruit individuals to be exploited, along with illegally smuggling people into the UK or other countries.
Forced labour – When an individual is forced to work against their will for little or no money, often due to a threat of punishment.
Debt bondage – People borrow money but are then forced to work off the debt, usually in exploitative and unfair conditions.
Child slavery – Children are exploited for another's gain, often via trafficking, marriage or labour.
Prostitution/sexual exploitation – When women are trafficked or lured to a different country with the promise of a better life or financial gains.
Starting a claim for slavery compensation
Contact our international team by phone or email to discuss your story. One of our specialist solicitors will listen to your case, assess whether you have grounds for a claim and then advise on the best next steps.
They may ask you questions about your story, doing so in a confidential and compassionate way. You might also be asked if you have any evidence, but our team can help gather this when building a case.
Whatever the details of your claim, we can help to provide you with any additional support required and inform the proper legal authorities when necessary. If you decide to pursue a claim with Leigh Day, we also offer legal representation to help you bring those accountable to justice.
Holding those responsible to account
Our team will direct your claim for modern slavery and/or human trafficking against the accountable party. In many cases this will be the business or organisation found in breach of the Modern Slavery Act 2015. However, it depends on the exact nature of the case and can be against an individual(s).
Holding those responsible to account is important to secure just punishment, combat modern slavery and prevent such crimes reoccurring.
Securing slavery compensation
As part of your claim, our team will work to secure slavery compensation in UK courts. The amount can vary depending on the nature of the slavery, how long it lasted, the number of victims affected and other factors.
While it can never make up for any trauma you or others have experienced, the slavery compensation you may secure can be used to help rebuild your life.
Legal aid
Some victims may qualify for legal aid to help bring a claim for modern slavery to the courts. Talk to our team and one of our specialist solicitors will be able to advise on whether you are eligible and discuss the next steps to take.
Find out more about the team
Oliver Holland
Oliver is a partner in the international team and specialises in bringing cases against multinational corporations where human rights abuses have been alleged. He has expertise representing claimants domiciled in foreign jurisdictions such as Nigeria and Zambia and has advised on modern slavery cases against large corporations that involve the use of forced and child labour.
Liana Wood
Liana specialises in modern slavery and human trafficking cases. She has helped victims secure compensation from both employers and traffickers. Her knowledge and experience extends to related issues, such as immigration, housing and exploitation issues.
Liberty Bridge
Liberty is a member of our international team and has legal expertise within the field of modern slavery and human trafficking. Her work and training has involved cases bringing claims for people in Sierra Leone, Bangladesh and around the world. She has an LLM in International Human Rights Law from Birkbeck University and has completed a six-month secondment at Amnesty International.
Why choose Leigh Day
At Leigh Day, we have more than 35 years' experience specialising in complex legal areas – including modern slavery claims. Our dedicated modern slavery solicitors act with care, compassion and confidentiality with every case they take on. They can provide legal support and representation, fighting to hold those responsible for such human rights abuses to account.
We have represented people around the world, helping them secure compensation for many types of claims, ensure accountability and, in some cases, improve the law.
Contact our team to discuss your claim around modern slavery today.