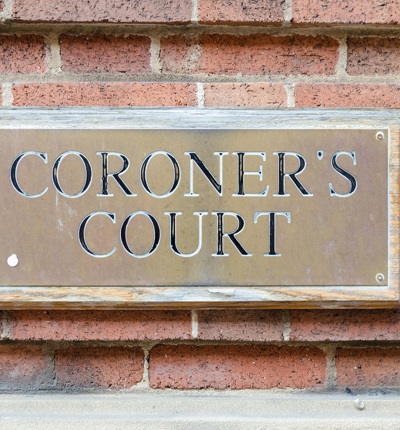 Medical inquests
Contact our experienced inquest team today for help
more than
35 years' experience
If a family member or loved one has died following medical care and/or treatment an inquest may follow. Our specialist team of inquest lawyers has many years' experience of supporting clients, both through the inquest process, and in respect of any civil claims for compensation that follow. Our solicitors have helped many bereaved families get answers about how their loved ones have died.
We've answered your common questions about a coroner's inquest below to help make understanding the process as easy as possible.
Get help today
Get in touch and we'll call you back, call on 020 7650 1200
Coroner's inquest information
An inquest – held in a public court except in exceptional circumstances – sees the coroner examine the circumstances of death and may call relevant witnesses to give evidence about how the deceased died.
It is entirely separate from any civil or criminal proceedings that may arise out of a death. A coroner is also prohibited from making findings determining questions of civil or criminal liability.
However, the evidence a coroner obtains as part of their investigation, and the conclusions reached about the death, are frequently relevant to any civil proceedings that may arise from the circumstances of death.
If you have lost relatives and are involved in coroner's inquest proceedings, at Leigh Day, we can help.
The Coroners and Justice Act 2009 lists the circumstances requiring a coroner to investigate a death.
These are when the:
Deceased died a violent or unnatural death
Cause of death is unknown
Deceased died while in custody or state detention
The coroner has a broad range of discretion in deciding what constitutes a violent or unnatural death.
In circumstances where a person has died of a natural cause a coroner may find the death to be unnatural if there's reason to suspect the condition was triggered or accelerated by inappropriate treatment or exposure to dangerous materials, such as asbestos. This will then require a coroner's investigation.
The Coroners and Justice Act also requires a coroner to investigate all deaths that occur in state detention. This includes all deaths in prison and the deaths of patients detained under the Mental Health Act.
At an inquest, the coroner (and jury, if required) listen to evidence from witnesses – either live or with statements read out for those not present – relating to the death under investigation. The coroner and legal representatives can then ask the live witnesses relevant questions to help with their inquiries. When there is a jury present, they can also ask questions of the witnesses.
As an inquest into death is an investigative procedure and not a trial, there are no defendants. A coroner's court is set up like most court rooms for an inquest. The coroner sits at the front facing the legal representatives, with the family behind them and a jury (if required) to the side.
When all witnesses have spoken and been questioned, the coroner can raise any concerns with them if they think there's a risk of further deaths occurring in similar circumstances. The coroner or jury will then reach a conclusion in relation to the death, which they will read out, complete a Record of Inquest and determine if a Report to Prevent Future Deaths is required.
The purpose of a coroner's investigation is to answer the following key questions:
Who was the deceased?
When did the deceased die?
Where did the deceased die?
How did the deceased die?
A coroner usually has wide-ranging discretion determining how someone died. However, in certain circumstances, Article 2 of the European Convention of Human Rights (ECHR) requires a coroner to undertake an enhanced investigation to examine the 'broad circumstances' of how a person arrived at their death.
Very simply, such an investigation is required if a person has died in state detention and in circumstances where the state is, arguably, implicated. This could be when a state body failed to provide adequate systems to prevent the death occurring and/or if a state body has been grossly negligent (to the extent it could be considered criminal).
In such investigations, coroners must ensure the person's next of kin are fully involved, and the investigation is effective and independent.
Only a coroner can decide to empanel a jury. The circumstances requiring the gathering of a jury include when the:
Deceased died in custody and a coroner has reason to suspect the death was a violent or unnatural one, or the cause of the death is unknown.
Death resulted from a "notifiable accident, poisoning or disease" and needs reporting to the Health and Safety Executive. These include deaths caused by an accident in the workplace. They also cover deaths in healthcare settings following the suicide of a patient or their murder by another patient.
Death occurred in circumstances that the continuance of which are prejudicial to the health and safety of the public.
The views of the deceased's family should always be considered by a coroner as well when deciding whether to call a jury.
A coroner also has a right to summon a jury simply if they feel there's sufficient reason for doing so. This can be if there is evidence of some fault or omission on behalf of a state agent, or there's a particular need for increased public scrutiny.
At the end of the investigation, the coroner will complete a Record of Inquest. This document includes:
Determinations relating to who the deceased was, where, when and how they died.
Conclusion as to the death – the verdict in either short form (e.g.: 'natural causes') or a longer narrative.
The coroner's inquest verdicts must not be framed in a way that might determine any question of civil or criminal liability on the part of a named person.
However, if a coroner feels the investigation shows existing circumstances pose a risk of further deaths and that actions should be taken, the coroner is under a duty to make a report. This can be very important for families seeking to ensure steps are taken so the circumstances leading to the death of a loved one are no longer allowed to exist.
A coroner's inquest can take anywhere from half an hour to several weeks. The length of time it takes to reach a coroner's court verdict depends on various factors:
If there was a postmortem examination carried out
The number of witnesses and statements
If there is a jury
Whether a pre-inquest review hearing is required
Any complications in the case
At the end of every inquiry, the coroner's inquest verdicts will be recorded in an official report. It is possible to obtain a copy of the verdict after the inquest's conclusion.
How can Leigh Day help you with an inquest?
We can help you during the inquest process in many ways:
Obtaining the deceased person's medical and other records – Making formal requests for records to a GP, hospital, care home, prison or private company and liaising with the coroner's office for disclosure of records.
Obtaining independent expert evidence – Using expert reports from medical professionals, such as pathologists, and asking the coroner to hear such evidence.
Making legal submissions to the coroner – Submissions to the coroner's courts regarding a more thorough investigation, whether to summon a jury or call witnesses and more.
Instructing a barrister to represent the family at court hearings – Arranging representation for family members for inquest hearings that last days, weeks or longer.
Liaising with the press and preparing press releases – Our specialist media relations team assist families in managing press interest sensitively and appropriately.
Meet the medical inquest team
Get in touch and we'll call you back, call on 020 7650 1200
Coroner's inquest: FAQs
A coroner is an independent judicial officer appointed by a local authority to investigate sudden, suspicious or unclear cause of deaths. Under the official coroner definition, they have the power to order an inquest into the cause of death, request a postmortem examination and call a jury when necessary.
A coroner must have at least five years' experience after qualifying as a solicitor or barrister. Most often have a medical qualification alongside their legal training.
Those who the coroner considers interested persons, as defined in the Coroners and Justice Act, are entitled to participate. They could include:
Spouse, civil partner or partner
Parent, grandparent, stepfather or stepmother
Child, grandchild, niece or nephew
Brother, sister, half-brother or half-sister
Personal representative of the deceased
Person who may by any act or omission have caused or contributed to the death of the deceased, or whose employee or agent may have done so
The rights of an interested person to participate in an inquest include the right to:
Be notified of an inquest date within one week of the date being set.
Be provided with any document held by the coroner that is requested (unless the coroner considers such a request unreasonable or there is another lawful reason not to disclose).
Ask questions of any witness giving evidence at the inquest.
In extremely limited circumstances, Legal Aid is available for the provision of legal advice and representation at an inquest. We can negotiate flexible fixed fee arrangements, which you can pay for in instalments for work associated with preparation for an inquest. We arrange such agreements on a case-by-case basis.
If a death was caused or contributed to by negligence or a violation of the deceased's human rights, and a successful civil claim arises from the death, reasonable legal costs associated with preparation for and representation at an inquest should be recoverable from the defendant to such a claim.
There is a range of funding options available for investigations into civil claims at Leigh Day. These include a Conditional Fee Agreement ("No win no fee") or funding through Legal Expense Insurance.
Every coroner's inquest in the UK is a public enquiry, meaning it's open for attendance by the general public. You can usually find details of the date and time of an inquest by checking the relevant local authority court diary online, looking at where the coroner's inquest is due to take place and searching for the name of the deceased.
Details of high-profile UK coroner's inquests may appear in local or national newspapers, websites and other areas of the media.
Yes, as there is public access to coroners reports in the UK. To get a copy of any coroner's inquest report, contact the relevant coroner's office and make your request. Include the name of the deceased, date of their death, date of the inquest and any other details (such as the hospital involved, if relevant).
Inquest work in the medical negligence team