Leigh Day wins UK Law Firm of the Year at the Chambers Europe Awards 2023
Law firm Leigh Day has won UK Law Firm of the Year at this year's Chambers Europe Awards. The winners were announced at a ceremony in Milan on 25 May 2023.
The shortlist was determined through extensive research and interviews conducted by a team of over 200 research analysts who will also select the winners.
 
The nominees in each category showcased the top law firms from countries across Europe, with Leigh Day being announced as the winner out of eight firms nominated in the UK Law Firm of the Year category.
 
This award highlights Leigh Day's important work across all its departments, including employment, clinical negligence, personal injury, human rights, international and group claims. Leigh Day strives to provide access to justice for all and act on behalf of the voiceless who's rights have been violated.
 
Some of Leigh Day's recent inquest work includes human rights partner Merry Varney representing the family of Molly Russell, a 14-year-old girl who took her own life in 2017 after accessing extensive harmful content on Pinterest and Instagram. The inquest has had global interest and involved Meta (the parent company of Facebook, Instagram, and WhatsApp) and Pinterest as Interested Persons, allowing for their content policies and regulations to be questions by the coroner and Molly's family. Merry recently spoke at the House of Lords about this case in relation to measures to help strengthen the Online Safety Bill to protect young people from harmful content available on social platforms.
 
The cases taken on by Leigh Day's international department have a global impact and consistently hold multi-national companies to account. Recently, Leigh Day took significant strides with a case against Shell on behalf of over 13,000 residents of the Bille and Ogale communities in the Niger Delta after experiencing years of devastating oil spills which ruined their environment and drinking water. The claimants are asking Shell to clean up their oil spills and pay compensation to those who's environments and livelihoods they have destroyed.
 
Leigh Day partner and head of Immigration and Asylum Law Jacqueline McKenzie represents those impacted by the Windrush scandal which has gained much national attention. She recently spoke at a hearing held at the House of Commons where she challenged the Home Office for not engaging with those impacted and for not paying them the compensation they are owed. She also spoke at the Commonwealth Law Conference in Goa on refugee rights.
 
The employment team, as well as being pioneering custodians of the UK's largest private sector Equal Pay claims for tens of thousands women in retail across the UK, has settled many high profile and Senior Executive litigation cases, including a longstanding case led by Partner Mike Cain who represented a whistleblower in her claim against the Foreign Office following her dismissal in 2014, which settled during 2022 for £426,000. The employment team has celebrated many award successes in 2022 and 2023, winning Employment Firm of the Year at the Legal 500 Northern Powerhouse Awards and Employment Team of the Year at the Manchester Law Society Legal Awards and at the LexisNexis Awards.
 
Leigh Day's medical negligence team has settled many large claims, including a recent £32 million settlement for a client who suffered brain injury following her birth. The team's cases receive consistent media coverage, including the inquest of 14-year-old Katie Wilkins where it was ruled that her death was contributed to by a hospital's neglect following her  leukaemia diagnosis. This case highlighted the need for funding for paediatric haematology experts in order to prevent such neglect from occurring again. Another recent high-profile case was the inquest into the death of 26-year-old Beth Matthews, who died by suicide contributed to by neglect by the Priory Hospital Cheadle Royal where she was being detained under Section 3 of the Mental Health Act.
 
As well as many individual claims, Leigh Day is currently bringing group claims which have had a national impact. One example of this includes a claim brought by personal injury lawyers on behalf of Liverpool FC fans, aiming to compensate them for the physical and psychological harm they experienced as a result of the chaos that unfolded at the 2022 Stade de France UEFA Champions League final.  
 
In 2022 Leigh Day reached an out of court settlement in a group claim against Volkswagen for £193 million, compensating drivers affected by the 'dieselgate' scandal. The claimants alleged that the motor manufacturer fitted diesel vehicles with unlawful software, designed to artificially lower the vehicles' emissions during regulatory tests. The settlement is reported to be the largest consumer group settlement reached in this jurisdiction. The claim was brought by lawyer Shazia Yamin. The firm is representing over 260,000 clients in similar emissions claims against a range of car manufacturers including Mercedes, Ford and Volvo.
 
The winners of the Chambers Europe Awards 2023 were announced at a ceremony at the Hotel Principe di Savoia Milan on Thursday 25 May.
Leigh Day's clients say:  
"They are head and shoulders above everyone else in market for civil liberties and human rights. They should be in category on own. They make an impact with a wide range of things they do: the traditional stuff, but wide-ranging international work as well." 
"Their service level is top notch. They provide excellent value for money for clients because they are willing to limit their budgets and find creative ways to provide representation no matter the client's budget." 
"The number one firm for equal pay and worker status group litigation claims." 
Chambers said:
"Most well known for its public law, human rights and group litigation practices, Leigh Day has gone from strength to strength post-Covid. It has grown headcount in all of its UK offices and held or improved all of its Chambers rankings, including securing a place in the new International Human Rights table.
"The firm has appeared on many of the most high-profile workers' rights cases in the last year, including representing workers from Sainsbury's, Next, Just Eat, BCA, Ola and Amazon. It has also advised Malaysian factory workers in a case against Dyson, and Burmese workers in a dispute with Tesco.
"Other group litigations Leigh Day has been involved in include representing fans affected by the Champions League final in a case against UEFA, and emissions litigation against Volvo."

Leigh Day managing partner Chris Benson said:
 
"I am extremely proud that Leigh Day has been awarded UK Law Firm of the Year and that we have been recognised as one of the UK's leading firms. This spotlights the important work we do and will continue to do as the firm expands but keeps its focus on human rights and justice for everyone regardless of their status."
 
*This article was updated following the announcement of the winners on 25 May 2023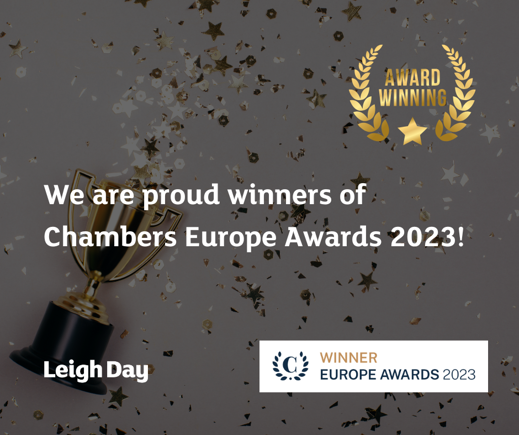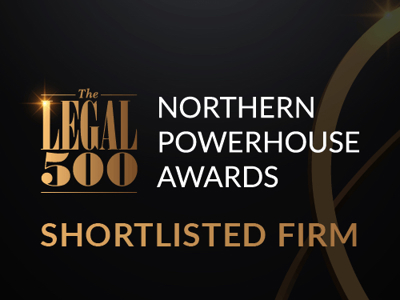 Leigh Day wins Employment Firm of the Year at The Legal 500 Northern Powerhouse Awards 2023
Leigh Day has been awarded Employment Firm of the Year and lawyers Linda Wong and Ryan Bradshaw were nominated for Lawyer of the Year and Rising Star of the Year.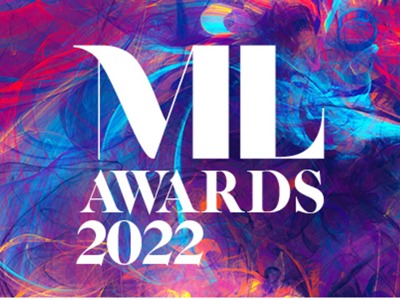 Leigh Day teams shortlisted at the Manchester Legal Awards 2022
Law firm Leigh Day's employment, personal injury and clinical negligence teams have been shortlisted for the Manchester Legal Awards 2022.