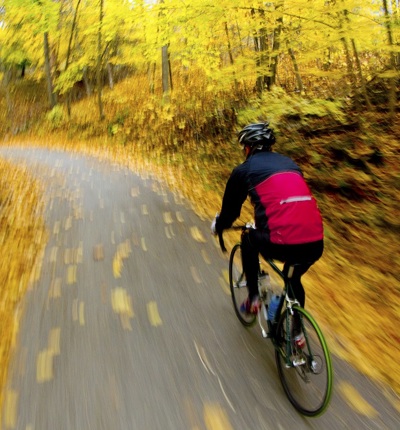 Cyclist whose leg was amputated following collision calls for greater care from country road users
A cyclist, whose lower leg was amputated following a collision with a tractor, calls for greater care to be taken by country road users as tractor driver found guilty of driving without due care and attention.
A cyclist whose lower leg was amputated following a collision with a tractor has called for greater awareness of cyclists from farmers and other country road users after the tractor driver was found guilty of driving without due care and attention.
Graham Witham (50), a former Royal Marine Commando, was seriously injured after colliding with the tractor as it emerged from the entrance to Cross Keys Farm in the Dagnall area of Buckinghamshire on 19 of August last year.
Following a trial at Central Milton Keynes Magistrates' Court, Joshua Matterson (28) was found guilty of driving without due care and attention and given 6 penalty points, £300 fine, £30 victim surcharge and £775 costs.
Speaking after the trial, Mr Witham, who lives in the Hemel Hempstead area, said:
"I am pleased the magistrates have seen the actions of Joshua Matterson were criminal and that he did not look properly when pulling out of the farm entrance, which is what led to the collision between his tractor and my bike.
"I could have easily been killed on that August day last year, and if anything positive is going to come from what happened to me, I would just ask people who work on farms and are moving heavy equipment around on country lanes, to just spend that second longer looking to make sure the road is clear before turning.
"This is not a 'them and us' thing as I know they have a job to do and I believe there is plenty of space on our country lanes for all road users. For me, it's just about being considerate of each other and taking a bit of extra care.
"While I am continuing to make progress with my recovery, this incident, and the consequences that my family and I will continue to live with for the rest of our lives, could have been avoided if Mr Matterson had taken care and looked properly before pulling into the road."
Mr Witham, a married father with two grown-up children, had been cycling with a group of friends when he was in collision with the tractor, which had been turning right out of Cross Keys Farm into Main Road South and was pulling a slurry tank at the time of the incident.
After sustaining multiple injuries, including a severely broken right leg and a serious chest injury, Mr Witham was airlifted to the John Radcliffe Hospital in Oxford, where he underwent surgery, which included the amputation of his lower right leg due to the severity of the injury he sustained in the collision. He has since undergone further surgery with the prospect that additional surgery may still be required in the future.
Solicitor Laura Murphy, from law firm Leigh Day, who is representing Mr Witham in his civil claim, said:
"My client was an extremely fit man for his age and had enjoyed taking part in a number of extreme physical challenges, including double Iron Man races and rowing the Atlantic Ocean raising money for charity.
"This entirely preventable collision has had a significant impact on Mr Witham's life and, whilst he is determined to not let his injuries define him as a person or limit what he can continue to achieve, it remains a life-changing incident that should not have taken place.
"My role is to ensure that Mr Witham is now fairly financially compensated so he can continue his rehabilitation and is able to adapt his home and working arrangements so he can live as full a life as possible."