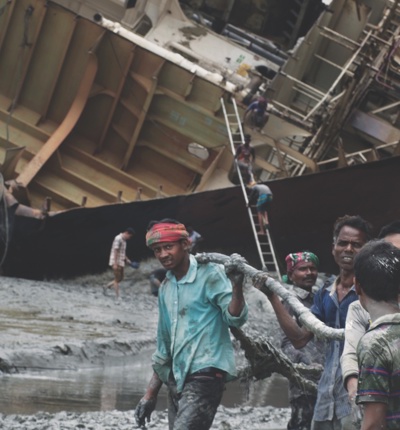 Shipping company can be sued for shipbreaking worker's death Court of Appeal rules
A shipping company that sold on a defunct vessel for demolition will have to face a claim by the widow of a man who died while breaking up the ship, following a judgment handed down today.
An attempt by Maran (UK) Limited to have the claim struck out by the Court of Appeal has failed.
 
The Court held that a shipping company in London selling a vessel to South Asia could owe a duty of care to shipbreaking workers in Bangladesh even where there are multiple third parties involved in the transaction.
 
Lord Justice Coulson said:  "… the appellant could, and should, have insisted on the sale to a so-called 'green' yard, where proper working practices were in place."
 
Leigh Day lawyers representing widow Hamida Begum believe it is the first judgment of a higher court anywhere which directly holds that shipping companies can be liable for the practice. They say it will shine a light on the whole shipbreaking industry and has significant wider implications. 
 
Mrs Begum's husband, Mr Khalil Mollah, fell to his death on 30 March 2018 while working on demolition at the top of the defunct oil tanker EKTA in the Zuma Enterprise Shipyard on the tidal beaches of Chattogram, Bangladesh.  He had worked in shipbreaking since 2009, working 70-hour weeks for low pay, and without PPE in highly dangerous conditions.
 
EKTA, formerly Maran Centaurus, had been owned and managed by companies within the multi-billion dollar Angelicoussis Shipping Group, which included Maran (UK) Limited. In a cash transaction in August 2017 worth over US$16m Maran Centaurus was sold for demolition. On 30 September, 2017, she was deliberately run aground on a beach at Chattogram, Bangladesh, to be broken up. It is alleged that the high sale price, and low fuel, were a clear indication that the tanker was destined for Chattogram, "the world's cheapest place to scrap ships", notorious for its atrocious working conditions, prevalence of child labour, and the tragically high death and injury rates among its workers and Maran (UK) Ltd would have known this.
 
In July 2020, Mr Justice Jay held that Maran (UK) Ltd arguably owed a duty of care to Mr Mollah and allowed the case to proceed towards trial. Maran (UK) appealed the judgment and its case was heard 9-10 February, 2021.
 
Today, Lord Justice Coulson said: 
 
"I consider that the duty of care alleged in this case, although faced with formidable hurdles, cannot be dismissed as fanciful … and it would be wrong in principle to strike it out at this stage."
 
He added: "The 'creation of danger' is a recognised exception to the usual rule as to the intervention of third parties which may give rise to a duty of care […] the appellant arguably played an active role by sending the vessel to Bangladesh, knowingly exposing workers (such as the deceased) to the significant dangers which working on this large vessel in Chattogram entailed."
 
Maran (UK) Limited argued that there was nothing else that they could have done, or should have done, to avoid the risks to the deceased. But Lord Justice Coulson said:  "… the appellant could, and should, have insisted on the sale to a so-called 'green' yard, where proper working practices were in place."
Lord Justice Males said:
 
"There is a well-established exception to the principle that a defendant is not liable for harm caused by the acts of a third party which applies when the defendant is responsible for creating a state of danger which results in the third party causing injury to the claimant. In my judgment it is at least arguable that this exception applies here."
 
Maran (UK) Ltd argued that it did not control the ship's ultimate destination, there was no relationship of "proximity" between the shipowner and Mr Mollah, a requirement for any duty of care, and if Mr Mollah had not been killed while working on the EKTA he might just as easily have been killed or injured when working on some other ship. 
 
But Lord Justice Males said: "The defendant did not have control over working conditions in Chattogram, but it did have control over whether the claimant's husband would be exposed to the risk of death or serious injury from working on its ship. That was a foreseeable risk which the defendant created by its decision to send the vessel to be broken up in Bangladesh and is arguably sufficient, in my judgment, to create the necessary relationship of proximity."
 
Leigh Day partner, Oliver Holland, who represents Hamida Begum, said:
 
"My client is extremely relieved that the Court of Appeal rejected the Defendant's appeal and has allowed her claim to proceed to a preliminary issue hearing in the High Court. The Court of Appeal's findings on duty of care will send shockwaves around the shipping industry as a higher court has recognised that shipping companies choosing to send vessels to the beaches of Bangladesh may owe a duty of care to the local workers and can be liable when things go wrong." 
 
The judgment noted:
Maran (UK) Ltd had a choice as to whether to sell the vessel to a buyer who would convey it to a shipbreaking yard which was either safe or unsafe and had complete autonomy over the sale. It knew that beaching was a dangerous practice, that safety standards in the Chattogram yards were particularly egregious and fatalities and serious injuries occurred there regularly. It exercised its choice by choosing a buyer who would not demolish it safely, knowing that this would expose workers such as the claimant's husband to the risk of death or serious injury as a result of the negligence of the shipbreaker which employed him. It was not a case where there was merely a risk that the shipbreaker would fail to take reasonable care for the safety of its workers. On the contrary, this was a certainty, as the defendant knew. Maran (UK) Ltd also knew that hazardous substances would not be disposed of safely in Bangladesh.
Despite international concern registered in many ways over many years, the dangerous working practices in the Bangladesh shipbreaking yards inevitably cause shockingly high rates of death and serious injury. There are no heavy cranes or dock infrastructure of any kind: no cranes, scaffolding, cradles or harnesses. There is nothing to allow for rapid emergency response, and few occupational health and safety controls or inspections.
The only realistic place for a tanker of the size of the EKTA to be broken up in safe working conditions was China (the only other safe option, Turkey, could not have taken a vessel so large). But, for reasons of cost, hardly any oil tankers are demolished in China. Out of the 11 million tonnes of oil tankers demolished in 2018, only 80,000 tonnes were broken up in Chinese and Turkish yards. Maran (UK) Ltd could, and should, have insisted on the sale to a 'green' yard, where proper working practices were in place.
Maran (UK) Ltd knew that the inclusion of contractual causes stipulating the use of ethical shipyards would be entirely ignored and this appears to be part of the unhappy reality of the shipbreaking business: everyone turns a blind eye to what they know will actually happen.
Hamida Begum (on behalf of MD Khalil Mollah) v Maran (UK) Limited
Legal Briefing: Shipbreaking March 2021
Download and read our briefing
Meet the legal team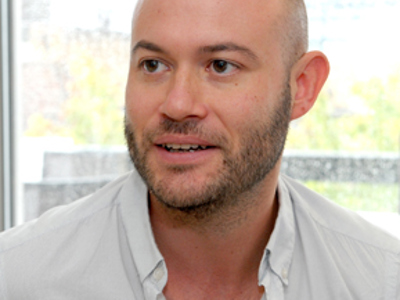 Oliver Holland
Oliver specialises in international cases involving multinational corporations where environmental harm or human rights abuses have been alleged
Related content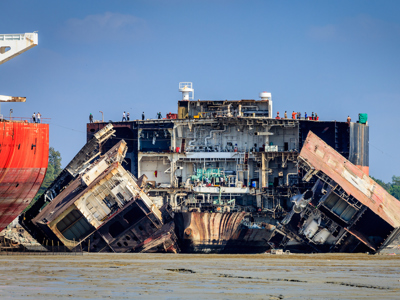 Shipbreaking judgment: The shipping industry and the law of negligence
Oliver Holland and Rachel Bonner discuss the judgment of the Court of Appeal in Hamida Begum (on behalf of MD Khalil Mollah) v Maran (UK) Limited.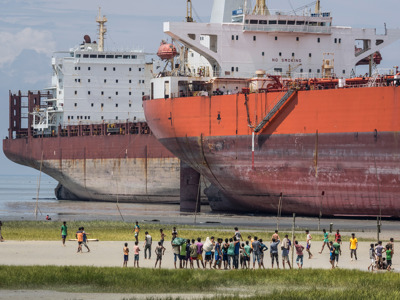 Maran UK shipbreaking case judgment goes to Court of Appeal
A landmark judgment that sent shockwaves around the shipping industry goes to the Court of Appeal this week.