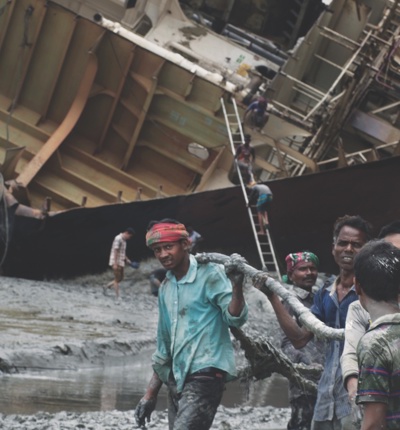 Maran UK shipbreaking case judgment goes to Court of Appeal
A landmark judgment that sent shockwaves around the shipping industry goes to the Court of Appeal this week.
Posted on 08 February 2021
On Tuesday and Wednesday 9-10 February, an appeal will be made against a High Court judgment allowing a claim by the widow of a man who died while working in the shipbreaking yards of Chattogram, Bangladesh, to proceed towards trial.
In July, 2020 Mr Justice Jay ruled that Maran (UK) Ltd arguably owed a duty of care to the Bangladeshi worker, Mr Khalil Mollah, who was killed in a fall from the defunct oil tanker EKTA in the Zuma Enterprise Shipyard on 30 March, 2018.
Maran had sold the vessel through a cash-buyer "middleman" for break-up and it was argued in court that the sale price was a clear indication that the tanker was destined for Chattogram, "the world's cheapest place to scrap ships", notorious for its atrocious working conditions, prevalence of child labour, and the tragically high death and injury rates among its workers.
Mr Mollah's widow, Hamida Begum, is represented by Leigh Day solicitors to defend the appeal by Maran UK.
Mrs Begum argues that Maran UK could have insisted that the oil tanker was dismantled safely, and it played a controlling role in sending the vessel to Chattogram for break-up. She says that Maran UK's insistence that it has no duty of care despite it being clear from the sale that the vessel was headed for Chattogram, would create impunity for those who will dispose of dangerous items in the future, with profound implications for human safety and the environment.
Maran UK is appealing the ruling that Mrs Begum had a real prospect of establishing that she could bring her claim under English law because of Article 7 Rome II by which European companies are responsible for environmental damage they cause around the world. Mrs Begum says her husband's death arose from the environmental damage caused by the dumping of a vast supertanker, which amounts environmental damage under Article 7. This is one of very few cases across Europe relying on the Article 7 provision.
Leigh Day partner Oliver Holland, who represents Hamida Begum, said:
"It is disappointing that Maran UK is appealing the clear judgment by Mr Justice Jay that Mrs Begum's claim is arguable. Her husband died in a fall from a great height while working in the notoriously dangerous shipbreaking yards on the beaches of Bangladesh. Maran UK sold the vessel knowing that it would meet its end in that location, where the shipbreaking work and the resulting devastating environmental damage presents a daily risk of death to vulnerable workers."