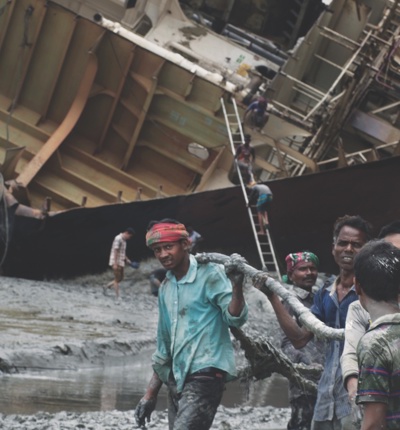 Widow of shipbreaking worker free to pursue negligence claim
A widow whose husband was killed while dismantling a large vessel in a shipbreaking yard on the beaches of Bangladesh can press ahead with her claim against the UK-based shipping company involved in the vessel's sale.
In a judgment handed down today (Monday, 13 July) an English High Court judge refused to strike out a claim for negligence brought by widow Hamida Begum against Maran (UK) Ltd.
 
Mr Justice Jay held that Maran (UK) Ltd arguably owed a duty of care to the Bangladeshi worker killed on the vessel. The decision is likely to send shockwaves around the shipping industry which historically has sent thousands of vessels to South Asian beaches for great profit.
 
The judge also agreed with Mrs Begum's solicitors, Leigh Day, that it was arguable that:
 
Maran (UK) Ltd had control to influence where the ship was eventually scrapped. They could have ensured the ship went on to be recycled in an ethical way, but would have had to accept a lower sale price.
Given the dangers of breaking up an end-of-life ship in Chattogram (formerly Chittagong), shipping companies selling their vessels into Bangladesh may be liable to compensate workers who suffer injury or death as a result.
Shipping companies who use middlemen ('cash buyers') to dispose of their vessels cannot rely on contractual clauses which stipulate the use of ethical shipyards, when it is obvious that these clauses will be ignored.
 
Maran (UK) Ltd sought to have the case summarily dismissed on the grounds that they were too far removed (in time and space) from Mr Mollah's death to owe him a duty of care. The accident, they submitted, was because of the working conditions in Chattogram over which they had no control. 
 
Mr Justice Jay rejected this argument. He said:
 
"The proximate cause of the accident was the deceased's fall from a height, but on a broader, purposive approach the accident resulted from a chain of events which led to the vessel being grounded at Chattogram."
 
Mrs Begum alleges that Maran (UK) Ltd was responsible for the vessel being sold to be broken up in that dangerous location.
 
Her husband Mr Khalil Mollah fell to his death on 30 March, 2018 while working on the defunct oil tanker EKTA in the Zuma Enterprise Shipyard in Chattogram, Bangladesh.  He had worked in shipbreaking since 2009, working 70 hr weeks for low pay, and without PPE in highly dangerous conditions.
 
EKTA, formerly Maran Centaurus, had been owned and managed by companies within the multi-billion dollar Angelicoussis Shipping Group, which included Maran (UK) Limited. In a transaction in August 2017 worth over US$16m Maran Centaurus was sold for demolition. Soon afterwards, she was deliberately run aground on a beach at Chattogram, Bangladesh, in order to be broken up. 
 
The International Labour Organisation ranks shipbreaking at Chattogram as among the most dangerous jobs in the world. The area has been called "the world's cheapest place to scrap ships", and is notorious for its atrocious working conditions, prevalence of child labour, and the tragically high death and injury rates among its workers.
 
It is alleged that the sale price was a clear indication that the tanker was destined for Chattogram, and Maran (UK) Ltd would have known this.
 
Mr Justice Jay accepted that over the past ten years more than 70 per cent of vessels that reach the end of their operating lives are broken up using the "beaching" method in SE Asia.
 
However, he said:
 
"[The Defendant argued that] given that nearly all vessels ended up in South Asia, it could not be said that [Maran UK Ltd] were deviating from standard practice. I reject that submission on the straightforward basis that if standard practice was inherently dangerous, it cannot be condoned as sound and rational even though almost everybody does the same."
 
Mr Justice Jay dismissed Maran (UK) Ltd's application to strike out the claim for negligence and the case continues towards trial. 
 
Mrs Begum is represented by Leigh Day solicitor Alex Wessely, who said:
 
"The shipping industry is renowned for its lack of transparency, especially when the dangers of shipbreaking are concerned. We are very pleased with this judgment, which we hope is a step towards creating proper accountability for when things go tragically wrong."
 
Leigh Day Partner Oliver Holland said:
 
"The judgment handed down today is a great relief to our client, who has suffered not only the loss of her husband, but of her security and livelihood.
 
"There has been a campaign for many years to halt the dangerous life-threatening practices of shipbreaking on the beaches of Bangladesh.
 
"If Maran (UK) Ltd is made to accept that it owed Mr Khalil Mollah a duty of care, maybe that will go some way to making  UK shipping companies think twice about accepting greater financial reward for their end-of-life vessels at the cost of the environment and the lives of South Asian workers."