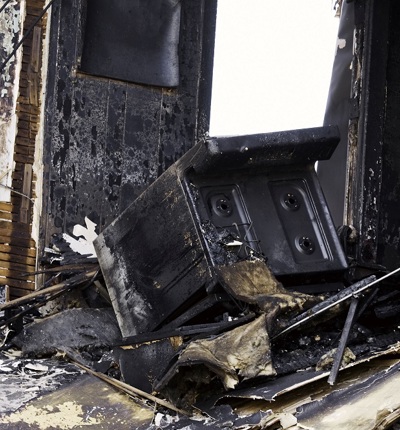 Gas explosions, toxic chemical leaks and fires
Contact us to make a claim if you've suffered an injury from a gas explosion, chemical leak or fire today
If you suffer an injury or your home has been destroyed by a gas explosion, leak or toxic chemical leak that wasn't your fault, you may be eligible for compensation.
If you work with hazardous substances and experience a workplace accident, such as a spill, leak or chemical burn, the effects can be very serious. Exposure to toxic gases and gas inhalation can also impact your health. It's your employer's responsibility to safeguard employees and members of the public from hazards and risks.
Likewise, a gas explosion at work or home can have potentially disastrous consequences, including fires, burns and other severe injuries. Sadly, in some cases, these accidents can even be fatal.
Our personal injury lawyers at Leigh Day have 35 years' experience representing people and their families who have suffered the consequences of hazardous substances, gas explosions and toxic chemical leaks. Contact us as soon as possible to discuss your claim by calling 0161 393 3543.
Get help today
Call us on 0161 393 3543 for a free initial consultation
Gas explosions, toxic chemical leaks and fires at home and work
We should always feel safe at home and at work. However, gas explosions, toxic leaks and fires can cause potentially traumatic effects and injuries.
Gas explosions and leaks
Gas explosions and leaks can happen when appliances and equipment are poorly fitted or maintained. This can include ruptured iron gas mains pipes.
Causes of gas explosions at home might include faulty home appliances and white goods, such as a boiler or cooker. In this case, the manufacturer, or the company or service that fitted the appliance, could be liable.
Gas leaks and explosions can happen anywhere.
Toxic chemical leaks
Chemical leaks and related accidents can occur when substances aren't handled correctly, or related equipment is not properly maintained.
You may wish to make a claim if you have been exposed to toxic chemicals due to a leak or other incident. Chemical injuries can occur when hazardous substances or irritants come into contact with the skin, eyes or respiratory system.
Chemical leaks and spills can occur in the workplace and at public facilities, such as swimming pools. Employees can be particularly at risk if they handle, store or dispose of chemicals or cleaning substances. The public can be at risk if there are faults with equipment, or safe procedures are not followed.
Fires
If you have suffered trauma, PTSD, burns or other physical injury as a result of a fire that wasn't your fault, you may be able to make a claim.
Fires and explosions can be extremely dangerous and lead to life-changing injuries and financial losses. Contact us to investigate your claim.
Injuries you can claim for
Gas explosions, chemical leaks and fires can result in potentially life-altering injuries and long-term illnesses which you may be able to claim for, including:
Burns, including chemical burns
Head injuries
Orthopaedic injuries
Respiratory damage
Eye injuries
Loss of sight
Psychological trauma
Carbon monoxide poisoning
Carbon monoxide is very poisonous and can lead to serious illness.
Leaks can occur when a gas appliance has been poorly installed or maintained. Signs that you may have carbon monoxide poisoning can include:
Headache
Dizziness
Sickness
Shortness of breath
Feeling weak
Confusion
If you or a loved one has suffered from carbon monoxide poisoning due to someone's negligence, you may be able to secure compensation.
Sadly, some gas and chemical incidents can also be fatal. If a loved one has passed away due to a gas explosion, toxic chemical leak or fire, you can contact us to discuss a claim. Our experienced lawyers at Leigh Day can offer support and guidance during this difficult time.
Get help today
Call us on 0161 393 3543 for a free initial consultation
Get help for fatal and serious accident claims today.
We'll start your claim with a free consultation to discuss the details of you or your loved one's case.
Get in touch with a specialist injury expert or fatal accident solicitor in our personal injury team. Call us on 020 7650 1309.
We will listen to you and ask any relevant questions for further information. If we are able to take your case on, we'll advise you on whether you have a claim and help you with the next steps.
Our work with gas explosions, toxic chemical leaks and fires at home and work
Our expert solicitors have many years of experience of advising people affected by some of the highest profile fires, explosions and disasters in recent years. We are able to help individuals and families, and our experience in group claims means that we can also act for communities or group of people affected by the same incident.
Examples of our work includes helping people affected by:
The Buncefield explosion, reported to be the biggest explosion / fire in peacetime in the UK
Carbon monoxide poisoning, such as the families of Richard Smith, Kevin Branton and the Cook family of three who died following exposure to fatal levels of carbon monoxide gas due to issues with their gas cookers. Our work helped to uncover a large number of related fatalities caused by the same issue.
The Shepherd's Bush tower block fire.
The fire and gas explosion which killed John Wilson
A major chlorine gas leak at the London Aquatics Centre in Queen Elizabeth Olympic Park. After 200 people were evacuated from the pool, the London Ambulance Service confirmed 29 people had to be hospitalised due to the release of toxic chlorine gas.
The Bentworth Court Fire where four people were taken to hospital following an explosion and fire in a tower block in Shoreditch.
Other high profile gas explosions which have affected and displaced whole communities and /or led to serious injuries and even fatalities (which cannot be cited for confidentiality reasons)
Why choose Leigh Day?
If you have been affected by a serious incident such as this, it can hard to know where to turn next.
The team at Leigh Day has specialist expertise in assisting communities and individuals in the aftermath of events such as gas explosions, chemical leaks and fires. These events have often caused fatalities, serious injuries and mass displacement.
When things like this happen, the investigations are often time critical and require a multi-agency approach. We are used to dealing with the fire brigade, police, Health and Safety Executive, MPs, Coroners, Local Councils and others to help our clients investigate and understand what has happened and take action where appropriate.
Personal injury claims can be complicated. If you've been seriously injured, the best course of action is to seek out legal support as early as possible and throughout your rehabilitation.
Our teams of specialist personal injury solicitors at Leigh Day in Manchester and London will fight where possible to secure early interim payments for you.
Leigh Day is highly rated in the top tier by the independent legal directories The Legal 500 and Chambers of Partners for our specialist experience and reputation in this field.
For 35 years, our firm has fought for complex and sensitive areas of personal injury law, putting justice for our clients at the forefront of our efforts.