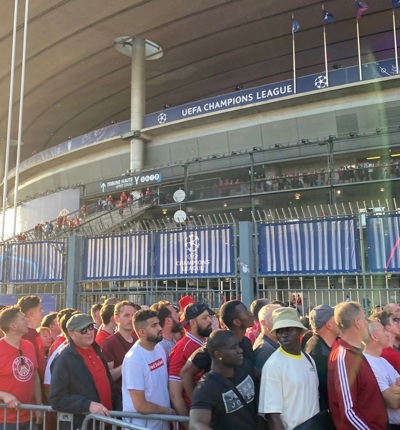 UEFA's action plan for fan safeguarding welcomed by law firm representing over 1150 clients as legal claims move forward
Measures announced by UEFA on Friday (5 May 2023) to improve safeguards for football supporters attending finals have been welcomed by Leigh Day, but the firm has confirmed this does not impact legal claims being bought by more than 1150 Liverpool fans.
The changes have come about after the independent review UEFA commissioned concluded that the association bears "primary responsibility" for the catastrophic organisational and safety failures that occurred at the Stade de France on 28th May 2022.
UEFA's new measures include:
Working closely with supporters' groups to gather information about numbers of fans travelling to the host city;
Resources to enhance 'welcome services' for fans, particularly along the last kilometre of stadium access routes;
Appropriate signage at key entry points to the stadium;
Medical and first aid personnel will be visible and accessible, including at turnstile gates and on the stadium concourse;
Dedicated supporter liaison officers;
Improved standards and stadium infrastructure for supporters with disabilities;
Dedicated staff at each turnstile to help fans with ticket issues;
Increased number of UEFA safety and security officers.
Leigh Day is bringing the group claim on the basis that UEFA failed to ensure a safe and secure environment for those attending and owe a legal liability to those who suffered physical and/or psychological injuries.
In a joint statement, Clare Campbell and Jill Paterson, partners at Leigh Day, said:
"With the anniversary of last year's final just around the corner, we are pleased that UEFA has made a commitment to implement the recommendations in the report.
"While this is a positive step that will hopefully ensure other football supporters will not experience anything like the horrific events that Liverpool fans went through last year, it does not undo the damage that was done on the day.
"Many of the clients we represent are still suffering the effects, both mentally and physically, and we will continue to proceed with legal action on their behalf."
Leigh Day has formally filed 886 claims against UEFA.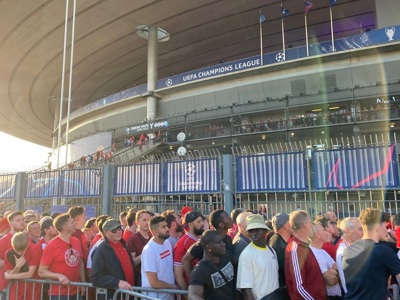 over 500
already signed up
Stade de France group claim
We are investigating a group claim legal action on behalf of Liverpool FC fans, and others, who attended the UEFA Champions League final at the Stade de France in Paris on 28 May 2022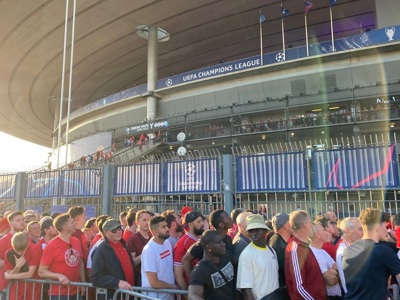 Law firm representing injured and traumatised Liverpool FC fans push forward with legal claim against UEFA
Liverpool FC fans affected by events at the 2022 Champions League should be recompensed for the trauma they experienced at last season's Champions League final, say Leigh Day.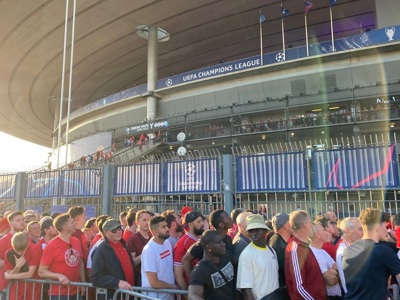 Law firm representing Liverpool supporters echoes disbelief in vilification of fans at Champion's League Final
Lawyers investigating claims against UEFA on behalf of hundreds of Liverpool FC fans have shared their shock at claims by the Guardian that UEFA pre-prepared a statement blaming "late" fans for causing the delay to the start of the Champions League final a "considerable time" before the day of the match.