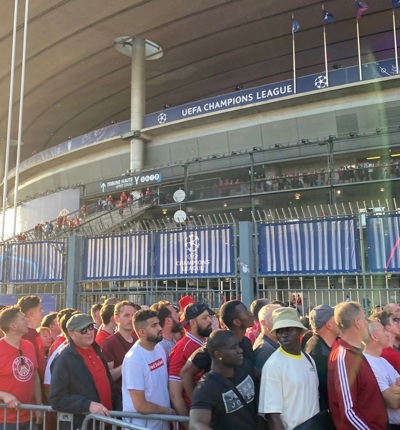 Law firm representing injured and traumatised Liverpool FC fans push forward with legal claim against UEFA
Liverpool FC fans affected by events at the 2022 Champions League should be recompensed for the trauma they experienced at last season's Champions League final, say Leigh Day.
Posted on 14 February 2023
UEFA's own review concluded the association bears "primary responsibility" for the catastrophic organisational and safety failures that occurred at the Stade de France on 28th May 2022, the law firm will be sending a formal Letter of Claim to UFEA within the next two weeks.


After the 158-page report was leaked yesterday (Monday 13 February), UEFA said it would be announcing a special refund scheme for fans. However, the legal team representing more than 600 Liverpool FC fan said, while this news is promising, fans deserve proper compensation for what they've endured.


Leigh Day is
currently bringing a group claim
on behalf of fans against UEFA on the basis that they failed to ensure a safe and secure environment for those attending and could owe a legal liability to those who suffered physical and/or psychological injuries.
The panel found
eight key factors
that "almost led to disaster" because of UEFA's failure, including:
Travel
Ticketing and turnstiles
Failure to police local gangs
Use of tear gas
No plan B
"After such a damning report, UEFA needs to take responsibility for the significant part it played in the chaos that unfolded at last season's Champion's League final and recompensate the fans who have had to deal with the aftereffects.


"Finally, fans have been given some clarity on how and why the events they experienced on 28 May 2022 happened but, while the report is robust, it cannot undo the damage that was done on that day.


"It is promising to hear that UEFA are considering a special refund scheme, but it's important to understand that what is required here is more than a ticket refund. This is about accountability, learning lessons for the future and ensuring that fans who have been injured and traumatised receive proper compensation for what they've endured."


Lifelong Liverpool FC supporter, Andrew Patterson, who was at the final and is represented by Leigh Day, said;


"It was the worst day of my life and I'm still dealing with the issues now. I still can't deal with big crowds, I still wake up with night terrors, I can't recount the story without tears, it's messed me up in a big way.


"I'm type one diabetic and the insulin I carry with me was destroyed by the heat because we were all packed in so closely together. So, from about two and a half hours before the game I was in a really dangerous position because I had no insulin.


"Then, when I was going through the gate, I was pushed against the fence which ripped the sensor off my arm that monitors my blood sugars. I started panicking because now I had no way of monitoring my sugars and no medication. I wasn't able to get replacement insulin until 3am the next day which meant I was without medication for around eight hours.


"UEFA didn't just ruin the day, for a lot of people, they ruined lives. To say they dealt with it poorly is an understatement. It shouldn't have been allowed to happen."