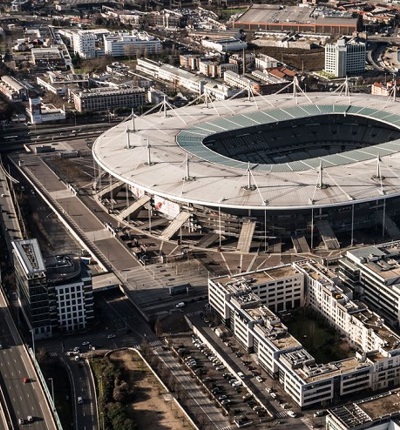 Leigh Day investigating Stade de France group claim on behalf of Liverpool FC fans
Law firm Leigh Day is investigating a group claim legal action on behalf of Liverpool FC fans, and others, who attended the UEFA Champions League final at the Stade de France in Paris on 28 May 2022.  
Law firm Leigh Day is investigating a group claim legal action on behalf of Liverpool FC fans, and others, who attended the UEFA Champions League final at the Stade de France in Paris on 28 May 2022.

Those who attended the match faced chaos before and after as poor preparation, numerous organisational failings and underlying prejudice culminated in a frightening situation and scenes which caused shock and outrage on a national and international scale.
 
A hearing of the French Senate heard that adults and children, including those with disabilities, were herded and indiscriminately tear gassed, and supporters were crushed against barriers and turnstiles which remained closed. In addition, criminal gangs are said to have taken advantage of the disorder to threaten and steal from fans.

Many of those who attended are reported to have suffered physical injuries and many more are thought to have suffered psychological injuries from the incident.
 
The legal team at Leigh Day has been contacted by a number of fans and is investigating a potential group claim against UEFA for those living in England and Wales who suffered physical or psychological injuries at the football match. The team believes that 5-10,000 people could be affected and would be able to join the claim.
 
Whilst the claim would be brought under French law, Leigh Day intends to bring the claim in England. It will allege that UEFA failed to ensure a safe and secure environment for those attending the match.
 
The French authorities initially attempted to blame fans, and particularly Liverpool FC fans, for causing the overcrowding and clashes by claiming that thousands had travelled to the stadium with counterfeit tickets, that fans had arrived late and that those who travelled to the stadium and surrounding areas without tickets also caused overcrowding problems.
 
However, a report by the French Senate released on 13 July 2022 completely exonerated the fans and identified serious collective failures in the organisation of the event including the use of blocking tactics usually reserved for antiterrorism operations;   a failure to anticipate transport flows on the night, problems with pre-screening checks and digital tickets.
 
Senate inquiry co-chairman Laurent Lafon is reported to have said when releasing their report:
 
"Liverpool supporters wanting to support their team are not responsible for what happened. The number of people around the stadium did not cause all the chaos. We know these fans travel en masse, that was foreseen.
 
"Every authority was acting on their own without co-operating, and that means nobody really felt they were responsible for anything. This was a chain of administrative errors. It is clear that the arguments put forward by the minister of the interior Gérald Darmanin, including that there was a massive ticket forgery, are not the cause of the problems at this match."
 
Consumer and travel law experts Clare Campbell and Jill Paterson are leading the legal team investigating the Stade de France claims. They said:
 
"Supporters who had paid to watch a football match at the highest level of the game should have been able to expect that robust safety protocols and adequate risk assessment would be put in place by UEFA, sadly this does not appear to be the case"

"We believe UEFA failed to provide a safe and secure environment for those attending and we are investigating their legal liability to those who suffered injuries as a result.
 
"It was truly shocking to see how Liverpool fans and others who had travelled to watch the Champions League final were treated both at the match and in the aftermath. The accounts of their experiences paint a picture of a terrifying situation where people really feared for their lives."
 
Leigh Day is one of the country's leading law firms with offices in Liverpool, Manchester, Leeds and London. The firm has specialist expertise in consumer law, travel law and personal injury and is acting in some of the largest group actions ever taken in the UK.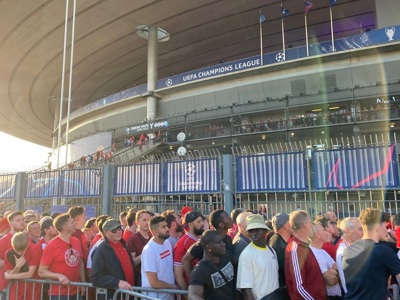 over 500
already signed up
Stade de France group claim
We are investigating a group claim legal action on behalf of Liverpool FC fans, and others, who attended the UEFA Champions League final at the Stade de France in Paris on 28 May 2022