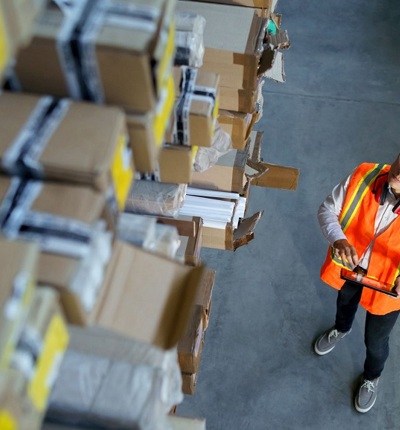 Falling object compensation claims
If you have suffered a falling object injury at work, contact us to make a claim today.
more than 35
years' experience
We all expect to be safe from harm while at work. Falling object injuries can have very serious consequences, causing long-term injury and in worse cases, death. If you or a loved one has suffered an injury at work from a falling object, you may be able to secure compensation.
Your employer has a duty of care to prevent you from being injured by hazards such as falling objects at work. This includes providing adequate training on how to avoid injury from falling objects and offering suitable and effective safeguards to protect you as you work.
Leigh Day has successfully represented many people following a falling object injury. Talk to us as soon as you can and we'll investigate the claim.
What are falling object injury claims?
Falling object injury compensation claims can secure compensation after being injured at work due to being hit by a falling object.
These incidents can happen for various reasons, including a lack of training and unsafe working conditions. Injuries can be caused by:
Broken machinery
Unstable buildings
Improperly stacked items
Unsecure safety netting attached to scaffolding on construction sites
Fallen trees or branches.
A fallen object can injure you in any profession where conditions are unsafe, and your employer has not protected you from harm. These incidents may be more common in hazardous workplaces such as:
Retail and hospitality
Construction and building sites
Demolition sites
Warehouses and factories
Common falling object injuries
Injuries from falling objects can be varied and have a wide range of consequences. They can often include:
Sprains
Bruising
Broken bones or fractures
Back injuries
Head injuries
Spinal injuries
Foot injuries
Psychological trauma.
An object does not need to fall from great height to be considered a falling object injury. The incident only needs to be caused by employer negligence.
Your employer's responsibility
Your employer has a duty of care to protect your health and safety while at work. It is their job to reduce the risk of injury from falling objects and other workplace incidents.
Your employer is legally responsible for the following:
Personal protective equipment (PPE) – Appropriate PPE such as hard helmets must be available to employees who are at risk of injury from falling objects.
Warnings – Employers must warn staff about risks and falling object safety, which can be verbal and through the use of signage.
Training – Employers must provide adequate training to ensure employees understand safety practices. For example, when moving a load, employers should ensure that these are not lifted, lowered or swung over anyone's head.
Safe working conditions – Workplaces must be kept clean and tidy, and tools kept in the correct storage area once they have been used.
The Work at Height Regulations 2005
Regulations are in place to prevent fatality and injury caused by falling objects in the workplace. Employers, and anyone in control of any work at height, have legal duty to ensure:
Work is appropriately and competently planned, supervised and carried out
Appropriate equipment is used
Risk assessments are conducted.
Our work with falling object compensation claims
We represented a foreign national who sustained a very serious head injury in the UK when pallets containing steel frames fell on him. The pallets had not been stacked safely and he had been offered no health and safety training, so Leigh Day helped him make a falling object compensation claim.
We were able to secure a number of interim payments which allowed the man to undergo a course of treatment in the country where he lived. The payments also helped to fly him back to the UK so he could be assessed by medical experts.
His claim was complex. His loss of earnings was considerable, based on the fact that he would have remained in the UK if he had not been injured. Our team had to issue Court proceedings, after which the case was successfully settled for £250,000.
Download our personal injury brochure
Download a copy of our personal injury brochure to learn more about how we can help you and how we have helped others following a serious injury
What to do if you're injured at work
Leigh Day can offer support and advice on what to do if you suffer an injury at work.
The most important factor is your health and wellbeing. It goes without saying that the first step after a workplace injury is to seek appropriate medical treatment.
If you need to go to the hospital, make sure to give your doctor an accurate account of the incident.
Even if emergency treatment isn't necessary, be sure to contact your GP to give them an accurate report as soon as you can.
We will request your medical records as your claim progresses.
Speak to Leigh Day as soon as possible to discuss your claim with a specialist work injury solicitor. You will have up to three years from the date of the injury to begin Court proceedings for falling object compensation claims.
Report the incident to your employers as soon as you can. Then, ask for a copy of your accident book entry. This will become important evidence for your claim.
The Health and Safety Executive (HSE) may also investigate the incident. This can depend on the injury.
When you report your injury, you will only need to make a brief report in the work accident book. You do not need to make an official statement to your place of work about the incident. Typically, we do not advise that you make a signed statement, especially in the period immediately after your injury.
Remember to report your accident incident to the Department for Work and Pensions, as this can help you if you decide to apply for state benefits.
Get access to any witness information related to your injury. Once you gather these details, give them to a specialist work injury solicitor as quickly as you can.
Request your shop steward or work safety representative to take photographs of the incident scene.
After the incident, gather evidence of your injuries as soon as you can by taking photographs. Continue to document your injuries regularly throughout your recovery.