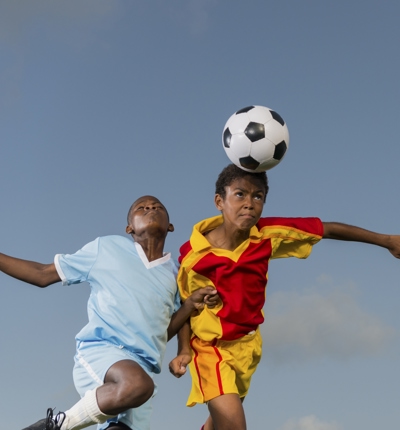 Abuse in sports
Contact us today for help and guidance around making a claim for abuse in sports.
For many of us, taking part in sports was an essential part of growing up. But for some, their coach or organiser sadly took advantage of their position of power and trust to exploit, abuse or harm those in their care.
Abuse and bullying can happen at all levels of sports, from grassroots football to elite gymnastics. Wherever it takes place, it can have a detrimental effect on the survivor's health, wellbeing and livelihood. Yet too often, clubs and governing bodies put reputation above safeguarding and athlete welfare.
If you have experienced physical, emotional or sexual abuse in sports, we may be able to help. Our specialist abuse solicitors advise, support and represent victims and survivors from all walks of life – from professional athletes to your child's local Saturday league. We have extensive knowledge of abuse claims within sport to include football, tennis, swimming, athletics, martial arts and many other sports.
Get help today
Call us today on 020 7650 1200 or fill in our short form and we will call you back
Types of abuse in sports
No matter the size of the sports club, coaches, staff and management owe a duty of care to safeguard their players and prevent abuse happening. Whether you're a child or an adult performing at international level or playing in a local league, everyone is entitled to proper care and treatment when partaking in sports.
Coaches, team scouts and performance directors all have influence over their athletes' careers, and many participants rely on their coaches for guidance and opportunities. When this trust is exploited, it can sometimes lead to bullying, harassment and abuse.
Sadly, some of the common types of abuse that may occur in a sports setting can include:
Sexual abuse – opportunities to be alone with children or vulnerable adults at sport events can lead to instances of sexual abuse.
Physical abuse – this could be hurting the victim through physical violence or pushing a person past their limits in training or when injured that causes physical damage.
Emotional abuse – coaches or sports staff may use their position of power to manipulate and emotionally abuse those in their care.
Reporting sports abuse
Speaking up about inappropriate behaviour by a coach or member of staff can be extremely difficult. If it's a sport you love or have given a lot of time to, it can make reporting even harder.
You might be worried about the impact that disclosing abuse will have on your career or your prospects of being selected for the team. The abuser might be someone high-up or well-connected in the sport, or someone you trusted.
It's natural to worry about the implications of speaking out about your abuse, both on your health and reputation. However, when you feel ready, sharing your experiences with someone you trust can help you move forward and prevent the abuser harming more victims.
In any case, if you are concerned that you, a child or other vulnerable person has faced abuse in a sporting setting, you should report it to the police. They will treat your case seriously and sensitively. This can help you seek justice and prevent the abuser from hurting anyone else.
You may also be able to get help by contacting the NSPCC Child Protection in Sport Unit.
Making a sports abuse claim
We understand that if you're a player or athlete, you may not know where to turn after experiencing abuse.
Sometimes it can be difficult to know if coaching techniques are inappropriate. In other cases, the abuser might pressure you into keeping it a secret. However, it's important to remember that you are a victim and have experienced something traumatic.
By making a sports abuse claim, you might be able to hold the abuser and organisation responsible to account, hopefully preventing further crimes happening in the future. You may also receive compensation for any trauma and damages you faced.
While this won't reverse the abuse suffered, the process of making a claim can help you seek closure and start to rebuild your life.
Making a sports abuse claim for a child
If you are a parent or carer of a child who has faced emotional, physical or sexual abuse in sports, you may be able to bring a claim on their behalf.
By enrolling your child in a club, you put your trust in the organisation to make sure your child is safe and protected. When abuse happens, it's natural to feel angry and betrayed by the club and its staff.
Making a sports abuse claim for your child may help you both gain closure and justice from the suffering your child faced. Any compensation secured can also be used for counselling, therapy and other aspects to help you move forward as a family.
Making a sports abuse claim for negligence
While the abuser is the one who committed the crime, you may also be able to claim against the club or organisation for negligence in their duty of care. This could be if you previously reported the abuse to the organisation, but they failed to investigate or take action to prevent it occurring again.
You may also be able to claim if a club employed an abuser with known criminal convictions.
Time limits for sports abuse claims
You usually have three years from the date of the incident, or until you're 21 for cases involving children, to make a claim. However, as abuse is naturally a sensitive and emotional topic, it is possible sometimes to persuade the courts to extend the time limit to support the victim for non-recent cases.
Get help today
Call us today on 020 7650 1200 or fill in our short form and we will call you back
Why choose Leigh Day?
We recognise the difficulties you face as both a survivor of abuse or a parent of a survivor. At Leigh Day, we can provide independent, confidential legal advice to try and help, even if the abuse happened when you were younger.
Whether you are a current player or athlete – or have left your team – our specialist abuse solicitors may be able to talk you through your legal options.
We have brought legal cases against local and professional clubs, as well as governing bodies that failed to protect their members. Our specialist team have also successfully represented survivors of abuse in disputes about their treatment or welfare using Sports Resolution arbitration.
Dino Nocivelli is a partner in the abuse team at Leigh Day and has extensive knowledge in abuse cases within numerous sports but especially in football. He has successfully represented childhood sex abuse survivors at several football clubs to include Chelsea, Southampton, Aston Villa, Leicester City, Crewe Alexandra and Peterborough United. He has also represented survivors of racist abuse at Chelsea Football Club.
When you're ready to speak about your experiences, our abuse solicitors are here to listen. Get in touch today to discuss your sports abuse case.