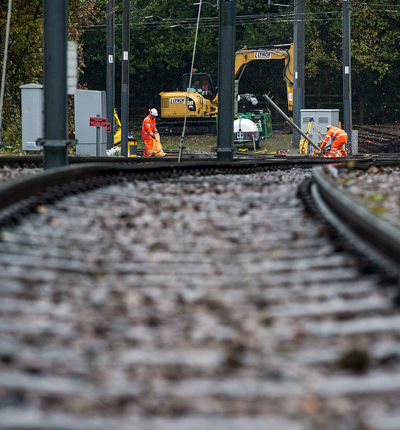 In the aftermath of Paddington
On the 5th October 1999, two trains collided almost head on when a Thames Train commuter service went through a red light just outside Paddington Station
On the 5th October 1999, two trains collided almost head on when a Thames Train commuter service went through a red light just outside Paddington Station. The Thames Train hit a London-bound Great Western train that was approaching the station. The combined speed on impact was thought to be in excess of 100mph. 31 people died and over 400 people were injured in the crash.
Following the disaster there was a public inquiry, led by Lord Cullen, which strongly criticised Railtrack's 'serious and lamentable failure' to look at how well signals could be seen by drivers. Thames Trains were also condemned for their 'slack and less than adequate' safety culture.
The Health and Safety Executive prosecuted Thames Trains, who admitted two breaches of health and safety law, one of breaching employee safety and the other relating to passenger safety. They were fined a record £2 million at the Old Bailey. The fine came a week after they lost their franchise to supply services to the rail network.
Sally Moore, a lawyer specialising in multi-party claims at Leigh, Day & Co solicitors has represented the widow of a man who was killed in the crash and 49 survivors, including 5 people who suffered severe burns:
"One of the saddest moments of my career was hearing how the widow of a man who died in the Paddington rail crash had to frantically search hospitals to find out what had happened to her husband. She then had to break the news of his death to her two small children."
Even though the claims arose from one accident, they were each treated as individual personal injury claims. The claims for physical injuries varied considerably from people with over 50% burns and serious crush injuries to head injuries and whiplash. Some of the more complex claims involved those who were less seriously injured but who suffered from severe psychological problems. Many of the travellers witnessed scenes of devastation; fellow commuters who had been gravely injured and those trapped in burning carriages.
Most of the people on the trains were regular commuters and a significant number found it extremely difficult to get over the experience and resume their normal daily commute. Many started to work closer to home to avoid travelling by train. Some have been unable to work or have had to find other work because of ongoing post traumatic stress disorder and travel related anxiety.
Sally adds: "Cases involving psychological injury require particular care. A key to the success of our work was encouraging our clients not to settle at the earliest opportunity but to wait and see if their problems would resolve. It's very difficult to treat phobic anxiety disorders and after a period of time it became obvious that some of our clients were simply unable to resume their pre-accident commute."
One case in particular began with an offer of £5-10K for physical injuries but eventually settled after a couple of years for £260K because of ongoing psychological problems.
In total, Sally negotiated damages totalling £6.5 million for the 50 claimants, including several cases in the millions for people who were severely injured and who were unlikely ever to work again.
Other cases include:
A claim for the family of a young man who died on the Thames Train. He was married with two children. His family received £900,000.
A man who was burned, whose leg was severely crushed and needed many operations and who suffers from ongoing psychological problems received £500,000.
A man who was travelling on the Great Western Train who helped a young woman who died from her injuries. He suffered a serious psychological injury and received £260,000 compensation.
A passenger who was pinned to his seat in the middle carriage of the Thames Train by the person who'd been sitting opposite. He suffered back injury, severe post traumatic stress disorder, travel related anxiety and had to give up his job. He was awarded £175,000 damages.
A passenger who was standing between two carriages of the Great Western Train. He suffered burns from a fireball that swept through the train and has ongoing psychological problems as a result of the crash. He received £140,000 compensation.
A man who had to give up his job following the crash due to travel phobia received £85,000 damages. He was standing between carriages on the Great Western Train and was thrown around violently and lost consciousness from a head injury.
A passenger who was dragged unconscious from a burning carriage of the Thames train received £88,000 for multiple injuries and psychological trauma.
The Law Society issued strict guidelines to deal with major disasters. Janet Paraskeva, the Chief Executive said: "Many of those involved in Paddington and Potters Bar are still waiting for justice. We want to ensure that the legal system does not add to the pain of those who have already suffered."
Sally Moore was elected secretary of the Ladbroke Grove Solicitors group who represented the families at the public inquiry. There were over 50 solicitors involved and Leigh Day & Co were one of the firms with the majority of cases.
"One of our main roles was disseminating information and assisting the other solicitors involved in line with the Law Society's guidelines."
Red Signals
There are still several hundred signals passed at danger in the UK every year.
Leigh Day was responsible for researching the involvement of the signals and track in the disaster, including the location of the signal and the training of the Thames train driver. This information was used to brief the barristers who were representing the families and cross-examining witnesses.
The conclusions of the Public Inquiry were very broad reaching, some of its many recommendations were that:
Steps should be put in place to ensure that contractors and sub-contractors are selected by a process which gives due regard to their state of training. They should be given appropriate time further to develop their training and planning as necessary before embarking on work.
Employers of contractors and sub-contractors should ensure that they work to exactly the same safety standards as those who are directly employed.
Safety meetings should be used as a means of two-way communication between management and the workplace, and should be linked directly to safety management leadership teams referred to in the previous recommendation.
ERTMS
ERTMS is a new system currently being implemented throughout Europe to improve safety and interoperability
In March 2001, a joint inquiry into Train Protection systems following the Southall and Paddington crashes was led by Lord Cullen and Professor John Uff. It recommended that regulations should require a new European Rail Traffic Management System (ERTMS), which includes automatic train protection (ATP), should be installed on that part of the rail network where trains run at more than 100 mph, by 2010.
However problems with the technology of the ATP system means that the level 2 ERTMS (which has the addition of radio contact between the driver and the signalling centre) is only just being piloted by the SRA on the Cambrian coast line in mid-Wales with a view to extending it route by route if it proves successful.
Following the crash, John Prescott pledged to spend £60 billion on rail safety as part of a 10 year plan.
The scrapping of Railtrack and the setting up of Network Rail and the Strategic Rail Authority in combination with the Health and Safety Executive, the Office of the Rail Regulator and the Rail Safety and Standards Board should be a guarantee to the safety of passengers. However a recent report by the Commons Transport Select Committee said Network Rail and the Strategic Rail Authority should be scrapped and replaced by a single, publicly-owned railway agency.
The Transport Secretary, Alistair Darling, agreed with much of the report and said that replacing Network Rail and the Strategic Rail Authority with a publicly-owned rail agency could lead to greater simplicity for commuters.
Sally concludes: "After Paddington, the fight for compensation was an attempt to get some justice for the ordeal that these people went through and are still going through, and of course financial compensation to allow them to get on with their lives. Most of all, the victims and their families want to know that a disaster like this could not happen again. Unfortunately that peace of mind still seems a long way off."
For more information please contact Sally Moore or Jill Paterson on 020 7650 1200.