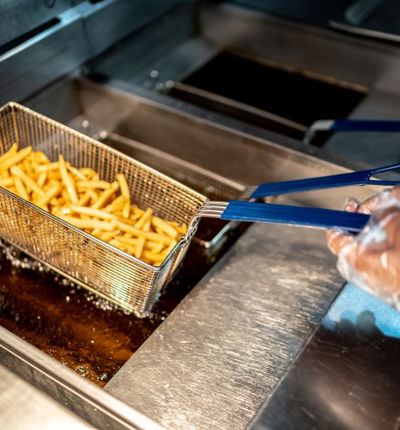 McDonald's staff subject to sexual harassment in a toxic workplace, according to BBC investigation
More than 100 current and recent McDonald's workers have told the BBC about a toxic culture of sexual assault, harassment, racism and bullying at the fast-food restaurants' UK outlets.
One employee, Shelby, worked at a branch in Berkshire for over a year, starting in March 2022. She told the BBC she was just 17 when she was allegedly sexually assaulted by a much older colleague.
She says the man, in his 50s, grabbed her bottom, hips and waist. On one occasion, he pulled her onto his groin.
She said older male colleagues would use the cramped layout in the kitchen as an excuse to touch junior female staff inappropriately, adding that it got so bad that she started crossing her arms to protect herself as she walked through the kitchen.
One day last summer, she said she was standing at the front counter when he came up behind her and grabbed her onto him, pulling her onto his groin. A manager called him into his office, but Shelby said there were no consequences. Shelby says she told senior management about what was going on in the store, but again nothing was done.
Shelby started to dread going in and was regularly calling in sick. She finally quit in May. In her resignation email, she said it was a "toxic work environment".
"McDonald's does 100% have a problem with sexual harassment," she told the BBC. She blames her managers, who she says failed her and her colleagues. "They should've done more to protect us as young vulnerable teenagers," she said. "They knew that it was all going on."
McDonald's is one of the UK's largest private sector employers. The fast-food giant has more than 170,000 people working in 1,450 restaurants.
Its staff are also one of the country's youngest workforces. Three quarters of its employees are aged between 16 and 25.
Most workers are not directly employed by the company as McDonald's uses a franchise system, which means individual operators are licensed to run the outlets and employ the staff.
The employees that the BBC spoke to all work at McDonald's outlets or have worked there recently and are based all around the country. Thirty-two of them made allegations of sexual assault, and 79 made allegations of sexual harassment.
Multiple workers told the BBC that McDonald's managers at the outlets were responsible for the harassment and assaults. All too often, senior managers are said to have failed to act on complaints.
The BBC also heard 19 allegations of racism, while six people made allegations of homophobia. Many told the BBC that they reported harassment and assault, only for it to be ignored.
Several workers also said that when complaints were made about managers, they were then moved from one McDonald's restaurant within the franchise to another, rather than being fired.
Other employees said they didn't complain as they couldn't risk losing work. Young staff at McDonald's are often on zero hours contracts - it means their hours are flexible, but also that they are at the mercy of shift managers who decide their rotas.
In February, McDonald's signed a legally binding agreement with the Equality and Human Rights Commission (EHRC) in which it pledged to "communicate a zero-tolerance approach" towards sexual harassment and to deliver anti-harassment training for employees.
But staff have told the BBC that the sexual harassment training is not being taken seriously by managers; they have either not rolled out the training, or it is rushed, and the videos are "flicked through".
McDonald's has faced scrutiny globally over its workplace culture. In the US it is facing multimillion dollar lawsuits brought by employees over sexual harassment allegations, and workers have staged strike action.
Allegations of sexual harassment at McDonald's first surfaced in the UK five years ago when the Bakers, Food and Allied Workers Union (BFAWU) says it received 1,000 complaints from workers.
The UK equality watchdog said it was "concerned" by the new allegations uncovered by the BBC and that in response, it was setting up a new email hotline for those affected.
Kiran Daurka, a partner in the Leigh Day employment team, said:
"Companies should be taking proactive steps, rather than addressing the issues after a scandal. At the moment it's a hot topic. There have been so many high-profile cases of large companies who are discovering that their workplace culture is not what they thought it was.
"This kind of approach means companies should be reviewing their HR policies and practices and thinking what kind of steps should we be taking to protect our workforce to prevent these things happening. Failing to take those steps could give rise to legal actions against an employer."
McDonald's said it had "fallen short" and it "deeply apologised". Alistair Macrow, chief executive of McDonald's UK & Ireland, said there was "simply no place for harassment, abuse, or discrimination" at the company.
He said: "Every one of the 177,000 employees in McDonald's UK deserves to work in a safe, respectful and inclusive workplace. There are clearly instances where we have fallen short and for that we deeply apologise," he told the BBC.
"We will investigate all allegations brought to us, and all proven breaches of our code of conduct will be met with the most severe measures we can legally impose, up to and including dismissal."
The company added that all employees deserved to work in a safe, respectful and inclusive workplace.
Mr Macrow said that more than 2,000 managers had completed full awareness training and that most restaurant teams were now working within the new protections which aim to create "a safe and respectful workplace". He added that the company has stringent rules to ensure its workplaces around the world are safe and respectful.