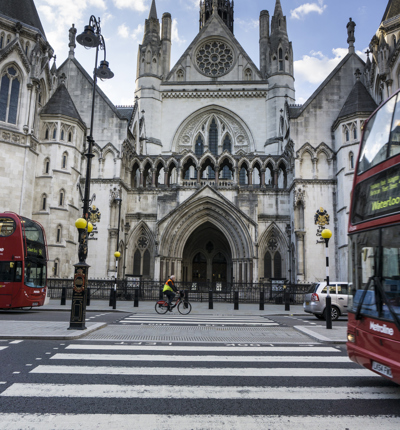 Court of Appeal rules Rwanda policy unlawful on grounds of safety, and recognises problems with short-cut process
The Court of Appeal has today ruled that the Home Secretary's Rwanda removals process is unlawful on grounds of safety and that sending anyone to Rwanda would breach Article 3 of the European Convention on Human Rights (ECHR).
It concluded the High Court's judgment was wrong on key points and recognised deficiencies around the short-cut process but did not find the shortcut process unlawful. Asylum Aid, represented by Leigh Day, is carefully considering an appeal on this point.

Asylum Aid appealed against a High Court ruling last year that the short-cut process to decide whether to remove asylum seekers to Rwanda under the Migration and Economic Development Partnership (MEDP) is fair.

Asylum Aid argued that process adopted by the Home Office was so unfair it rendered it unlawful. The charity said that the time limits of seven days for asylum seekers in detention to make representations on why they should not be sent to Rwanda, was obviously too short. Asylum Aid also argued people needed enough time to access lawyers.

In its ruling the Court of Appeal accepted that seven days would not be enough time in the majority of cases. It also accepted that the High Court was wrong to conclude that people did not need to be given enough time to make representations on why Rwanda was generally unsafe and wrong to say they did not need to have access to lawyers. But the Court found the policy was not inherently unfair. It said the Home Secretary needed to publish a policy explaining that extensions should be granted where fairness required it. The Court also commented that given the decision on safety, no removals would be proceeding for some time.

The Court of Appeal said: "There may be cases where a decision is fair even where there has been no access to legal assistance, but they are likely to be exceptional. As we have seen, the Secretary of State does not contend otherwise and it is her policy to ensure that legal assistance is indeed available."

The Court of Appeal went on to say:

"The evidence clearly establishes, and it is in any event obvious as a matter of common sense and experience, that in many cases it will indeed be impossible for claimants to submit effective representations within seven days of receipt of a Notice of Intent, even if they have ready access to legal assistance and only wish to make representations on matters specific to their particular circumstances."

But it went on to say that this will not necessarily be impossible in every case.

The court therefore found that the focus needed to be on the Secretary of State's policy of flexibility.
It found that it is not good enough that that policy is not formally published in the form of guidance to caseworkers nor referred to in the Notice of Intent.

It said that: "Claimants and their advisers need to know that the seven-day timetable can be extended where that is shown to be necessary in the interests of fairness. It is important that the guidance makes it clear that the seven day period should not be treated as a norm and that the grant of extensions is not necessarily exceptional. It may be that if experience shows that extensions are required in a very large number of cases, the Secretary of State might wish to consider providing for a rather longer base-line period; but that must be a matter for her.'
The court also ruled on a number of separate cases brought by other law firms.
Alison Pickup, Director of Asylum Aid, said:
"We are delighted that the Court of Appeal has upheld the argument that Rwanda is not a safe country for people seeking asylum and that no-one will be sent to Rwanda.
"We are also pleased that the Court found that the High Court was wrong in the reasons it gave for dismissing our case on fairness, and accepted that people seeking asylum must have a fair opportunity to make representations on all issues relevant to whether they can lawfully be removed, and that except in exceptional cases they must have access to lawyers.
"We are disappointed that court found the process was not inherently unfair even though it accepted that the majority of cases could not fairly be decided in the short time frames and that the current policy for granting extensions was not good enough.
"We will now be carefully considering the judgment together with our lawyers to decide whether it is necessary to seek permission to appeal to the Supreme Court."
Leigh Day partner, Tessa Gregory said:

"We are thrilled that the Court of Appeal has ruled that the Rwanda removals process is unlawful on grounds of safety. Although it did not find in favour of Asylum Aid's claim that the fast-track process was also unlawful it recognised problems around the shortcut process, including that lawyers are needed and representations by individuals on general issues can and should be made. There are clear deficiencies in the process, some of which have been recognised by the court and Asylum Aid will consider whether it is necessary to appeal."

Asylum Aid is represented by a legal team including Carolin Ott and Stephanie Hill, led by Tessa Gregory, from law firm Leigh Day. Counsel are Charlotte Kilroy KC of Blackstone Chambers and Michelle Knorr and Sarah Dobbie of Doughty Street Chambers. Asylum Aid's case is supported by Law for Change.

The UN Special Rapporteur on Trafficking in persons and the organisation Freedom from Torture were granted permission to intervene in Asylum Aid's case with written submissions.
Asylum Aid's appeal was heard and determined alongside appeals from individual asylum seekers who were due to be removed to Rwanda in June last year and in whose cases the UNHCR intervened.