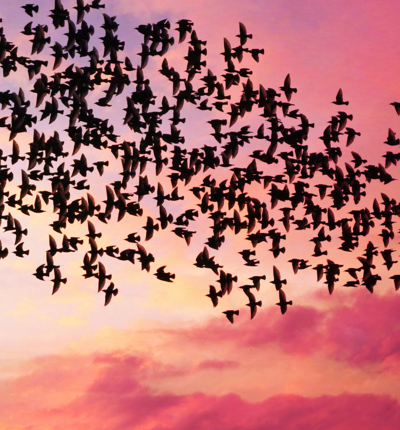 Wild Justice victory on general licences for killing of wild birds in Northern Ireland
Wild Justice is celebrating success in its legal challenge to Northern Ireland's general licences for the killing of wild birds.
Posted on 24 October 2022
The Department of Agriculture, Environment and Rural Affairs (DAERA) has written to Wild Justice with a new limited list of birds to be covered by the general licences issued under the Wildlife (Northern Ireland) Order 1985. Wild Justice has been campaigning for species to be taken off the general licences.
The list now provided by DAERA is significantly shorter than in the current licences, bringing Northern Ireland into closer alignment with general licences in England and Wales – where Wild Justice has previously successfully fought for greater restrictions in general licences for bird killings.

Birds affected by changes to the licences are Hooded Crow, Rook, Feral Pigeon, Great Black-backed Gull, Lesser Black-backed Gull, Jackdaw, Magpie, Rook, and Woodpigeon, Herring Gull, House Sparrow, and Starling. The position of Carrion Crow has yet to be confirmed by DAERA.

Following a legal campaign by Wild Justice, DAERA conceded last year that its general licences were unlawful and replaced them with interim licences pending a full consultation.

DAERA's self-imposed deadline for a review of consultation responses and the issuing of new general licences was Monday 17 October.

Two days later it wrote to Wild Justice to confirm the licences would be in line with the changes that the environmental group had demanded to comply with legislation.
General Licence TGP/1/2021 - killing for the purpose of preserving public health or public safety
General Licence TGP/2/2021 - killing for the purpose of preventing the spread of disease and preventing serious damage to livestock, foodstuffs for livestock, crops, vegetables, fruit, growing timber and fisheries
General Licence TGP/3/2021 - killing for the purpose of conserving wild birds.
As a result of the challenge, TPG 1 now only covers the jackdaw and feral pigeon, TPG2 now covers hooded crow, rook, jackdaw, magpie, feral pigeon, woodpigeon, TPG3 covers only hooded crow and magpie.

Wild Justice, represented by Leigh Day acting through their agent Phoenix Law, first raised concerns with DAERA about its approach to general licences for bird killings in May 2019, following a successful legal challenge to Natural England's 2019 general licences.

Wild Justice wrote again to DAERA regarding serious flaws in its 2020 general licences, and asked them to revise those due to be issued in September 2021.

After DAERA issued new licences in September 2021 on precisely the same terms as the 2020 licences, and without any evidence to support the birds species included, Wild Justice sent a formal pre-action protocol letter challenging DAERA's decision.

Wild Justice, led by Dr Mark Avery, Dr Ruth Tingay and Chris Packham CBE, welcome the decision on new general licences.

Wild Justice said:

"We regard this as a great victory – not just for Wild Justice but also for the other organisations who supported change and most notably those Wild Justice supporters who responded to the consultation. And most of all it is a victory for wildlife."

Leigh Day Senior Associate Tom Short said:

"Our client welcomes confirmation from DAERA that the new general licences to be issued later this year will be substantially revised in line with what Wild Justice has sought. The changes are being made following Wild Justice's successful legal challenge in last year. We hope these changes to licensing will significantly reduce the number of wild birds being unnecessarily killed."