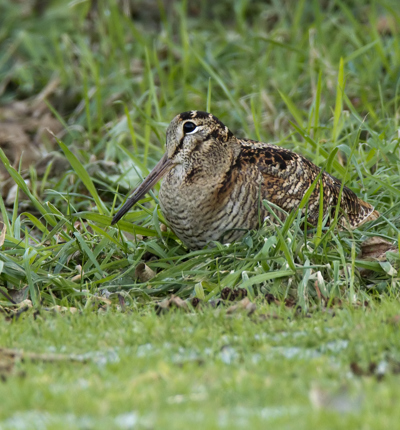 Wild Justice calls for longer close season to protect resident population of Woodcock
Wild Justice has called for a change to the dates when the shooting of Woodcock is permitted in order to halt the decline in numbers of the at-risk birds.
The wildlife group has written a legal letter to Environment Secretary, George Eustice MP, and Northern Irish Minister of Agriculture, Environment and Rural Affairs, Edwin Poots, asking them to change the dates of the 'close season' ahead of the 2022 open season so that the birds cannot be targeted in October and November.
The conservation status of Woodcock – often referred to as the woodland snipe – was upgraded to red in 2015, and that has remained in place following a survey in 2021.
Currently the close season for Woodcock, during which the killing of the birds is officially forbidden, is 1 February to 30 September. The dates were set back in 1981 when the Wildlife and Countryside Act was passed by Parliament.
However, since then the native Woodcock population across the UK has plummeted. In 2013 it was believed to include just 55,240 males. It is estimated that 160,000 of the birds may be shot annually in the UK, but the dates on which the close season fall means that resident Woodcock are the main target of shoots taking place in October and November, with the migrant population only arriving later on in the season.
Wild Justice says there is now compelling evidence for the Secretary of State and the Minister each to exercise the power they hold under the relevant legislation to vary the close season for shooting Woodcock in Great Britain and in Northern Ireland respectively.
In its letter to Mr Eustice and Mr Poots, Wild Justice says that an obvious way to minimise any impact and enable the UK population of the Woodcock to recover is to shoot them only when large numbers of migrants are present (in mid-winter, migrant Woodcock in Great Britain are estimated to outnumber residents by approx. 10:1).
Wild Justice notes in its letter that shooting and hunting group GWCT has also argued that if the close season was extended to the end of November, it would help to protect the UK's resident Woodcock population.
The Environment Secretary has to set a "species abundance target" by 31 December 2030 under the Environment Act 2021, which changing the close season would help to meet.
Wild Justice says:
"Ours is a modest proposal to help protect the UK breeding population of this superb bird. Changing the shooting season is simple, quick, cost-effective and backed by science from the shooting industry. It's a no-brainer for our politicians - but will they act or dither?"
Leigh Day solicitors Tom Short and Carol Day represent Wild Justice. Tom Short said:
"Our client has set out compelling evidence that a change to the close season dates for shooting Woodcock could significantly reduce the threat that shooting poses to the resident population in Great Britain and Northern Ireland. The Secretary of State and the Minister each have the power to make this change and Wild Justice calls on them to exercise their respective powers promptly so that the change can be made well in advance of the current start of the open season on 1 October."