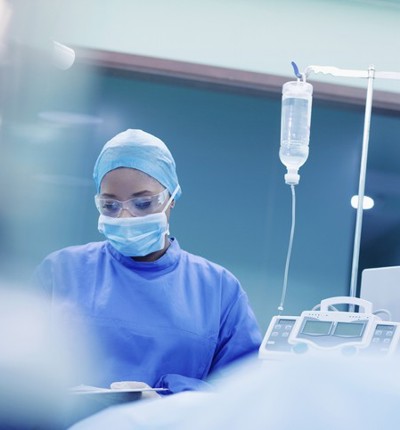 Polycystic ovaries surgery led to bowel complications
A London woman who suffered serious bowel and fertility complications following surgery for polycystic ovaries has received a six-figure settlement.
Rebecca, not her real name, went to a private consultant gynaecologist for a second opinion when, in 2016, she had experienced 15 months of infertility after trying to become pregnant with a first child at the age of 33.
Following an ultrasound scan Rebecca was told she had polycystic ovaries (PCOS) and was told she needed ovarian drilling, a keyhole procedure carried out under anaesthetic, which was done at the same hospital 11 days later.

However, following the surgery, the gynaecologist told Rebecca that during the operation, he had discovered severe adhesions around her bowel and he had performed a further surgical procedure, adhesiolysis to divide the adhesions and prevent the development of bowel obstruction.

Rebecca was sent home the same day, but the following evening, she developed severe abdominal pain and went to Accident and Emergency at her local hospital.

Emergency surgery revealed faecal peritonitis and perforation of the small bowel which meant NHS surgeons had to resect 18cm of Rebecca's small bowel and the ileo-caecal valve, and remove part of her colon. Rebecca had to be admitted to the critical care unit, where her recovery was complicated by sepsis.

In the six years since the surgery, Rebecca has suffered with irritable bowel syndrome (IBS) and has had to significantly alter her diet and lifestyle to manage the symptoms.

She has suffered decreased fertility, and has had to undergo more cycles of IVF to achieve successful pregnancies than she otherwise might have done.

In her legal claim against the gynaecologist, independent expert evidence was provided by a consultant gynaecologist, a professor in reproductive medicine and a colorectal surgeon who said that the IBS and decreased fertility happened because of the ovarian drilling surgery.

Rebecca was represented by Leigh Day clinical negligence lawyers Fiona Huddleston and Lily Hedgman who said the procedure itself should not have been offered and carried out for the following reasons:
She did not meet the criteria for PCOS and there had been no evidence of this in several other ultrasound scans that had been performed by other clinicians previously.
Even if she had met the criteria for PCOS, ovarian drilling should not have been undertaken before other treatment such as medical ovarian stimulation was attempted.
She did not give informed consent to the procedure, as the associated risks and reasonable alternative treatment options had not been discussed adequately or at all, and she was not given sufficient time to consider the decision.
Rebecca also alleged that the procedure itself was performed negligently, as the adhesiolysis was outside the consultant's level of competence as a gynaecologist and, if performed at all, should not have been attempted without the assistance of a general and/or bowel surgeon.

The gynaecologist did not admit liability but settled the claim for a six-figure sum.

Rebecca said:

"Ultimately, I feel very positive about the settlement of the case and now able to close that chapter of my life and move forward. The settlement we reached felt fair and proportionate given what had happened and I feel very satisfied with the final result."

Associate solicitor Fiona Huddleston said:

"This was a challenging case, further complicated by the conduct of the Defendant. The past six years have been very difficult for Rebecca and she has shown courage and determination to see the claim through to its conclusion. I am very pleased that we pushed on and were able to agree a settlement for her that will enable her to undergo further fertility treatment."

Solicitor Lily Hedgman said:

"Our client has been incredibly resilient throughout in the face of some frustrating delays on the part of the Defendant, and I am very pleased that we were able to bring the case to a successful conclusion."