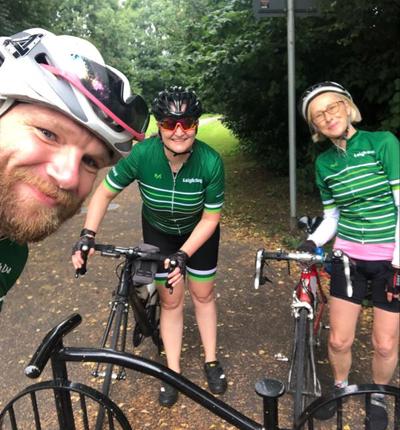 Leigh Day cyclists make light work of 66-mile Manchester bee bike ride
Leigh Day cyclists made light work of a Manchester-bee shaped route to raise awareness of safer cycling for all abilities at the weekend.
Posted on 14 September 2021
Three of the law firm's specialist cycling lawyers from their personal injury team cycled 66 miles in a journey around the city that mapped out the shape of a Manchester worker bee.
Leigh Day, based at Central Park, Newton Heath, also used the cycle ride to help Simply Cycling, a cycling charity in Manchester which offers cycling to people of all abilities. With more than 180 adapted bikes, the charity offers low-cost bike sessions to less able-bodied cyclists at Wythenshawe Park, Longford Park and Boggart Hole Clough. As part of the celebration of safe cycling for all abilities, Leigh Day made a £500 donation to boost the charity's work.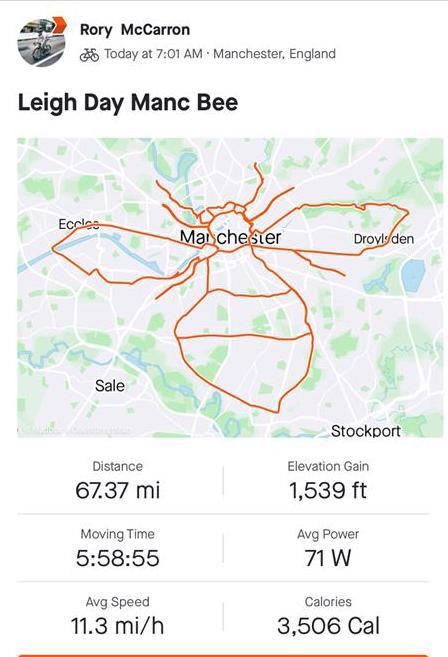 Lawyers Rory McCarron, Sally Moore and Jane Bedford cycled the route. The trip stretched east to west from Ashton-under-Lyne to Eccles, circling the city centre, and reaching Salford, Trafford, Hulme, Chorlton, Didsbury, Rusholme, Levenshulme, Longsight, Beswick, Collyhurst and Cheetham Hill over six hours on Sunday, 12 September 2021.
 
As part of its personal injury legal work and being one of the leading law firms specialising in acting for injured cyclists, Leigh Day advocates for safer cycling in the UK.
 
Leigh Day partner Sally Moore said:
 
"We were delighted to be able to make a donation to Simply Cycling as part of our celebration of safer cycling with our bee-shaped cycle ride. Cycling is a wonderful activity that brings benefits to people of all ages and abilities and we would encourage as many people as possible to have a go."
 
Sue Blaylock of Simply Cycling said:
 
"Simply Cycling is a locally based charity offering recreational and fun cycling for people of all ages and all abilities all year round.  Based in Longford and Wythenshawe Parks we have around 600 people cycling with us every week and are always on the lookout for additional bikes and trikes to add to our fleet to ensure we really can cater for everyone!  We are so excited to receive this donation and are definitely on the hunt for our next purchase."