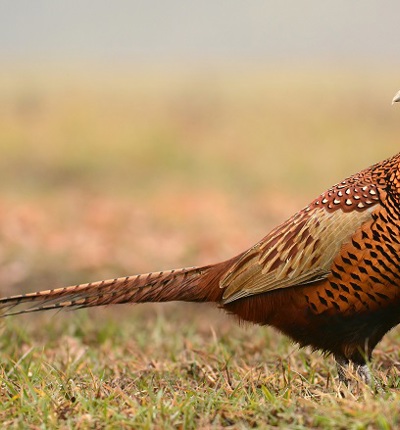 Wild Justice issues legal case to halt release of more than 50 million gamebirds
Environmental campaign group Wild Justice has issued a legal case against the government in a bid to halt the release of more than 50 million game birds into the wild in late summer 2020.
Posted on 26 February 2020
Wild Justice
, which includes broadcaster Chris Packham CBE, conservationist Dr Ruth Tingay and environmental campaigner, author and blogger Dr Mark Avery, has applied for a judicial review of the government's failure to heed its obligations under the Habitats Directive.
In 2018, Wild Justice started
legal proceedings
against the Department for Environment, Food and Rural Affairs (Defra) for failing to provide a proper mechanism to evaluate the impact of the annual release of 47 million Pheasants and 10 million Red-legged Partridges on Natura 2000 sites, which comprise Special Areas of Conservation (SACs) designated under the EU Habitats Directive and Special Protection Areas (SPAs) classified under the Wild Birds Directive.
Together with the residual population of eight million Pheasants, at their peak these birds, largely imported from France, Belgium, Spain and Poland, represent half the total bird biomass in the UK and could significantly influence the ecosystem function.
A major impact arising from the annual release of millions of gamebirds includes the direct predation by gamebirds on native flora and fauna including insects, other invertebrates, amphibians, reptiles, and even small mammals. Only about one third of gamebirds released for recreational shooting are actually shot, killed and retrieved, the rest (about 40 million birds across the two species) die of other causes and are consumed by artificially bolstered populations of predatory or scavenging birds or mammals. These species may then exert a greater impact on their prey species, including declining species of conservation concern (such as Curlew and Lapwing) which are known to suffer high predation rates. Finally, Pheasants are known to be reservoirs of diseases including Lyme disease and imported Pheasants have brought Newcastle disease into the UK in the past.
Defra argued that provisions in the Wildlife and Countryside Act 1981 may ensure assessment and site protection in some circumstances, but pledged to review measures in place for assessing the impact of the birds' release on Special Protection Areas (SPA) and Special Areas of Conservation (SAC). 
As no progress had been made on the review,
Wild Justice sent Defra a second pre-action letter
in January 2020, following which Defra set out the Terms of Reference for the review on 21 February 2020. However, Defra's response to the letter also confirmed that it would not be taking action to ensure that the release of gamebirds would be assessed and, where necessary prevented, this year as it was neither 'reasonable nor realistic to expect measures to be taken before summer/autumn 2020'. 
Wild Justice believes that it has therefore been left with no option but to issue legal proceedings in an attempt to ensure that the impact of the release of millions of gamebirds on the country's most important wildlife sites, which Defra has conceded may be unlawful under the law as it stands, is properly assessed.
Wild Justice are represented by
Tessa Gregory
and Carol Day, solicitors at Leigh Day.
The three co-founders of Wild Justice said; 
Chris Packham CBE: "DEFRA has been dragging its feet on this issue since we first raised it. It is time to sort this out and Wild Justice is fully prepared for a court battle on behalf of UK wildlife.  Our challenge relates to Natura 2000 sites in England but the impacts will be felt right across the UK countryside."
Dr Ruth Tingay: "The lack of monitoring and regulation of gamebird releases is staggering. The Government doesn't seem to know or care how many are released each year and even the figure of 60 million gamebirds may well be an underestimate.  Incredibly, there is nothing to stop the shooting industry releasing twice as many gamebirds next year. This has to stop and proper regulation brought in."
Dr Mark Avery:  "These non-native gamebirds go around gobbling up insects,  other invertebrates and even snakes and lizards, they peck at vegetation, their droppings fertilise sensitive habitats which no farmer would be allowed to fertilise and they provide prey and carrion that swell the populations of predators that then go on to prey on other threatened species. And the biomass of Pheasants and Red-legged Partridges exceeds that of all native UK birds put together. This is a very serious ecological assault on the countryside which government is failing to assess and regulate."
Carol Day, solicitor from law firm Leigh Day, said:
"Wild Justice quite rightly held off issuing legal proceedings last year on the basis that the Government said it would review arrangements to consider the impact of the gamebirds' release in future. It is now clear that the review has only just started and that no action will be taken that could affect the shooting season in 2020.
"If Wild Justice waited until September to challenge the legality of the gamebird releases it would be too late. The Pheasants and Partridges would have left their breeding pens, and the damage could then be done. And so – responsibly and properly – the Claimant is acting now, at a time when it is still possible to head off the alleged illegality."
Wild Justice argues that the release of the gamebirds in September would be unlawful and is requesting a Judicial Review on two grounds:
Failure to comply with the Habitats Directive due to lack of appropriate assessments of the impact of game bird releases on SPAs and SACs; and
The existing mechanisms relied upon by Defra are inadequate/ineffective for the purposes of the Habitats Directive. For example, Section 28E of the Wildlife and Countryside Act only applies to activities within an SPA or SAC – it does not apply to activities happening outside the SAC or SPA which may impact it.
Examples of areas which would be affected by the release of the gamebirds are:
The Tintagel-Marsland-Clovelly Coast SAC 
Hampden Estate: Chiltern Beechwoods SAC 
Grosvenor Estate: Bowland Fells SPA