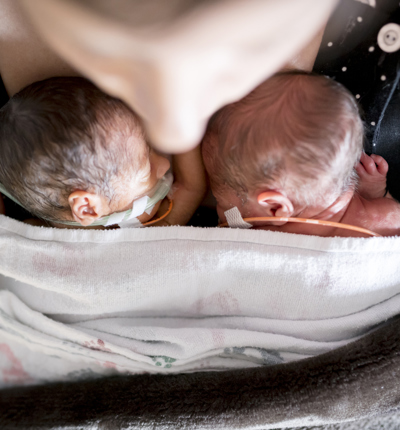 Saving Babies' Lives campaign: Working towards better outcomes for twin and multiple pregnancies
Leigh Day has partnered with Twins Trusts in support of its Saving Babies' Lives campaign on 12 and 13 March 2023. Sanja Strkljevic and Ella Cornish, solicitors in the healthcare team, discuss the importance of the Twins Trust's campaign and the complications that can arise in twin and multiple pregnancies
Twin and multiple pregnancies are an exciting time for expectant parents, but they also come with an increased risk of complications. Leigh Day is supporting the Twins Trust's Saving Babies' Lives campaign aimed at improving the quality of care across maternity units in the UK.  

Our support of the Twins Trust Saving Babies' Lives campaign

Leigh Day is delighted to have partnered with Twins Trust in support of its Saving Babies' Lives campaign. For over 40 years, the Twins Trust, formerly known as TAMBA, has been providing support to families and providing training and educating to maternity units across the UK. 

The Twins Trust works closely with maternity units across the UK by assisting them in implementing the NICE quality standards and guidance.  The impact of their work has been demonstrated through their Maternity Engagement Programme, in which they have assisted 30 maternity units in implementing the NICE guidance which have resulted in a 5.8% reduction in neonatal admissions and 3.1% reduction in emergency caesarean sections for twin and multiple pregnancies.

Through the Saving Babies' Lives campaign, the Twins Trust will focus on raising funds to enable them to work with even more maternity units to improve patient care. The campaign will run on the 12th and 13th March 2023, and Leigh Day is proud to be matching the first £10,000 of donations. 

The Twins Trust also provides invaluable support to families who are expecting twins or have twins.  A remarkable 70% of people expecting twins or triplets become part of their community, and they offer tailored support to families in need. The Twins Trust has also developed the world's first twin specific growth chart, in partnership with St George's Hospital, an essential tool for identifying Twin to Twin Transfusion Syndrome (TTTS).

What are the risks in multiple pregnancies?

Twin and multiple pregnancies make up 1.6% of pregnancies in the UK. However, these pregnancies are two times more likely to result in a stillborn birth and three times more likely to result in a neonatal admission (where a new born has an extended stay in hospital).

Twins are more likely to be born prematurely and to have a lower birth weight. Additionally, twin pregnancies are more likely to result in gestational diabetes and high blood pressure, both of which can have serious implications for both the mother and the babies.

There is also the risk of complications that affect only multiple pregnancies. One of these is Twin to Twin Transfusion Syndrome (TTTS), which is a complication that affects 10 to 15% of identical twins who share a placenta. TTTS occurs when one twin receives more of the placenta's blood supply resulting in the twins growing at different rates. TTTS can be identified in the first trimester through ultrasound screening, however it carries a life-threatening risk to the twins if undiagnosed or if it is not managed appropriately.

Twin and multiple pregnancies are also associated with an increased risk of complications that occur during labour, such as delays in delivery, injury to the babies and perineal injuries to the mother. Almost half of twin pregnancies are delivered via caesarean section, which is around double the rate of caesarean sections used in single pregnancies.

The guidelines for twin and multiple pregnancies

In 2013, The National Institute for Health and Care Excellence (NICE) published quality standards aimed at improving the quality and consistency of care provided to expectant mothers throughout twin and multiple pregnancies. The quality standards were updated in 2019 alongside the publication of updated guidance for twin and triplet pregnancies.

The NICE guidance aims to reduce the risk of complications in twin and multiple pregnancies by providing increased antenatal care, including involvement of consultants throughout the antenatal period, specialist midwifery staffing and increased screening programmes.

However, there is still significant inconsistency in the application of these guidelines and standards across maternity units. Recent government investigations into the maternity services at Shrewsbury and Telford Hospital NHS Trust and at East Kent Hospitals University NHS Foundation Trust have highlighted concerns regarding the care provided throughout twin and multiple pregnancies.

When things go wrong

Unfortunately, there are often circumstances where the care provided throughout the pregnancy and the delivery of twins and triplets falls below the standard expected of maternity services in the UK.

Leigh Day has supported clients throughout the claims process when something has gone wrong, and we utilise our expertise in maternity claims to reach successful outcome for our clients.

In 2019, Suzanne White, head of the medical negligence department, secured a seven-figure settlement on behalf of a twin boy who sustained a brain injury after being deprived of oxygen for a prolonged period during his birth. Sanja Strkljevic has also represented a mother in her successful claim resulting from a stillbirth of one of her twins consequent from care provided to her by a London teaching hospital antenatally and during her labour.

Leigh Day is also experienced in supporting families through difficult inquest proceedings. Suzanne White represented the family of Thor, a twin boy who sustained a fatal brain injury during his delivery. The coroner determined that the injury was caused by the "unorthodox" use of forceps during an emergency caesarean section and criticised the lack of supervision of junior clinicians during a complex twin delivery.

At Leigh Day, we understand the emotional impact that pursuing a claim relating to the birth of twins or triplets can have on the families.  We are particularly aware of how difficult it can be for parents to bring a claim in circumstances where they have a one healthy baby and another who has sustained an injury or who has died.

At Leigh Day, we could not be more proud to be supporting such an invaluable campaign, Saving Babies' Lives.  More information about the Twins Trust can be found on their website and donations to the campaign can be made online.