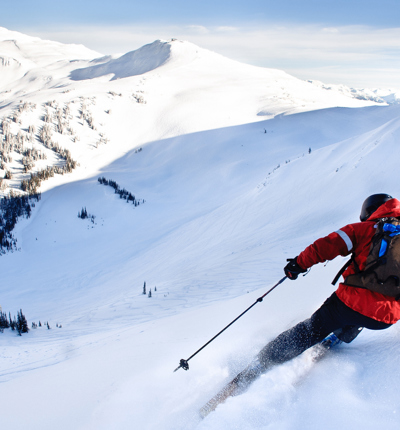 Advice for avoiding injury on your skiing holiday
Personal injury lawyer Caitlin Dunn and travel claims partner Clare Campbell provide their top tips for avoiding accidents while on a winter sport holiday, and legal advice to be aware of if you are injured abroad.
Posted on 11 February 2022
An exhilarating winter sports holiday is a popular choice for this time of year. However, it is important to be aware of the risks and to know what your legal rights are should you be involved in an accident on the slopes.
Consider your travel arrangements
It is important to consider the steps you can take when booking your trip and making travel arrangements which could benefit you, should you have an accident on your winter holiday.
It can be more cost effective to book different components of your holiday through separate travel providers; however, booking a holiday this way means you may not benefit from the same legal protection as with a regular package holiday.


The Package Travel and Linked Travel Arrangements Regulations 2018 defines a package holiday where there is a combination of at least two different types of travel services where you have paid an inclusive price for the holiday. The combination of services can include: 


transport (such as a flight, coach or train but not transfers from an airport)
accommodation (such as a chalet)
car rental
a tourist service (for example, a ski pass or ski lessons) where this is a significant part of the holiday either because of its value or because it is an essential part of the trip.
If you have booked a holiday this way with an English travel provider, you are entitled to bring a claim against the English travel provider in the English Courts for an accident which occurs during a part of this package. This can be significantly more straightforward than attempting to pursue a foreign company or individual.


When it comes to paying for your winter holiday, we would always recommend purchasing this with a credit card to provide financial protection, as your holiday is considered a good or service provided the value falls between £100.00 to £30,000.00.


Although we are all hoping that travel restrictions are coming to an end, we cannot guarantee that travel plans will not continue to be disrupted. This is particularly prominent in the current climate as travel providers are finding themselves in financial hardship with many ceasing trading altogether.


By purchasing your holiday on a credit card you are protected by s.75 of the Consumer Credit Act, which holds your credit card provider joint and severally liable for any breach of contract or misrepresentation by the travel retailer or trader. Therefore, if the travel provider cannot uphold their end of your contract for your holiday, you are entitled to claim against your credit card company. 
The importance of having travel insurance for your winter break
We will always
recommend taking out a travel insurance
policy for a trip abroad, however it is even more important when travellers are taking part in high-speed activities such as skiing or snowboarding. 
An obvious benefit of taking out travel insurance is to cover medical costs if you are injured and require emergency medical treatment or repatriation.  UK based travellers travelling within the EU used to benefit from the EHIC card system which meant that medical treatment abroad would be accessible to British nationals at the same cost as if they were a national in the country of travel.


Post Brexit, this is now being replaced by the GHIC card which is intended to have the same effect as the EHIC card, however this still means that you will have to pay some treatment costs. It is also worth noting that the GHIC card will not be accepted in Norway, Iceland, Liechtenstein or Switzerland, or in many non-European countries where we are yet to establish reciprocal healthcare agreements.


It is useful to have your travel insurer on hand to deal with the cost of treatment directly with a foreign hospital or ambulance service. It is also imperative to check that the policy covers you for the activity you are doing.  There are many insurance policies that offer "comprehensive cover" and "winter sports", but this does not necessarily mean that the winter activity you are doing is covered.


Nobody likes to read terms and conditions, but when it comes to your insurance policy make sure you read the policy wording in full.  Ensure that you check that the winter sports you are partaking in are covered, to avoid landing yourself with a hefty medical or repatriation bill.


Insurance is useful to recover your financial losses following an accident, but it can also assist with a future personal injury claim. We recommend checking that your policy offers legal expenses insurance, which can be used to fund a personal injury claim.


This is particularly important if you have suffered a serious injury during a holiday which does not fall within a package holiday. This means that your solicitor will incur significantly more legal costs to try to establish your right to bring your claim in the English Courts.  If you do have legal expenses insurance, it may be that a solicitor is more likely to take on your claim and challenge your right to bring the claim in the English Courts.
Knowing your ability on the slopes
Regardless of whether you are experienced on the slopes, or a complete novice, make sure you stay within your limits when skiing – by this we mean your skiing ability, but this logic extends to drinking alcohol on the slopes. If you are over the limit to drive, you will be over a safe limit to ski.


We recommend checking the local ski resort maps before your trip as many slopes will be colour coded to determine a skier or snowboarders' ability. It is best to self-assess your ability before you travel and be familiar with the appropriate slopes. It can also be helpful to take ski lessons if you need them, to make sure you get the most out of your holiday without cutting it short due to an accident.


When you're there, wear a helmet and any other safety equipment provided. This could be the difference between a minor soft tissue injury, or a serious life-changing brain injury.


If you have an Apple Watch or Fitbit, wear this as much as possible during your winter sports. If you are in trouble, you can use this data to record your location, and to keep a record of the speed you were travelling should you need to bring a personal injury claim. 


There is strength in numbers, so always make sure you tell your group where you are going and try to avoid handling slopes alone. You may be experienced, but an improper build-up of snow or rogue patrol vehicles could come into your path and cause an accident. 
What to do if you have an accident on your winter holiday
If something goes wrong and you
injure yourself on the slopes
, your priority should be to inform the resort and access the necessary medical treatment as soon as possible. We recommend retaining all documents relating to your medical treatment.
If you can do so, your accident should be reported to the local police and you, or your travelling party, should request copies of any CCTV footage of the incident from the resort.


Ski resorts should have insurance for use of their premises, for their employees, and for any vehicles used on the slopes.  It is important that the insurance details are obtained if possible, and the ski resort should give you this information on request.


Reporting the incident to the police and obtaining a report means that even if the resort will not disclose their insurance details to you, they will be obliged to provide this information to the police. If the severity of the incident warrants this, the police will also take statements from witnesses. Such police reports can be incredibly useful in future litigation to provide a contemporaneous record of events.
How the Leigh Day travel team can help if you are injured abroad
Being involved in an accident on holiday can be scary, particularly if you are injured abroad and are far from home. We can't stop accidents from happening, but we can help you feel more confident before you go on holiday and ensure that you know what to do if something goes wrong.
If you have had an accident while on a winter sport holiday,
get in touch
as soon as possible and we can provide our expert legal advice.  

We have experience of assisting claimants following sporting accidents all over the world including in France, Italy, Austria and the United States.