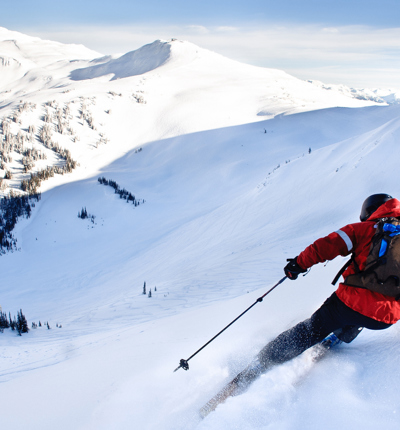 Skiing is a fun sport that's popular with many holidaymakers but holds some level of danger, requiring proper preparation to ensure you have a safe experience. Even with the most meticulous planning though, accidents can happen on the slopes that are out of your control. They could be related to other skiers, broken equipment or poor instruction.
If you or a loved one were involved in an accident on a skiing trip or winter holiday that wasn't your fault, you could be entitled to compensation.
Our travel team has lots of experience bringing skiing accident claims for travellers all over Europe and the world. Get in touch to learn how our dedicated skiing injury solicitors can offer support, advice and help you start your winter sports incident claim.
Types of skiing injuries
Skiing is an extreme sport that involves speed, skill and spatial awareness. However, even the best skiers can experience factors out of their control.
An accident on the slopes might result in a few cuts and bruises or it could be more serious, such as breaking a bone. Common injuries when skiing include:
Muscle tears. Skiing is a demanding sport. Not warming up or maintaining good fitness can damage your muscles.
Thumb fractures. In any fall, most people instinctively put their arms out. When we're holding a ski pole, this can push into your thumbs and cause a fracture.
Damaged knee ligaments. Knee injuries are common and often blameless, sometimes caused by hitting a surprising corner.
Shoulder dislocation. Like thumb fractures, stopping ourselves falling can result in a dislocated or fractured shoulder.
All these types of skiing injuries can be caused by several factors, including:
Poor judgement
Inexperience
Faulty or ill-fitting equipment
A collision with another skier
Not following the safety rules
Types of skiing claims
The type of claim you can bring for your skiing accident depends on what caused your injuries and who is liable.
If negligence is at play and you are not at fault, you might be able to claim against the person or company responsible for your injury (known as non-fault claim). Common examples of this can include:
Another skier or snowboarder moves dangerously and collided with you.
The ski instructor gave poor or misleading guidance that resulted in an incident.
The ski lifts or other facilities were faulty, causing your injuries.
Your rented skiing equipment or gear was poorly maintained and it didn't protect you from a fall.
Fault claims
A fault claim is where you take responsibility for your injuries. For example, if you lost control of your skis or took a risk out on the slopes that resulted in a fall.
In these cases, you can still make a claim but must submit it through your travel insurance provider. Depending on your level of protection, this could help cover any medical bills you might face. It can also protect you from personal liability, if your actions injured another skier or third-party property.
Overseas claims
When travelling abroad, different rules apply for making skiing accident claims. It also depends on who is liable and where the incident took place though. If you booked your skiing trip abroad as part of a package holiday, your tour operator or travel agency is usually liable.
When you made a direct booking, liability can usually be with the ski centre or individual skier responsible for the incident. This includes any ski attendants or ski lift operators working for the centre.
The rules for making a skiing claim abroad vary depending on local laws. It's recommended you seek specialist advice from expert solicitors for such cases.
Download our safe travel guide
Compensation for skiing accidents
The amount of compensation you could receive will depend on the extent of your injuries and how it impacts your livelihood.
Typically, skiing accident compensation is usually determined by how much is required to cover the costs of:
Pain and suffering (both physical and psychological).
Medical bills, including hospital, medication and ongoing rehabilitation costs.
Travel expenses, to and from hospital appointments, rehabilitation centres and therapy sessions.
Loss of income, if you need to take time off work to recover or cannot work again due to your injuries.
Damages to property, such as your skiing gear and equipment.
How to make a skiing claim
To start your claim, first work out who may be liable for your injuries. Then get in touch with our expert travel solicitors to see what your claim could be worth.
One of our specialist travel solicitors will talk you through all the steps to make a claim, including what compensation you could receive.
Before you get in touch with our skiing injury solicitors, it's a good idea to collect as much evidence as possible to support your case. This could include:
Photographs of your injuries and the scene where the accident took place.
Medical reports and bills for any treatment, medication and therapy you received.
Witness statements from anyone who saw the event.
The weather conditions, poor signage or any other factors that contributed to your accident.
Skiing claims: FAQs
If your skiing accident occurred in the UK, you have three years from the day of the incident to make a claim.
For skiing accident claims abroad, the time limits can differ between countries. For example, personal injury claims in France have a 10-year time limit, whereas in Spain it might only be a year.
For this reason, it's best to seek legal advice as soon as possible.
Who is responsible for a skiing accident usually depends on the events leading up to the incident.
If it involved a collision with a dangerous skier, they are likely to be responsible. However, if the collision was caused by faulty equipment or unsafe weather conditions, the ski centre or equipment manufacturer could be liable.
Yes, but you may want to consider getting specialist advice to support your overseas claim. This is because the laws and time limits for skiing incident claims can vary between countries.
At Leigh Day, we have a wealth of experience supporting holidaymakers abroad across a wide range of accident and illness claims.
Tips for before you venture onto the ski slopes
Make sure you take out suitable holiday insurance that covers winter sports. This will protect you against any medical bills or legal assistance you might need while abroad.
Read the terms and conditions of your policy to ensure you're fully covered. Some insurers also insist skiers wear a helmet when on the slopes.
Keep an eye out for signs and markings when on the slopes and ensure you follow them. These are in place for your safety and should always be obeyed.
You should also be aware of your surroundings for anything outside your control, such as a dangerous skier.
Ensure you always have your mobile phone and that it's fully charged.
Try and have access to at least one form of communication, whether a mobile or a radio 'walkie talkie'. But avoid relying solely on your phone for guidance in case you lose signal, so always take a paper resort map with you.
Always keep a copy of your travel insurance policy with you.
It's also advisable to carry a note with the name of the hotel or resort where you're staying as well as your contact details.
Clothing protects you from the elements and can soften the impact of a crash. So it's important your clothing fits correctly, is comfortable and provides the protection you need. Layering is also a good idea so you can add or remove items as the temperature changes.
If you rent ski equipment, make sure your boots and helmet fit securely.
For beginners, the staff in the rental shop will be able to select the most suitable skis for your size and ability. Once you have these, the in-store team should calculate the correct 'DIN' settings for your ski bindings before adjusting them.
It's vital you provide accurate information when asked to supply your weight, boot length, ability level and age.
Ski resorts categorise the slopes based on experience levels, so always be sensible and know your own capabilities. This means never going on a slope that is beyond your skill level.
Learning to ski is about taking it gradually, never putting yourself at risk or endangering others. Always use an official ski school and don't overestimate your ability.
Before you go, it's essential that you familiarise yourself with the rules of the slope, such as who has the right of way.
The rules of conduct for skiers are provided by the International Ski Federation.