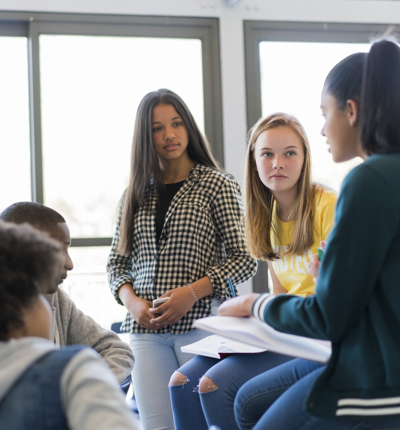 The impact of period poverty in the UK and around the world
A week on from International Day of the Girl Child Liberty Bridge and Sami Freeze from the international department look to how lack of access to sanitary products is affecting access to education for girls around the globe
Posted on 18 October 2021
Up until January 2021, the UK Government considered sanitary products a 'luxury item' and taxed them as such. After national outcry and a spotlight on this sexist and out of touch 'pink tax', 2021 became the year that sanitary products were no longer declared nonessential items. Unfortunately, this did not prevent thousands of girls in the UK from struggling to afford sanitary products.
With schools closed due to the COVID-19 Pandemic and a lack of institutional support, difficulties in accessing menstrual products due to financial hardship increased dramatically. Periods don't stop in a pandemic and figures indicate that girls are struggling more than ever to afford menstrual products. A survey by Plan International UK indicated that 3 in 10 UK girls have struggled to afford or access sanitary wear during lockdown, and "over half (54%) of these girls have used toilet paper as an alternative". Lack of access to appropriate sanitary products has not only the capacity to induce shame but directly impact a girl's health and access to education.
Access to Education
Without access to period products, girls are often forced to stay home from school during their period and this can lead them to miss anywhere between 10-20% of their schooling. Often societal induced shame from their period can cause them to drop out of school completely. UNICEF has estimated that roughly 1 in 10 girls across the African Continent miss school because of their periods each year. In Rwanda, many girls miss up to 50 days of school or work every year because of period poverty and stigma. A study in Ethiopia found that 50% of girls miss between one and four days of school every month due to menstruation.
The lack of affordable sanitary products and facilities for girls prevents their mobility and productivity as students. They are unable to attend classes and participate in extracurricular athletic activities, thereby creating social isolation and amplifying feelings of anxiety and depression. Furthermore, the lack of safe and clean facilities often means that girls have nowhere to dispose of sanitary products or clean reusable devices. Without proper education regarding their menstrual cycle, shame and taboo can shadow the entire experience and often girls are forced out of their familial house altogether, as seen in the practice of Chhaupadi in Nepal. The lack of education can also lead to the use of inappropriate materials or using products for longer than intended thereby threatening a girl's health.
After completing secondary school, a girl is less likely to experience child marriage, domestic abuse, and/ or suffer from long-term health complications. UNICEF estimated that if all girls received twelve years of education, the rate of child marriage would reduce by 64%. Furthermore, as these girls are likely to have fewer and healthier children, it is estimated that child mortality rates would dramatically reduce and as UNESCO reports, 3 million lives would be saved.
Access to sanitary products and greater education on menstrual hygiene could help to combat a number of issues facing girls today.
Policy Responses
The United Kingdom has been proactive in implementing more progressive measures to increase menstrual health. England created the Period Product Scheme in 2020 for all learners at state maintained schools and learners aged 16-19 who need to access period products; however, learners on higher education qualifications and apprentices are not eligible. In 2020, Scotland became the first country in the world to make period products completely free, and provided a strong example of the how policy can transform accessibility. A survey completed by Plan International in 2018 discovered that more than a quarter of girls (27%) in Scotland were using products for longer than their intended use. This lead to a myriad of health issues including the fatal Toxic Shock Syndrome (TSS). Statistics such as this and many others prompted Scotland to create a legal duty on local authorities to ensure that free items such as tampons and sanitary pads are available to anyone who needs them.
Charities and NGOs
As girls in the UK and around the world are becoming ever more reliant on NGO or State funded provision of sanitary pads, it is essential that we look to those on the front line and donate where we can. Activist Amika George founded Free Periods in 2017 and has been at the forefront of ending period poverty in the UK for all young persons, to ensure that they did not miss out on schooling. She was awarded an MBE in 2021 for services to education. Other notable organisations include Bloody Good Period and Love your menses who are also striving to bring awareness to the issue.
Conclusion
It is important that all those who menstruate feel represented. While we are highlighting the inaccessibility of period products for young girls, it is important to acknowledge the struggles also faced by trans and non-binary children. We recognise that this issue is not exclusive to that of a girl and proper sanitary care for all those who menstruate is a basic human need. Adequate menstrual education, access to sanitary products and equipped facilities as well as pain relief would gravely improve a girl's experience at school, and as highlighted above, the health of all communities is grounded in the education and wellbeing of the girl child.
Women's Rights In Healthcare