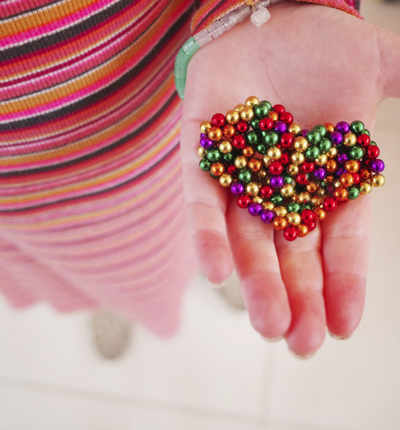 Forces of attraction: why the latest TikTok craze highlights the risks associated with toy magnets
Jill Paterson and Philippa Wheeler discuss the risks associated with swallowing magnets and why toys including small magnets can pose dangers to children and teenagers. 
Posted on 16 November 2021
A recent TikTok craze, named the Magnet Challenge, has taken the social media platform by storm. On the site, the hashtag #MagneticBalls has over 66 million views. 
Although some of the videos on TikTok contain different structures made with magnetic balls, a number of them contain videos of people attempting to use the magnetic balls to mimic piercings on various body parts. This initially appears to be just fun, however, the trend poses a worrying problem due to the risk of accidentally ingesting the magnets, especially when mimicking tongue, mouth and nose piercings. 
 
Ball Magnets 
 
There has been widespread release of ball magnets in recent years, and they can be found in many different items ranging from desk toys to children's construction sets and jewellery.
 
Ball magnets are often made with a neodymium-iron-boron compound, which is 5 to 10 times stronger than traditional ferrite magnets. As well as the risks posed by the TikTok challenge, they are often small and occasionally colourful, which make them appealing to young children to put them in their mouths. Unfortunately, these incidents are becoming more and more common as the magnets become more widely accessible, and at least 65 children were admitted to hospital for urgent surgery in the last 3 years after swallowing magnets and there are reports that some of these accidents were almost fatal.
 
Swallowing a single magnet is generally unremarkable, however serious complications arise when multiple magnets are swallowed. A recent national study, led by Addenbrooke's Hospital, found that swallowing strong magnets, also sometimes called Buckyballs, can be fatal for children as multiple magnets will attract each other inside the bowel in the loops of the gastrointestinal tract. Dr Georgina Malakounides, of Addenbrooke's Hospital, recently told the BBC that even two magnet balls were sufficient to clamp together in the bowel and cause a blockage. The magnets can also make holes in the bowel and cause bowel twists, both of which require complex abdominal surgery to resolve and may require removal of some of the bowel. In addition, the study found that of those children who attended A&E after swallowing magnets, 51% required surgery to have the magnets removed. 
 
In May 2021 the NHS issued a National Patient Safety alert about the need for urgent assessment and treatment following the ingestion of super strong magnets. This was subsequently followed up by calls for a ban on toy neodymium magnets from prominent doctors including Professor Simon Kenny, a paediatric surgeon, who warned of the "long-term physical problems and internal scarring" the magnets can cause. Concerns relating to ball magnets have also been raised by the Child Accident Prevention Trust and the Office for Product Safety and Standards.  
 
Raising Awareness
The Office for Product Safety and Standards has recently released a campaign to highlight the dangers of ball magnets and raise awareness of this using the hashtag #MagnetSafety. They recommend discussing the risks of using magnetic products as fake piercings on the tongue, mouth or nose with children and teenagers, as well as moving magnetic products out of reach of small children.  
 
How can this be regulated?
 
Toy magnets should be covered by toy safety standards, which provide guidance on reducing risks of swallowing through ensuring the dimensions of toys, or their detachable parts, are of sufficient size to not be swallowed. Toy safety standards also require warnings to be placed on products to advise of suitable ages for the toys. 
 
Unfortunately, many of the products sold are classified as adult magnets, as opposed to children's toys, which further reduces the regulatory requirements.
 
Further, there can be an issue with products offered for sale on the online marketplace sites of third-party sellers, where regulation is more complex and sellers are often based overseas.
 
As a product safety team, we are concerned about the serious risks posed by these ball magnets, especially in the run up to Christmas. More needs to be done to raise awareness of the dangers of swallowing the magnets, and of the need to seek immediate medical attention if swallowing is suspected. However, it is also clear that there are failings in how these products are regulated. 
 
If you do think your child has swallowed magnets, even if they are well, the NHS recommends that you seek urgent medical attention.