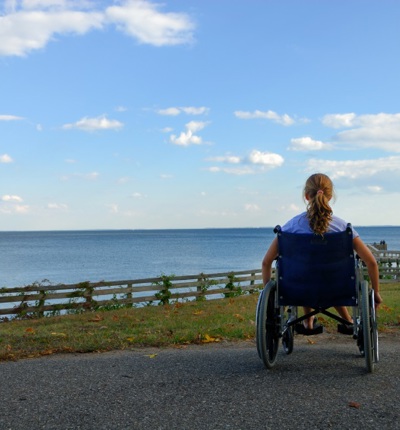 Cauda Equina Syndrome and Rehabilitation
On Cauda Equina Syndrome Awareness Day, Matt Westlake explains Leigh Day's connection with the Cauda Equina Syndrome Association.
Posted on 01 October 2020
Leigh Day is a proud supporter of the Cauda Equina Syndrome Association (CESA) and the Cauda Equina Champions Charity.  We are delighted to have been on the journey with CESA over the past two years, and as a formal member of the legal panel since it was set up in July 2019. 

We have seen the charity go from strength to strength, raising awareness of cauda equina, both with the public and with medical professionals, and developing information and services to support people living with the condition and their families. 

The first national awareness day on 1 October 2020 is testament to the hard work and dedication of the association's founder, Claire Thornber, her team and all the volunteers who give their time so generously.
Cauda Equina Syndrome is a life changing condition. It can not only cause motor and sensory impairment ranging from mild weakness to complete paralysis, but may have a profound effect on other systems in the body. 

There are a variety of causes of Cauda Equina, including a slipped disc, tumours, stenosis, cysts and occasionally injections. It might also be a result of a car accident. 

Timely, specialist advice on rehabilitation is essential, and ongoing monitoring should occur to ensure that an individual achieves their full post-injury potential.

The aim of rehabilitation is not only to maximise the physical recovery of an individual, but also to assist with the psychological, occupational, and social side of recovery. Rehabilitation teams will therefore often consist of a wide range of healthcare professionals, including physiotherapists, occupational therapists and psychologists, amongst others.

Each member of the team will focus on a different aspect of recovery, but will work in conjunction with one another and the patient towards a range of achievable goals. For example:

Physiotherapy focuses on mobility and function through movement, exercise and manual therapy. Physiotherapists can also provide education and advice around the disorder.

Occupational therapy focuses on functional independence in the performance of activities of daily living, such as bathing and dressing. Occupational therapists can make specialist recommendations for equipment and assistive devices, such as wheelchairs and adapted vehicles, which can have a substantial impact on an individual's quality of life.

Psychology often focuses on the psychosocial impact, including self-management of the injury itself as well as any secondary conditions that might arise, such as sexual dysfunction.

Unfortunately, obtaining a specialised and co-ordinated approach can often prove challenging for patients with Cauda Equina Syndrome, many of whom may only fulfil a handful of the criteria required under the National Health Service's Spinal Cord Injury pathway.

Worryingly, according to the Spinal Injuries Association, of nearly 2,500 spinal cord injury referrals made to specialist centres in 2017/18, only 800 admissions were made, with many other patients not receiving a referral at all.

It is hoped that with a growing evidence base demonstrating the importance and effectiveness of early and specialised rehabilitation in cases of spinal injury, the accessibility of such services for those diagnosed with Cauda Equina Syndrome will significantly improve to allow more patients to reach their full potential.

Cases of Cauda Equina arising from medical negligence are not common, but for anyone who thinks they have a case, it is important to speak to a specialist lawyer with experience of spinal cord injury claims.

A legal claim could provide the financial support needed to access rehabilitation, medical aids and adaptations to accommodation, as well as covering loss of earnings if a sufferer is unable to work.