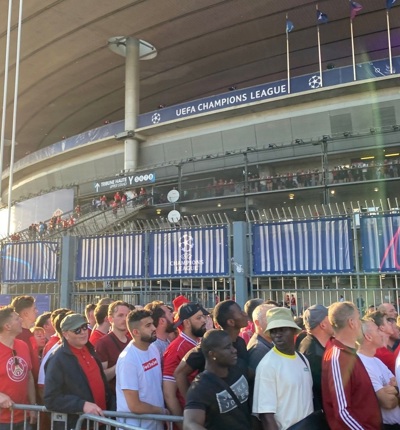 Liverpool FC fans still suffering one year on from the Champions League final at the Stade de France
Football fans who attended the Champions League final at the Stade de France on May 28, 2022, are still dealing with the physical and psychological damage caused by the events that unfolded.
Today marks the one-year anniversary of the game between Liverpool FC and Real Madrid CF where fans were herded, indiscriminately tear gassed, crushed and threatened and attacked by local gangs.
UEFA's independent review concluded the association bears "primary responsibility" for the catastrophic organisational and safety failures that occurred at the Stade de France.
The organisation has since announced ticket refunds and measures to improve safeguards for football supporters attending finals.
However, Leigh Day has said that, while these are positive steps, it does not undo the damage that was done on the day.
One fan who attended last years' Champions League final, and was also at Hillsborough, said he is still recovering from the psychological impact of the events that unfolded at the Stade de France.
He said: "Paris was an extremely stressful day for me. It broke me and brought back so many bad memories that I had buried after Hillsborough. 
"For a time, my inner strength was gone, and I couldn't be there for family members because I just wasn't strong enough. It's been a year, and only recently have I felt a bit more positive and feel that I'm moving on."
Leigh Day is bringing a group claim against UEFA on the basis that the association failed to ensure a safe and secure environment for those attending and owe a legal liability to those who suffered physical and/or psychological injuries.
Clare Campbell and Jill Paterson, partners at Leigh Day, said:
"We are now a year on from the horrific events that unfolded on May 28, 2022, and still our clients are suffering the consequences. We believe that UEFA had a responsibility to ensure that fans could gather in a safe and secure environment for the Final and that our clients were failed in this regard. Compensation would go some way towards recognising this. 
"We were pleased to see UEFA's response to the Rodrigues report. However, this does not change our clients' position. The legal case continues. We are now preparing to serve the claim on UEFA. This process can take some time but, in the meantime, we are continuing to build a strong case, gathering more detailed evidence from our clients about their injuries and experiences on the day."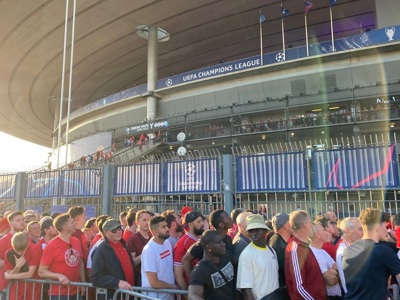 over 500
already signed up
Stade de France group claim
We are investigating a group claim legal action on behalf of Liverpool FC fans, and others, who attended the UEFA Champions League final at the Stade de France in Paris on 28 May 2022