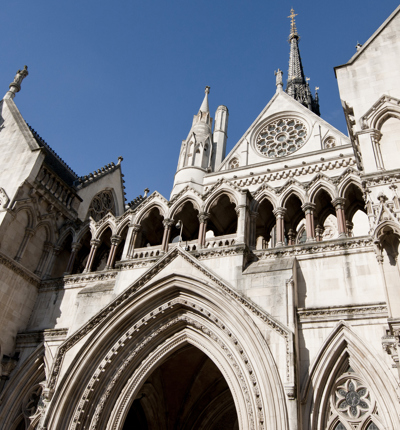 High Court confirms three fresh inquests in Gosport War Memorial Hospital case
The High Court has today confirmed that three fresh inquests will take place into the deaths of Arthur Denis Brian Cunningham, Gladys Mabel Richards and Robert Wilson who all died at Gosport War Memorial Hospital in Hampshire in 1998.
Inquests were originally held into Gladys' death in April 2013 and into Brian and Robert's death in March and April 2009. Following the publication of the Gosport Independent Panel report in 2018 the families of Arthur, Gladys and Robert felt that fresh inquests were needed to examine the evidence uncovered in the report
The High Court agreed with the families, quashing the previous inquests.
In 2018 the Gosport Independent Panel report concluded that the lives of more than 450 people had been shortened because of the routine practice of prescribing and administering opioids until the year 2000, and that probably at least another 200 patients were similarly affected.
The three families, who are represented by partner Emma Jones of law firm Leigh Day, applied to the Attorney General in 2020 for a fiat which gives permission for them to make an application to the High Court for new inquests to be held and previous inquests to be quashed. The court agreed that it was necessary and desirable in the interests of justice that there be fresh inquests.
Ms Jones is also representing the families of six other people who died at Gosport Hospital, who have been successful in securing inquests into their deaths. These deaths had never been examined by a coroner previously. The inquests were opened by Coroner Christopher Wilkinson so and immediately adjourned pending the outcome of Operation Magenta, the Kent and Essex police investigation that opened in 2019.
Following the confirmation by the court today of the three fresh inquests, it is expected that the next steps will be that these inquests are assigned to a senior coroner who has had no prior involvement in these matters.
The families all hope that the inquests will be held all together as an Article 2 inquest with a much wider scope than a standard inquest to look at the role of all individuals and institutions involved and that a judge and jury are appointed, rather than it being conducted by a coroner.
"We are pleased that these three fresh inquests have now been confirmed and the court has agreed with the families that the initial inquests were inadequate and that new inquests are needed to examine all the evidence that has since come to light about the use of opioids at Gosport War Memorial Hospital between 1987 and 2001. We are representing the families of nine people whose deaths will be freshly examined by a coroner to try to find answers about what went wrong at the hospital. But we know there are many more deaths that have not been properly examined and the families we represent remain determined that a Hillsborough-style public inquiry should be opened into all the deaths linked to opiod misuse at Gosport Hospital, which I believe is one of the biggest NHS scandals of our time."
The deaths which will now be re-examined by a coroner:
Arthur Denis Brian Cunningham died aged 79, five days after he was admitted to Gosport War Memorial Hospital. He was admitted to the Gosport Hospital for active treatment of a sacral sore on 21 August 1998.  Despite being expected to return to his nursing home, he died five days later. His first inquest concluded that the administration of medication contributed more than minimally/negligibly to his death but the medication was given for therapeutic purposes and administered appropriately. 



Gladys Mabel Richards was admitted on 17 August 1998 and died on 21 August 1998. She was sent to Gosport for rehabilitation after dislocating her hip following recent partial hip replacement surgery. The first inquest into her death returned a narrative verdict which listed a number of things that more than minimally contributed to her death which included the accidental falls she had suffered and the subsequent treatment and immobility, her old age and fragility and  the medication administered to her at Gosport War Memorial Hospital for the control of her pain and agitation.



Robert Wilson, a former Petty Officer in the Royal Navy, died in 1998 aged 74. Mr Wilson suffered a broken shoulder and had been admitted to the Queen Alexandra Hospital in Portsmouth.  On 14 October 1998 Mr Wilson was transferred to Gosport War Memorial Hospital for recovery, where his medication was changed. It is not clear why the change was made but his family believe the new medication was not appropriate to the conditions or symptoms from which Mr Wilson was suffering. His first inquest concluded that the administration of medication contributed more than minimally/negligibly to his death, that the medication was given for therapeutic purposes but it was not administered appropriately for his symptoms or condition.



Clifford Houghton who died aged 71 after he was admitted to Gosport War Memorial Hospital in February, 1994, for what was meant to be a period of respite. He died on the same day he was given two doses of diamorphine because of "deterioration". The 2018 review panel concluded that Mr Houghton was given opioids without appropriate clinical indication. His stepdaughter Pamela Byrne believes there is reason to suspect her stepfather died a violent or unnatural death.



Dulcie Middleton who died aged 86 in September, 2001, three months after she was admitted to Gosport hospital for rehabilitation following a stroke. Her nephew and daughter, David Wilson and Marjorie Bulbeck, say Mrs Middleton's treatment at the hospital was neglectful and inhumane, she was not assisted with food and became dehydrated and was denied basic nursing care.



Eva Page, 88, who was transferred to Dryad Ward in the Hospital from Queen Alexander (Portsmouth) on 27 February 1998. Mrs Page was prescribed morphine and given her first dose on 2 March 1998 and another dose on 3 March 1998. In addition, she was prescribed Midazolam and received Fentanyl through a skin patch. She died on 3 March 1998. It was concluded in the Report that Mrs Page's case was a case of opioid usage without appropriate clinical indication.
Horace Smith who was first admitted to Gosport Hospital on 30 March 1999, having been transferred from Haslar Hospital. He was 73 years old. On admission to Gosport he was prescribed diamorphine. His was given his first dose on 5 April 1999 and died the following day.
Families secure inquests into deaths of loved ones at Gosport War Memorial Hospital
Four families have secured permission for inquests into the deaths of loved ones who died while in the care of shamed Gosport War Memorial Hospital. The families are now hoping that others will now join them in the call for a Hillsborough-style inquest.