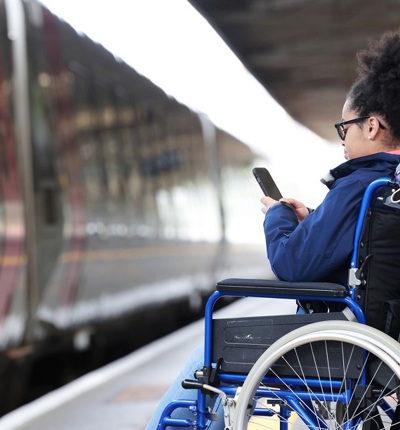 Disabled people launch legal challenge to consultation over planned closure of rail ticket offices
Two disabled rail users have launched a legal challenge to the rail industry's consultation on planned closure of hundreds of rail ticket offices across England over the next three years.
Regular rail travellers Sarah Leadbetter, who is registered blind, and Doug Paulley, a wheelchair user who has hearing loss, claim that the consultation is unlawful and discriminates against disabled people.
They argue giving people just 21 days to respond to some of the biggest changes to railway operations for a generation is inadequate and breaches legal requirements for such consultations. They also say the format of the consultation is inaccessible to many disabled people and lacks information about how the changes may affect them. This means disabled people, who often rely on ticket offices for assistance, may not have their views heard equally.
The pair, who are represented by law firm Leigh Day, are calling for the four publicly owned Train Operating Companies (TOCs), and the Transport Secretary, to end the current consultation process and reconsult in a manner which complies with his consultation and equality duties. Their consultations form part of a concerted move by all TOCs within England who run stations to consult upon proposals which, if adopted, would see rail ticket offices being closed in almost every single rail station in the country.
Specifically, they argue that the consultation is unlawful because:
• It should have been carried out when the proposals are still at formative stage. However, the decision to close ticket offices appears to have already been taken given statutory redundancy notices have already been issued to staff.
• There are multiple, serious flaws with the consultation related to accessibility which mean disabled people will not be able to understand the impact of the proposals or provide a meaningful response.
• The time period of 21 days falls far short of what is required to properly consider and respond to these complex and far-reaching proposals; even more so for disabled people given the accessibility issues described above.
• The Defendants have failed to take any steps to avoid or reduce this disadvantage such as extending the consultation period, providing readily accessible alternative formats and proactively consulting with organisations representing disabled people.
• The proposals have been on the table for a significant period of time: there is no reason why the short consultation period could not be extended, and the process adjusted in the manner set out above to ensure it is accessible to all members of the public.
• The consultation process does not eliminate discrimination or advance equality of opportunity for disabled people for the reasons set out above.
Wheelchair user, Doug Paulley said:
"The presence of dependable rail staff is incredibly important for disabled people, including me, who use our often inaccessible railways. The cuts are a fait accompli being pushed through the motions of this sham consultation, with its disingenuous claims and failure to give disabled people the information we need to respond properly. It is appalling that such an important topic is being handled in this manner and the process must be stopped."
Registered blind rail user, Sarah Leadbetter said:
"People like me, with visual impairments, rely on ticket offices and their staff to help us when we're travelling and their closure will be a huge blow. To hold a consultation that fails to properly hear the views of those who need assistance the most is woefully inadequate. The government should scrap this unfair process and come up one that gives rail passengers with disabilities an equal say."
Kate Egerton, senior associate at Leigh Day, added:
"The rail industry's consultation on the plans to close railway ticket offices across the country, which is overseen by the Department for Transport, is, in our view, clearly unlawful and not fit for purpose. Not only does it fail to provide adequate time for people to respond to one of the biggest changes to our railway network in a generation, it denies a voice to disabled people who rely on ticket office staff for assistance when they travel. The Transport Secretary must now end this inadequate consultation and replace it with a fair process that considers the views of all rail users."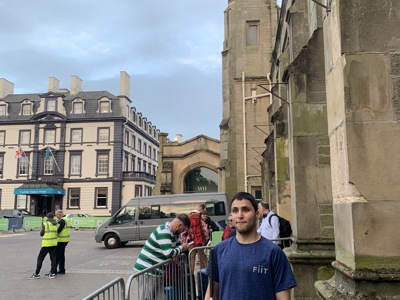 Blind man who fell on to tracks at Manchester Piccadilly calls for urgent upgrade of safe travel provision with tactile paving in train stations
A blind man who fell on to the tracks at Manchester Piccadilly after he was let down by Passenger Assist and there was no tactile paving at the platform edge is calling for urgent action to improve provision for disabled people travelling on trains.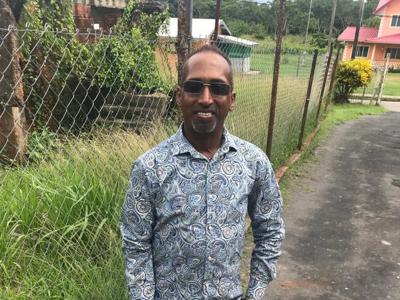 Inquest jury concludes lack of tactile paving contributed to death of blind man Cleveland Gervais, aged 53
An inquest jury has concluded that a lack of tactile paving caused or contributed to the death of Cleveland Gervais, aged 53, at Eden Park overground station in Croydon and that insufficient steps to confirm the power to the track was off caused an avoidable delay which also caused or contributed to his death.