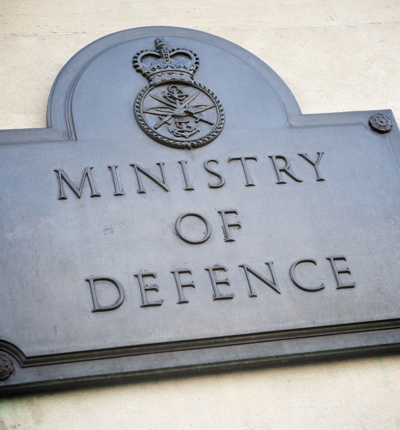 Defence weapons expert Dan Kaszeta legally challenges Government over decision to "no platform" him
Defence weapons expert Dan Kaszeta has launched a legal challenge to Cabinet office guidance which requires civil servants to vet the social media of proposed speakers and resulted in him being disinvited to a conference he had been asked to address.
Mr Kaszeta, an internationally renowned expert in defence against chemical, biological, radiological and nuclear weapons and warfare, and an Associate Fellow at the Royal United Services Institute, had his invitation to speak at the International Chemical Weapons Demilitarisation Conference cancelled a month before the event took place in London in May.

He was told he had been disinvited because a check on his social media made in accordance with the rules introduced in 2022 had identified material that criticised government officials or policy.

The check appears to fall under latest civil service guidance: Due Diligence and Impartiality - Supporting and Protecting our Diversity Networks, which Mr Kaszeta believes is unlawful. He also believes the application of the guidance in his case was unlawful.

The guidance was only published on 17 May 2023, a week before the chemical weapons conference and a month after Mr Kaszeta's invitation to the event was cancelled, after Cabinet Office Minister Jeremy Quinn MP explained in the House of Commons: "Taxpayers' money should not unwittingly be used to pay for speakers linked to abhorrent organisations or individuals who promote hate or discriminatory beliefs, which could bring the civil service into disrepute. . . there are certain abhorrent organisations that we should not pay or give a platform to and cause embarrassment to our civil service or our country."

Represented by law firm Leigh Day, Mr Kaszeta has written to The Cabinet Office and the Defence Science and Technology Laboratory (DSTL) at Porton Down to signal the start of the judicial review process.

Leigh Day wrote: "We take it that neither DSTL nor the Cabinet Office considered or considers Mr Kaszeta to fall within the category of "abhorrent organisations or individuals who promote hate or discriminatory beliefs". Please confirm that Mr Kaszeta's invitation was not cancelled on the basis of any alleged extremist views or views that are inconsistent with diversity and inclusion."

The pre-action protocol letter points out that the Guidance requires civil servants to:
1. Remove extremist views when engaging external parties
2. Ensure the Civil Service is not associated reputationally with external parties
3. Ensure external parties are not campaigning on or influencing government policy
4. Ensure civil servants preserve their impartiality when engaging external parties

The civil service code says civil servants must "carry out your responsibilities in a way that is fair, just and equitable and reflects the Civil Service commitment to equality and diversity" and must not "act in a way that unjustifiably favours or discriminates against particular individuals or interests".

Mr Kaszeta says the guidance and its application to him are unlawful. He argues that the guidance which only prevents those who are thought to have spoken "against key Government policies" from speaking to, or at events organised by civil servants and its application to him violate the civil service code and are irrational. They amount to direct discrimination on grounds of belief contrary to s.13 Equality Act 2010. They further amount to violations of Mr Kazeta's right to freedom of thought, conscience and religion and right to freedom of expression (protected by Articles 9 and 10 of the European Convention respectively) both alone and when read with Article 14 (which prohibits discrimination).

The letter argues that there can be no possible justification for restricting Mr Kaszeta's rights in circumstances where his publicly expressed opinions could not conceivably be described as promoting "hate or discriminatory beliefs" and where those opinions bear no relevance to the subject matter of the conference which he was asked to address.

Leigh Day has asked for disclosure of all records relating to the decision to cancel Mr Kaszeta'sinvitation because of material on his social media, any equality assessment conducted and any earlier iterations of the Guidance. A response has been requested on an urgent basis by 23 June 2023. .

Dan Kaszeta said:

"I am not seeking compensation. I am acting in the public interest. I am hoping that I can get this 'blacklisting' reversed and that this awful policy is removed.

Mr Kaszeta is represented by Leigh Day partner Tessa Gregory, who said:
"Our client is a world renowned expert in defence against chemical and nuclear weapons but the Government decided he should not address a civil service conference because on social media he criticised Government policy in an entirely unrelated field. We consider that this decision and the guidance applied is unlawful as it is discriminatory, a breach of his right to freedom of expression and irrational."

Ben Collins KC of Old Square Chambers, Jane Russell of Essex Court and George Molyneaux of Blackstone Chambers are instructed. 
Mr Kaszeta is crowdfunding his case.