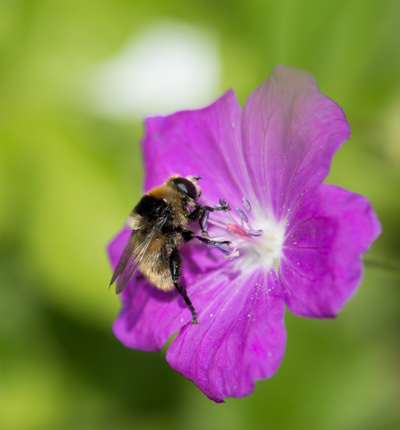 Wildlife Trusts set out concerns on authorisation of pesticide harmful to bees used on sugar beet crop in legal letter to Secretary of State
The Wildlife Trusts have, for the second consecutive year, written to the Environment Secretary raising concerns that his decision to allow the use of a toxic pesticide on sugar beet, despite the serious danger it poses to bees, may be unlawful.
Posted on 11 February 2022
George Eustice has granted an emergency authorisation for the use of a neonicotinoid product, 'Cruiser SB', to protect the 2022 crop from beet yellow virus despite both the Health & Safety Executive (HSE) and the UK Expert Committee on Pesticides (ECP) advising against the authorisation on the basis of the environmental harms it will cause.

The Secretary of State's decision has also been made despite serious concerns being raised by the Wildlife Trusts last year when he granted a similar authorisation, also purportedly on an "emergency" basis. There are fears that such licences could be granted routinely if the sugar industry fails to make progress on developing alternatives.

The pesticide is known to present an acute and long-term risk to bee colony survival and all outdoor use has been prohibited under EU regulations since 2018. Its use is only permitted in an emergency to tackle a danger that cannot be addressed by any other means. 'Cruiser SB' contains thiamethoxam and 'Poncho Beta' a pyrethroid/neonicotinoid combination which are known to be harmful to the environment and pollinating insects.

Exceptions to the 2018 ban are only permitted in special circumstances which must arise from a danger which cannot be tackled by any other means and emergency licences must not be granted for more than 120 days. Controversially, the Environment Secretary has identified economic harm to the sugar beet industry as a "danger" to be taken into account and says alternative control measures would not be sufficient to address that economic danger.

In a repeat of the action they took in January 2021, the Wildlife Trusts have sent a legal letter setting out why they believe the decision to grant the emergency licence to sugar beet farmers to be unlawful and seeking further information from the Environment Secretary.

Represented by law firm Leigh Day, the Wildlife Trusts say:
Mr Eustice has reached the unsupported and unlawful conclusion that mitigation methods will be effective and the risk to bees will be low, when in fact there will be a significant risk to adult forager bees. The HSE, the Expert Committee on Pesticides and the Chief Scientific Officer all agree that there are known sub-lethal dose effects on bees, such as an inability to return to their hive after low-level exposure to Thiamethoxam.
He reached the unlawful conclusion that the threshold had been met to allow the use of the pesticide on the sugar beet crop when there was no adequate evidence of environmental safety. 
Craig Bennett, chief executive of The Wildlife Trusts said:

"We're faced with the shocking prospect that banned neonicotinoids will become the new norm with annual derogations. We need to know what plans the Government have for avoiding the use of a product that's so harmful to bees, rivers and people.

"Why isn't the Government listening to its own expert advisors? In the recent Westminster debate on the issue, this was the question many MPs asked – and yet the Government was unable to respond coherently on this.

"And why will Integrated Pest Management support not be available in the new Environmental Land Management Schemes for farmers until 2023? Defra could have brought this forward in their recent farming announcements to set a clear message about avoiding pesticides wherever possible and support growers to use alternative approaches to farming without them."

Leigh Day solicitor Tom Short said:

"Our client is disappointed that the Environment Secretary has seemingly caved to industry pressure and granted an "emergency" authorisation for use of this devastatingly harmful seed treatment. That he has sought to justify his decision by reference to the sugar industry's economic position, despite that same industry having failed to make any progress to develop alternatives, is not good enough. The Environment Secretary has so far provided no evidence to suggest that the HSE and ECP erred in their advice that the authorisation should not be granted because of the environmental harms it will cause."
The Wildlife Trusts challenge 'unlawful' go-ahead for bee killer pesticide on sugar beet
The Wildlife Trusts send legal letter to the Government questioning use of pesticide banned for use outdoors in Europe because of the risk it poses to bees