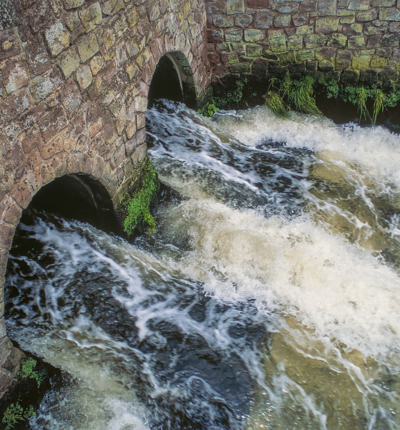 Wild Justice files legal claim over Ofwat's failure to step in and prevent discharges of untreated sewage into rivers
Wild Justice has stepped up a legal campaign against Ofwat for failing to ensure sewage treatment plants are fit for purpose with an application for judicial review at the high court.
If permission for judicial review is granted, Ofwat will have to defend its failure to regulate the status of sewage plants in a judicial review hearing before a high court judge later this year.

Wild Justice claims that Ofwat has unlawfully failed to monitor and enforce adherence to regulations which govern the release of untreated sewage into rivers and other water bodies by water and sewage companies. Wild Justice is raising funds for the case through CrowdJustice.

Ofwat has this statutory responsibility under the Water Industry Act 1991, which makes clear that Ofwat must monitor and enforce water and sewage companies' actions to observe section 94(1) of the 1991 Act and Regulation 4 of the Urban Waste Water Treatment (England and Wales) Regulations 1994 (UWWT).

Under section 94(1) of the 1991 Act sewage operators must cleanse, maintain and make provision for emptying sewage systems.

Under Regulation 4 UWWT water and sewage companies must ensure that their sewage plants are designed, operated and built to ensure sufficient performance under all normal local climatic conditions to avoid or minimise sewage overflow and discharge into watercourses. Treated waste water and sludge should be reused wherever appropriate and routes for treated waste water and sludge should minimise the adverse effects on the environment.

The UWWT requirements supplement, but do not duplicate, obligations imposed by environmental permits issued by the Environment Agency.

Investigations by Wild justice and Windrush Against Sewage Pollution (WASP) have revealed that Ofwat takes no active steps to monitor and enforce its UWWT obligations and even when serious concerns are brought directly to its attention it does not trigger action.

Wild Justice's application for judicial review is supplemented by witness evidence from Professor Peter Hammond and Ashley Smith of WASP. Their evidence details the extent and impact of sewage discharges in the River Windrush and their understanding of why Ofwat's failure to act has allowed such discharges to take place. WASP has repeatedly tried to bring these concerns to the attention of both Ofwat and the EA in correspondence and meetings, but their concerns have resulted in a failure to act on the part of both organisations.

Ofwat has the power to issue enforcement orders and financial penalties to sewage companies which do not comply with the regulations. Under the 1991 Act section 27, Ofwat must actively collect information relating to compliance with water companies' obligations; section 22A(2) gives it the power to impose a financial penalty; section 18 requires it to make an enforcement order if it is satisfied a company is not making provision for emptying sewers.

Wild Justice says the failure to act is having a serious impact on watercourses affected by sewage plants which do not conform with the UWWT regulations and regularly empty raw sewage into freshwater. The consequences are extreme, creating and maintaining excessive nutrient levels which are highly detrimental to the health and biodiversity of those watercourses, with wider implications for the environment and human health of freshwater and marine ecosystems. Anyone whose hobby or profession brings them into contact with potentially infected water – surfers, rowers, anglers and wild swimmers for example – is at risk.

In 2019, raw sewage was discharged into rivers across England and Wales over 200,000 times, for over 1.5 million hours. English river water quality is the worst in Europe and 13 per cent of freshwater and wetland species are threatened with extinction.

Wild Justice's grounds for judicial review are that:


Ofwat is taking an entirely passive stance in relation to enforcement of its UWWT obligations, including taking no steps to obtain information relating to compliance from undertakers with specific obligations in relation to their treatment plants
Contrary to section 27(2) of the 1991 Act, Ofwat is unlawfully failing to collect information in relation to the performance of the UWWT obligations
Contrary to section 2(2A) of the 1991 Act, Ofwat is unlawfully failing to discharge its functions so as best to secure that the UWWT obligations of undertakers are properly carried out
Ofwat is misdirecting itself in law in considering that its regulatory obligations could be discharged by reference to data collected by the Environment Agency and steps taken to investigate breaches of environmental permits.

Wild Justice, led by Dr Mark Avery, Dr Ruth Tingay and Chris Packham CBE, said:

"The impact on biodiversity and human health of the ongoing, unregulated release of raw sewage into our waterways is a national scandal. It's disgraceful that the regulator is, at best, entirely passive with regard to its statutory obligations to monitor and take enforcement action against it. It's not so much Ofwat, but Ofwhere?"

Leigh Day solicitors Carol Day and Ricardo Gama represent Wild Justice. Carol Day said:

"Our client is bringing this case because it wants action to be taken to protect our waterways. Wild Justice is of the view that had Ofwat fulfilled its statutory duty to ensure sewage treatments works are fit for purpose in the 21st century, the widespread and damaging discharge of untreated sewage into our rivers and seas could have been averted."

Speaking on behalf of Windrush Against Sewage Pollution (WASP), Ashley Smith said:

"WASP and other campaigners and NGOs have revealed shocking failings in regulation, yet reporting them to the regulatory bodies has met with a brick wall, fudged responses or silence. An action exposing and challenging a system that is propping up pollution as a profitable activity that threatens all of us has to be in the public interest."