Widower of a school teacher who died from an asbestos cancer succeeds in legal action against Surrey County Council
A settlement has been secured on behalf of a widower whose former PE teacher wife died of asbestos cancer mesothelioma aged 78.
Posted on 02 December 2022
Julia Browne was Head of Physical Education (PE) at St Teresa's Secondary Girls School, Green Street, Sunbury on Thames (now called St Paul's Catholic College) from September 1971 to June 1979. She was diagnosed with mesothelioma in October 2021.
Sadly Julia died from mesothelioma on 11 October 2022.

Before she died, Julia had instructed Harminder Bains, Joint Head of the Asbestos and Industrial Injuries Department at Leigh Day to investigate and advise her regarding her claim for compensation.

For a period of five to six months between 1972 to 1974 Julia was exposed to asbestos dust when building works were undertaken at the school in the changing rooms, assembly hall, the gym and other areas.

After considerable research, Harminder obtained documents which showed that there was building work undertaken in the school as a result of cracks appearing in the ceiling, due to the use of "high alumina" concrete when the school was built.

During the building works asbestos was found at the school. Harminder then obtained evidence from other teachers who corroborated Julia's evidence and Harminder issued a court case in the Royal Courts of Justice, Strand, London on 16 February 2022.

Surrey County Council served a defence denying almost every allegation and even denied that it owned or controlled St Teresa's School at the time of Julia's employment.

The Council did not admit that asbestos was disturbed during the building works and requested Julia "to prove" her claim. The case was set down for a three-day trial which was due to start on 1 December 2022.

Sadly, Julia died just over a month before trial. Her husband Peter Browne asked Harminder to keep the trial date as he did not wish the case to be delayed as this would only add to his distress. The Coroner agreed to fast track the Inquest so that the trial date could stay in place.

The case was prepared for trial and Peter and Julia's teacher colleagues were ready to attend court in support of Julia's evidence. Faced with the prospects of a trial, the council made a substantial offer of compensation 13 days before the trial was due to start. The Council agreed to also pay Peter's legal costs. Peter accepted the sum offered.

Peter Browne said:

"My wife died in October 2022 shortly before the successful outcome of a legal action for mesothelioma against her former employers.
"Our case was handled by Harminder Bains at Leigh Day. I could not commend Harminder too highly. She demonstrated tenacity and conviction from the outset, inspiring a growing confidence in what initially appeared to us to be an insurmountable mountain to climb with my wife's exposure to asbestos dating back almost 50 years.
"These same qualities, and the detail and strength of the case compiled by Harminder, left the Defendant with no option but to concede the case prior to the trial by way of an out of Court settlement".

Harminder Bains said:

"Julia was a PE teacher who was exposed to asbestos whilst teaching children. This is intolerable and should not have occurred. She should be alive today continuing to enjoy her life with her beloved family. Thousands of schools in England and Wales contain asbestos and sadly Julia is not the only teacher whose life has been cut short as a consequence of this deadly substance. Sadly as a result of successive Government's failure to remove the asbestos from the schools teachers and pupils will continue to be exposed."

Counsel who worked with Harminder were Robert Weir KC and Jonathan Butters of Devereux Chambers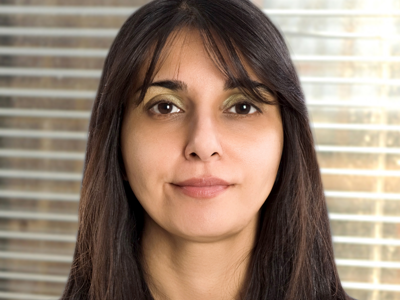 Harminder Bains
Joint head of the asbestos and industrial diseases, internationally renowned for her role fighting for victims of asbestos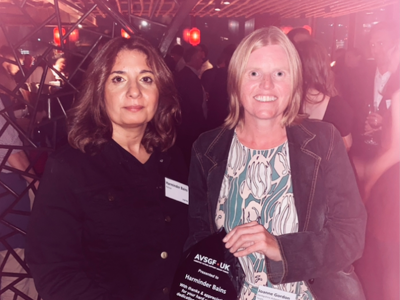 Award presented to lawyer for her legal work and anti-asbestos campaigning
Campaigning anti-asbestos lawyer Harminder Bains has been presented with an award in recognition of her many years of groundbreaking and hugely successful legal work on behalf of victims of asbestos disease.