Widow of mesothelioma sufferer obtains compensation from Gulf Oil GB Ltd to cover full time care expenses at home
The widow of an oil worker who died of mesothelioma has secured compensation from his former employer to ensure she can be cared for at home for the rest of her life.
Posted on 27 January 2022
Bryan Clark believed he had been exposed to asbestos whilst working as a Marine Lubrication Engineer for Gulf Oil GB Ltd from 1966 to 1972. As a result of that asbestos exposure, he died from mesothelioma, an asbestos related cancer.
As full time carer to his wife Rita who suffers from Alzheimer's disease, Bryan wanted to be sure that compensation for his industrial injury should include the costs of her care. His main concern was that Rita should be able to live out her days in her own home, with all the care she would need to make that possible.

Bryan recalled that during the course of his work, he was exposed to substantial amounts of asbestos and he instructed Leigh Day partner Harminder Bains to handle his claim against Gulf Oil GB Ltd.

Soon after Bryan's death Harminder began court proceedings and named Bryan and Rita's daughter Nicola as litigation friend as Rita had no legal capacity to pursue the claim. Gulf Oil GB Ltd served a Defence denying responsibility. However, they later accepted they had been negligent and consented to Judgment being entered against them.

Nicola and her family, including her daughter who was a trainee nurse, had taken over Rita's care which amounted to hundreds of hours a month.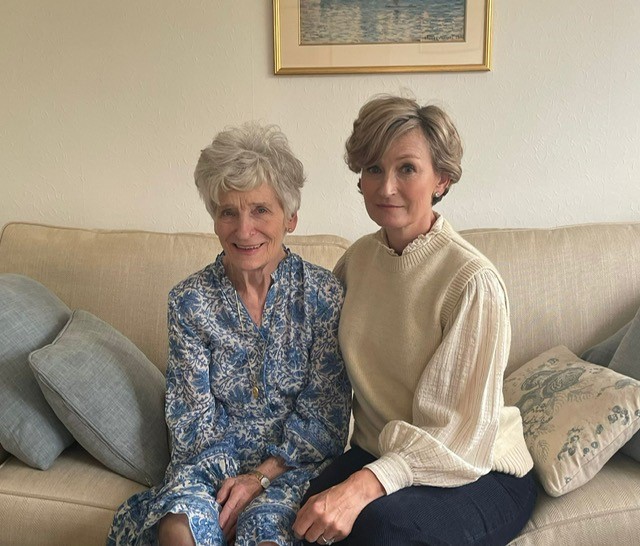 Photograph shows Rita and Nicola.

The court gave permission for care evidence and consultant geriatrician's evidence to be obtained from both parties.

Gulf Oil GB Ltd's experts did not agree that the amount of care that the family was giving was absolutely necessary and attempted to reduce not only the amount of care but the cost substantially. Gulf Oil GB Ltd's care expert said that Rita could be left on her own on occasions when Rita's family were concerned for her wellbeing.

Nicola and her family provided clear evidence that it was in Rita's best interest to remain in her family home which she had shared with her husband for many years and not to be placed into a care home. This was essential for Rita as familiar surroundings were important for her condition. Not only did the home contain memories of her husband but she enjoyed gardening which was important for her mental wellbeing.

Nicola had arranged a local care company to provide carers who lived with her mother Rita in her home. This arrangement worked well, and Nicola wanted the compensation to include the cost of care for the remainder of her mother's lifetime.

Lawyers on behalf of Gulf Oil GB Ltd made an offer to settle the claim just before trial which Nicola rejected. Harminder made a counteroffer and the matter was settled for substantial damages to include the cost of Rita's care.

Nicola Walker said:

"My father died from mesothelioma after being exposed to asbestos in ship's engine rooms whilst working in the oil industry for many years. It was sudden, shocking and very painful for my father and left my family to care for my mother who has dementia. He was a very healthy and active man who would have cared for my mother for many years which distressed him greatly.

"Harminder Bains was recommended to us and from the moment we first met her she worked diligently and relentlessly to get compensation that would allow my mother to have the care that she would require. She dealt with us with great sympathy, understanding and patience and never lost sight of the fact that we were a family dealing with great loss and grief. Through her hard work and persistence my mother received a settlement that will allow her to remain at home with live in care and her beloved cats. We cannot thank Harminder enough and would recommend her to anyone that suffers a loss as we did."

Harminder Bains said:

"From the outset Bryan's main aim was to ensure that Rita was cared for after his death. After her father's death Nicola's life was consumed with dealing with her mother to ensure she had the best care she could possibly give her. Gulf Oil GB Ltd instructed experts and these experts contested Nicola's evidence and it was only days before the trial was due to commence, that Gulf Oil GB Ltd finally under pressure of a looming trial, agreed to pay for the necessary care.

"If Gulf Oil GB had not been negligent in the first place Bryan and Rita would continue to have shared many happy years enjoying their children and grandchildren."
Counsel who worked with Harminder was Robert Weir QC of Devereux Chambers and Patrick Kerr of 12 Kings Bench Walk.