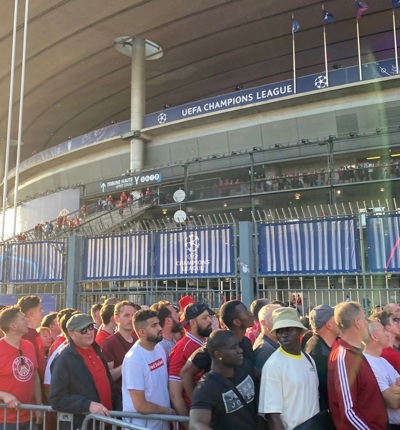 UEFA claim lawyers welcome Professor Phil Scraton's report on Champions League Final
Posted on 17 October 2022
The legal team investigating a group claim for Liverpool FC fans injured at the Champions League Final in Paris in May 2022 have welcomed the report of an independent panel led by Professor Phil Scraton which examines what happened at the chaotic event which left many supporters injured and traumatised.
Find out more about the group claim against UEFA
The investigation, by Prof Phil Scraton and a group of three further professors and a journalist, is based on 485 written testimonies from men, women and children who were at the event, alongside eyewitness accounts from international journalists. Fans experienced bottlenecks of crowds, crushing against turnstiles, children separated from their parents and many were teargassed by police and robbed by local gangs. The report finds that it was only the restraint and patience of fans which stopped things becoming much worse. 
The report is extremely critical of UEFA and their organisation and management of the event, with Prof Scraton saying: "Responsibility for the collapse in authority, management and safety, lies with those organising and administering the event."
Leigh Day is currently investigating a group claim on behalf of fans against UEFA on the basis that they failed to ensure a safe and secure environment for those attending and could owe a legal liability to those who suffered physical and/or psychological injuries. Over 500 people have registered an interest in the claim.
Were you at the Champions League final in Paris?
The report's authors question whether UEFA and the French Authorities have learned from previous events and say lives were put at risk by a failure to implement a safety management plan.
The 160-page report, titled '"Treated with Contempt": An Independent Panel Report into Fans' Experiences Before, During and After the 2022 Champions League Final in Paris', makes a number of findings, including:
The Panel questions whether UEFA carried out inspections, in association with relevant agencies in Paris, to ensure its due diligence duty regarding the safety of fans in the Fan Parks; arriving at, entering, inside and exiting the stadium; and in the surrounding neighbourhoods.
Egregious, sustained failure in crowd management severely compromised the health and well- being of fans. There was a lack of signage informing and directing fans from the stations to the stadium. Creation of bottlenecks on the stadium approaches confined fans for long periods in high temperatures without access to water or toilets. The crowd was 'kettled' without any explanation or communication. There was a lack of care, particularly regarding children, older people and those with disabilities.
Men, women and children travelling to the Champions League Final, at considerable expense and with great optimism, were impelled into personal and collective danger by negligent management of the event, poorly trained stewards, unprovoked aggressive policing, criminal assaults by local gangs and the police. This has resulted in physical injury and, for many fans, sustained psychological harm.
The testimonies in this Report raise legitimate questions about UEFA's role in: ticket allocation and distribution; liaison with relevant authorities to ensure the venue was 'fit for purpose'; ensuring compliance with safety regulations and adherence to established guidelines regarding crowd safety, event management, employment of suitably qualified stewards and policing.
The Panel recommends that UEFA undertakes an emergency management review and develops guidance fully cognisant of the psycho-social dynamics of crowd safety and support.
Speaking about the findings, Professor Scraton said:
"It is difficult to comprehend the sequence of events that constituted the debacle in Paris, leaving so many people physically injured, psychologically harmed and financially compromised. Having paid inflated prices for travel, accommodation and attendance, men, women and children were subjected to unprovoked, indiscriminate police violence including tear gas and baton assaults, together with robbery at knife-point by local gangs. Many left before the match, those who stayed were subjected to further attacks by riot police and gangs on leaving the stadium and arriving at local stations. Responsibility for the collapse in authority, management and safety, lies with those organising and administering the event."
Jill Paterson, partner at law firm Leigh Day, said:
"We welcome this comprehensive report by Professor Scraton and his team which extensively examines the reported failings by UEFA and the authorities which led to the dangerous and traumatic conditions suffered by fans at the Champions League Final. The experiences of those included in the report echo what we have been told by those joining the fans' group claim and we will be examining the report's findings in great detail to assist us with the fans' potential legal case against UEFA."
Related content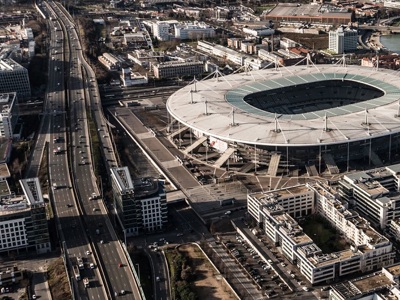 Leigh Day investigating Stade de France group claim on behalf of Liverpool FC fans
Law firm Leigh Day is investigating a group claim legal action on behalf of Liverpool FC fans, and others, who attended the UEFA Champions League final at the Stade de France in Paris on 28 May 2022.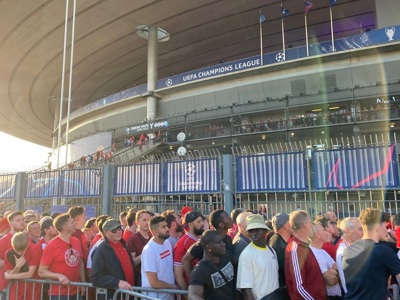 over 500
already signed up
Stade de France group claim
We are investigating a group claim legal action on behalf of Liverpool FC fans, and others, who attended the UEFA Champions League final at the Stade de France in Paris on 28 May 2022