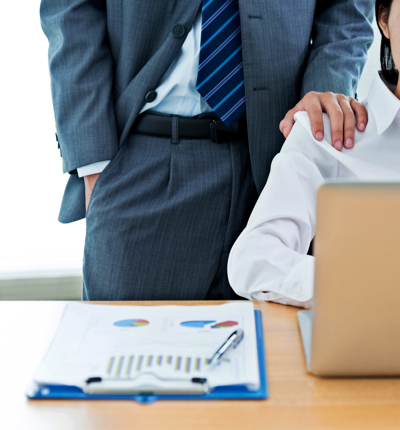 Successful personal injury claim brought for sexual harassment in the workplace
A healthcare professional has settled a claim against her hospital trust employer following sexual harassment and assaults she experienced from a co-worker.
Our client, who we have called Claire, experienced a series of incidents of sexual harassment by the co-worker, which escalated in seriousness. Like many women in this situation, she did not know how to react, trying to rationalise the co-worker's behaviour in her mind, until his behaviour became intolerable and she reported the final incident.
The assaults were distressing, traumatic and humiliating for her to experience and she expected that when she reported them her employer would take them seriously and exclude the alleged perpetrator from the workplace whilst her complaint was investigated.
However, this did not happen and when Claire queried this she was told that it would be bad for the alleged perpetrator's career; it was only after she had threatened to go to the press that the decision was taken to exclude him.
An internal investigation followed, at the conclusion of which the co-worker's employment was terminated.
Claire felt that the hospital trust's handling of the case had been inadequate and corrective action should be implemented. Claire had many meetings with her employer and actions were agreed but there were delays and drift and when it was suggested that the hospital trust's decision-making in the case should be formally reviewed by way of a Root Cause Analysis (RCA) a full year after she had been expecting this to happen, that was too much for Claire and her mental health broke down.
She was also horrified to discover – after she was mistakenly provided with a full time line of the events as part of this investigation – that hers was not the first complaint about the co-worker and the hospital trust had known of concerns about him before the incidents involving herself.
Claire raised a formal grievance which was reported on by an external investigator, and this found that the concerns about the co-worker were not adequately managed when they were first raised and that the hospital trust had not dealt with Claire's concerns appropriately.
Claire's grievance was upheld by the chief executive of the hospital trust and she also received an apology, acknowledging that she should not have had continually to raise her concerns to ensure they were heard and progressed.
The whole experience, taking place over a period of years, meant that Claire was unable to put the experience behind her. The sexual abuse and the hospital trust's poor response both contributed to her developing a psychiatric injury, which has affected her life and functioning.
We are pleased to have concluded a claim for Claire for a substantial five-figure sum, which acknowledges the significant impact on her of these events.
Leigh Day partner Alison Millar said:
"This case shows the really significant impact sexual harassment in the workplace can have and how the employer's response is so important to avoid exacerbating the distress experienced. Claire was so brave to drive the learning of lessons from her experience, motivated by a desire to ensure the safety of colleagues and patients, but this really took its toll on her and it should not have to be like that. It is vital that employers have effective policies to protect staff from harassment at work, mechanisms to enable staff to report any conduct of concern and that managers are trained to respond appropriately and effectively.
"This case also shows that a personal injury claim may provide a route of redress for workplace harassment even where an Employment Tribunal case is not possible or appropriate."