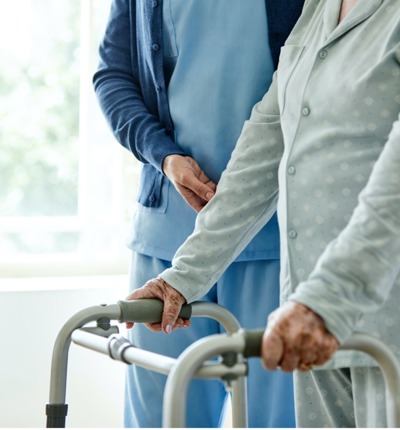 Dementia carers challenge family visiting guidance issued to care homes
Campaigners working to improve life for those living with dementia claim the guidance given to care homes over visits to family members during the pandemic is unlawful.
Posted on 09 September 2020
John's Campaign, represented by Leigh Day solicitors, has sent a pre-action protocol letter to Secretary of State for Health and Social Care, Matt Hancock, to challenge the legality of the guidance governing visits since lockdown ended, which was published on 22 July 2020.

Led by Nicci Gerrard and Julia Jones, the organisation says that in the six weeks since the government guidance on care homes visiting was published, they have been inundated with harrowing stories from families who are either unable to visit their loved ones in care homes or have visits which are so restricted that they cause more distress than they offer comfort.
 
The lack of clarity offered by the government guidance has led to many care homes implementing blanket bans on visits. The guidance puts no requirement on care homes to carry out individualised risk and needs assessments.
 
Nicci and Julia argue that those with dementia, a disability for the purposes of the Equality Act, have suffered disproportionately from the isolating effects of the lack of family visits throughout and since lockdown.

In addition to the high number of lives lost to COVID-19, statistics from the ONS published on 5 June 2020 show that during the pandemic there had been 52.2 per cent increase in excess deaths of people dying of dementia. 

Various explanations have been given for this surge but a persistent thread heard by John's Campaign is isolation, loneliness and a feeling of abandonment – people 'giving up' – and individual deterioration was particularly marked in those care home residents who had been regularly supported by their closest family and friends before lockdown.
 
John's Campaign say relatives of people with dementia, who make up 70 per cent of all care home residents, should be designated "key workers" so that they can be accorded the same access to visit their family members as paid workers. They say it is the only workable and rational approach to visiting rights for essential family carers who provide crucial practical and emotional support essential to the health and wellbeing of residents.
 
They say the guidance issued to care homes is unlawful because it breaches the Equality Act 2010 and Human Rights Act 1998.
 
Section 19, The Equality Act, prohibits indirect discrimination and so requires care homes to apply different rules for different residents depending on their personal circumstances.
Section 6, Human Rights Act 1998, pursuant to Article 14 European Convention on Human Rights prevents people being treated similarly, without justification, when they are in "relevantly different situations". 
Article 8 European Convention on Human Rights also entitles residents and their relatives to a private and family life
 Article 2 European Convention on Human Rights protects residents right to life
 Article 3 European Convention on Human Rights protects residents right to be free from cruel, inhuman and degrading treatment.
 
In their letter to Matt Hancock, Nicci and Julia say that in trying to comply with the guidance, care providers are put at risk of breaching their legal obligations to residents and their families.
 
They are calling upon the Health Secretary to urgently amend the current guidance, or publish new guidance, that underscores the legal obligation for differentiated decisions to be taken, accounting for a resident's particular disability and needs. 
 
Nicci Gerrard and Julia Jones said:
 
"For months now we have been hearing stories of suffering. Only as a last resort have we taken this step. We believe that the government guidelines have spread chaos and caused avoidable suffering, and that a fundamental violation of human rights is happening on a mass scale. Time is precious; every day counts to those people in care homes and to their family, for whom enforced separation has brought damage, bewilderment and anguish."
 
Leigh Day partner Tessa Gregory said:

"Our client has for months been seeking to highlight the risk of mental and physical deterioration faced by those with dementia if they are unable to see their loved ones.

"John's Campaign believes the current guidance on visits to care homes is encouraging blanket bans as it fails to accurately express the law and fails to advise care home on their equality obligations towards people in their care with dementia.

"Individualised risk and needs assessments are key to ensuring the rights of those with dementia are properly protected in accordance with the law."
 
If a substantive response to the letter is not received, a claim for judicial review of the guidance will be issued in the high court.

John's Campaign is crowdfunding its legal action.