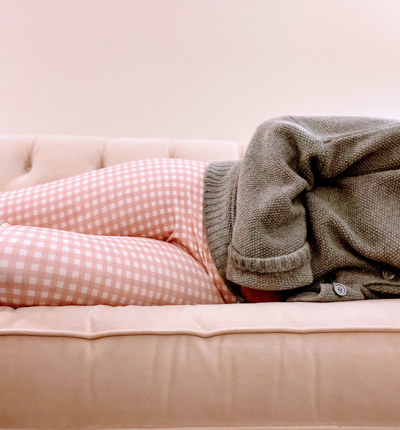 £500,000 settlement secured for woman with endometriosis which had been left undiagnosed for nearly 15 years
A woman who suffered with years of pain and was left infertile and needing extensive surgery due to untreated endometriosis has secured compensation of £500,000.
Nottingham University Hospitals NHS Trust has settled the case out of court after it admitted that a laparoscopy should have been performed in 2001 when Frances Bell was 18 years old.

Now aged 37, Frances, who lives in Mickleover, Derbyshire, first attended a gynaecology appointment with symptoms of endometriosis in 1997 when she was aged 14.

She was told she had irritable bowel syndrome and did not receive a diagnosis of endometriosis until she was 31, by which time the disease had reached Grade 4, meaning she was unable to conceive naturally and would need to undergo hysterectomy and bowel resection.
Get help today
Get in touch and we'll call you back
After a number of GP and hospital appointments due to stabbing pains in her uterus and pain during bowel movements, Frances attended a gynaecology assessment in 2001. She had researched endometriosis and pointed out that her symptoms seemed very similar to those linked with this condition, but she was not referred for a laparoscopy.

She continued to experience pain and, in 2014, after she had stopped taking contraception to prepare to try for a baby, the pain became so severe that she attended A&E. She was then referred for further assessments.

A laparoscopy was undertaken in 2015 where it was discovered that she had Grade 4 endometriosis which had spread around her ovary and bowel and caused multiple adhesions. 

Because of the extent of endometriosis, she was told she would not be able to conceive naturally and would need to undergo IVF.  

Frances will now need to undergo a hysterectomy and bowel resection which carries risks of complications. Despite surgery, she will continue to suffer with urgency with defecation and urination, chronic pelvic pain and bladder pain. She has premature ovarian failure.

Frances was represented by Leigh Day medical negligence solicitor Stephen Jones who argued that the medical staff should have realised that a diagnosis of endometriosis could not have been excluded. They should have then carried out a laparoscopy which would have led to the correct diagnosis and treatment.  

The Defendant admitted that a laparoscopy should have been performed in 2001 and that the diagnosis of endometriosis would then have been reached. It argued, however, that Frances also suffered from irritable bowel syndrome (IBS) and that it was the IBS which was responsible for the bulk of her problems rather than the endometriosis.

Frances Bell said: 

"When I was told, as a 14-year-old, that my classic endometriosis symptoms were exaggerated and imaginary, I felt forced to accept it. This led to 17 years of pain, misery, and an eventual diagnosis of infertility, which has devastated the lives of myself, my family, and my now husband: a situation that could so easily have been prevented. I have to live with the consequences, caused by a total lack of investigation by two medical professionals, who were condescending about me in letters on my medical file.  Fortunately, we had our happy ending, as our beautiful son Harry was born in 2018, following IVF. 

"Via social media, I have spoken to dozens of other women who felt they have been grossly let down in similar circumstances. Often, like me, they had diagnosed themselves perfectly, yet no one would take them seriously. I hope my story will give hope and encouragement to others, to make a fuss, persevere, and trust their own minds when they feel something is wrong."
Leigh Day solicitor Stephen Jones said:

"It was quite shocking to me that Frances's complaints were not taken seriously at the outset. She was treated quite patronisingly and as a result her endometriosis was left to become much more severe and that has adversely affected her life in many ways. 

"I am pleased that we were able to negotiate substantial compensation to reflect that and I hope that there is a more enlightened approach these days to the recognition and treatment of endometriosis."

Endometriosis UK chief executive, Emma Cox, said that Frances' story was not untypical. She said:

"Frances's story is sadly one we have heard all too often. Whilst symptoms such as chronic pelvic pain and very painful periods may be the symptoms of other conditions, they are classic symptoms of endometriosis. 

"The first NICE Guidelines on Endometriosis were published in 2017, and are clear that endometriosis must be suspected with one or more of the key symptoms – chronic pelvic pain, very painful periods, painful sex, bowel or bladder problems. 
 
"The NICE Guidelines need to be fully implemented so no one else finds themselves in the same unfortunate position that Frances has. Women's pelvic pain must be taken seriously, and the correct cause identified so that appropriate treatment can be given."