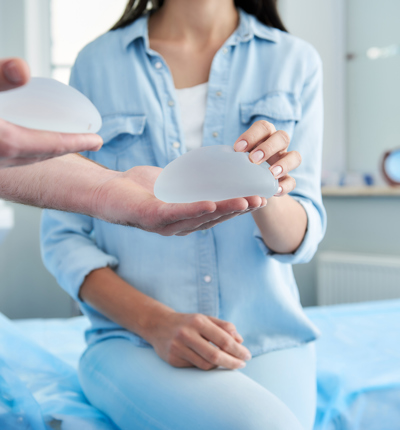 Women with Allergan breast implants considering legal action
A group of women who have textured breast implants from manufacturer Allergan are considering legal action following reports that the implants have been linked to a rare form of cancer, known as BIA-ALCL.
Channel 4's Dispatches team investigated the links between Allergan and BIA-ALCL in their programme which airs tonight at 8pm entitled Britain's Breast Implant Scandal.
 
Law firm Leigh Day is investigating a legal case and has been contacted by over 250 women who have got the implants and are concerned about possible health implications. Nine of these women have been diagnosed with the rare form of lymphoma known as Breast Implant Associated Anaplastic Large Cell Lymphoma (BIA-ALCL).
 
Leigh Day is considering bringing claims on behalf of women with Allergan textured implants who have been diagnosed with BIA-ALCL, and those who have not been diagnosed but whom are concerned about the health implications and were implanted with Allergan implants at private clinics registered in the UK. Claims are being investigated against the manufacturer and the  clinics who supplied the implants under product safety and consumer law on the basis that the women were not made aware of the risks of this rare type of breast implant related cancer.
 
Our client Julie Harris spoke to Channel 4's Dispatches about her experience of being given a late diagnosis of BIA-ALCL following implantation with Allergan textured breast implants in 2012.  
 
In December 2018, the sale of Allergan textured breast implants was suspended in Europe on account of advice issued by the French medicines regulator, ANSM, which resulted in the loss of the implant's CE safety mark. In April 2019, Canada suspended licences for Allergan implants and as a result the company announced a voluntary recall of its Biocell textured implants in Canada. 
 
The UK regulator, the Medicines Health and Regulatory Agency (MHRA) who also feature in the Dispatches programme, published an Urgent Field Safety Notice issued by manufacturer Allergan on 19 December 2018, regarding their textured breast implants. The Field Safety Notice explained that Allergan were withdrawing the textured products from the UK following the withdrawal of the products' European CE Mark.
 
Julie was implanted with Allergan Textured implants in 2012 following the removal of her PIP implants following the PIP breast implant scandal.  It was found that the PIP implants had been fraudulently manufactured with unapproved silicone gel and were prone to rupture.  
 
In the Dispatches programme Julie explains how she experienced fluid building up in her left breast, known as seroma from 2016.  She underwent multiple drainages of the fluid, which is one of the most common presenting symptoms of BIA ALCL, but despite suffering recurrent symptoms for more than 18 months, Julie only received a diagnosis of BIA-ALCL in September 2018. 
 
Julie highlights that she was not made aware of the risk of developing BIA-ALCL when she was implanted with Allergan textured implants.  She explains that her surgeon was also not aware of the risk that the Allergan implants posed.  Many of the women who have approached Leigh Day about their concerns over their Allergan textured implants have confirmed they were also not told of the risks of developing BIA-ALCL from their textured implants by their surgeons and have only found out about the condition very recently through social media and other media outlets. 
 
Julie herself is a cosmetic surgery nurse practitioner and has helped other women choose their breast implants. In that role she has supported women when they have undergone breast surgery, including implantation with Allergan textured implants. 
 
Julie's late diagnosis has meant that she has had to undergo a combination of chemotherapy and immunotherapy and she is currently undertaking a gruelling bone marrow transplant. 
 
Julie said:

"Having already gone through the scare over the PIP implants and the serious risk of harm that they could have caused to my health, I would not have had anything put into my body which created the risk of serious illness, especially cancer. It was also my job to tell other women everything I knew about the implants I recommended, but I could not tell them about the BIA-ALCL risks because I was never told about that risk myself.  I have so many feelings of guilt that other women will go through what I have been through, all because I wasn't given information to pass on to allow women to make an informed choice."
 
Product safety and consumer law solicitor Zahra Nanji also appeared on the Dispatches programme to talk about the legal options available to those who have been implanted with the Allergan implants and are now worried about potential health implications.
 
Zahra Nanji, solicitor at Leigh Day representing Julie said:

"Until very recently there has been no proper breast implant register to track who may have had implantation or to track any potential problems reported from breast implant surgery. This means that there is no reliable data upon which to monitor the safety of breast implants and to determine accurately the incidence of injury or failure of any particular type of implant. In this case this means that many women are being failed by a system which does not give them the information they need in order to make an informed choice about something which goes into and stays in their body for many years. It really is time that a proper system is put in place to proactively monitor all devices which are implanted into the body.  This will allow proactive rather than reactive action to be taken by manufacturers and will empower patients to make informed decisions about their treatment needs."
 
Individuals who are concerned about their Allergan Breast Implants should contact their treating doctors or GP.  If you or a relative have been affected by Allergan Breast Implants or BIA-ALCL and would like to discuss the matter, please contact us on BIA-ALCL@leighday.co.uk or visit our breast implant claims page.