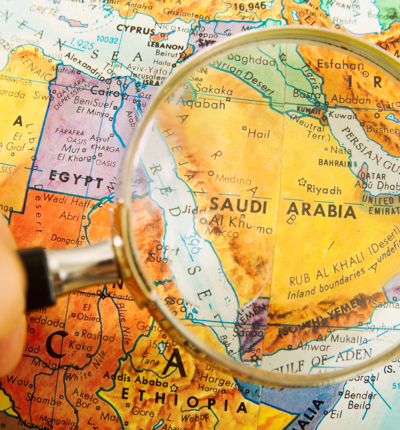 ​Legal case launched against Kingdom of Saudi Arabia for alleged use of spyware to target dissident
A prominent human rights activist and satirist who has been heavily involved for many years in campaigning for political reform in Saudi Arabia has launched a legal claim against the Saudi government alleging they have targeted him with spyware.
Ghanem Almasarir is bringing a civil legal claim for misuse of private information, harassment, and trespass to goods against the Kingdom of Saudi Arabia (KSA). A letter before action, which formally commences the legal claim, was delivered to the Embassy of Saudi Arabia in London today by his legal team from the law firm Leigh Day.
 
Ghanem is a prominent Saudi dissident who has lived in the UK since 2003. He has been vocal in his criticism of the Saudi regime and royal family, including through his videos on his YouTube channel, the Ghanem Show, which has had more than 200 million views. He is bringing his case in the UK as he was in the UK when he believes he was targeted by the spyware.
 
Mr Almasarir believes that the Saudi government used spyware known as Pegasus, acquired from the NSO Group, an Israeli technology firm working in the field of cyber intelligence, and that they infected his mobile phones with this in order to modify, extract and record all information stored on and communicated via these devices. He also believes that the spyware enabled the KSA to access the phones' microphone and camera in order to see and hear what he was doing.
 
He believes his phones were infected through text messages which looked like they had come from a reputable courier company and a news service, which included a link that when visited led to the spyware being downloaded onto the phones. Ghanem noticed that his phones would not update with latest versions of software, would become very hot and would lose battery life very quickly.
 
In December 2018, Bill Marczak a researcher at Citizen Lab, confirmed that Ghanem had been sent malicious texts containing links that, when clicked, led to domains associated with the Pegasus spyware and NSO infrastructure. Bill Marczak, who has been instructed as an expert in the case, concluded with a high degree of confidence that the state responsible for targeting Mr Almasarir was Saudi Arabia. This conclusion was reached, in part, because the operator who sent the spyware to Mr Almasarir also targeted two other Saudi dissidents and an Amnesty researcher working on Saudi issues. The same operator was the only one also found to be spying on individuals within Saudi Arabia.
 
It has been reported previously that Canadian-based dissident Omar Abdulaziz, a friend of Ghanam's, who was also in contact with murdered journalist Jamal Khashoggi, claimed that his phone was hacked using spyware he alleged was developed by NSO. NSO has also been accused of developing the spyware which was recently identified in the WhatsApp security flaw.
 
Ghanem said:

"I have frequently used my right to free speech to speak out against the Saudi regime and criticize the Saudi royal family. One of the ways I do this is to use satire, however, the KSA do not like to be laughed at.  I believe this is why I have been targeted.
 
"I left Saudi Arabia to get away from its oppressive government, however, I believe their extensive reach has followed me here and that they have used the Pegasus spyware to invade my privacy, track my movements and monitor my communications. This is not right, and I feel I must stand up to them through this legal challenge. I am bringing this case to get justice in this country because no one in Saudi Arabia would be able to make a legal case against the royal family.
 
"Everyone should have a right to their privacy and be able to live their lives freely, without interference or intimidation. It is not only my privacy that has been invaded, it is also the privacy of my family and friends and those that come to me for help to tell their stories from inside the country."
 
Astrid Perry, solicitor at Leigh Day representing Ghanem, said:

"The widespread abuse of these invasive technologies creates a climate of fear and repression and ultimately leads to a loss of freedom for us all. My client believes he was targeted for the simple reason that he seeks to hold those in power to account. He should be free to live his life in the UK without interference and intimidation from Saudi Arabia."

Martyn Day, senior partner at Leigh Day added:

"This case should send a shudder down the spine of British society, knowing that anyone in this country can be targeted. It is important that we use the laws that have been put in place to protect people in Britain from harassment and invasion of their privacy to defend against foreign regimes who seek to use technology unlawfully."

Updated at 16:00 on 29 May 2019 to add in that Bill Marczak has been instructed as an expert in the case.