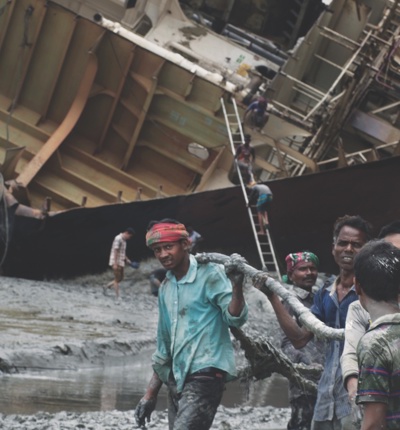 Zodiac Maritime
Leigh Day represented a 38-year-old Bangladeshi man who lost a leg and the sight in one eye whilst dismantling a ship previously operated by Zodiac Maritime, a London-based shipping company
Leigh Day represented a 38-year-old Bangladeshi man who lost a leg and the sight in one eye whilst dismantling a ship previously operated by Zodiac Maritime, a London-based shipping company.
Metal cutter Mohamed Edris was working alongside 100 others on the 19,600-tonne container ship Eurus London, managed by Zodiac Maritime before being sold for scrap, at the Ferdous Steel Corporation shipyard in Chittagong when the incident occurred.
His job had been to cut away the 40-tonne propeller with a blow torch. A large metal platform had been placed below the propeller to stop it falling into the mud on the beach. The propeller broke free and sprung back slicing off his left leg below the knee, blinded him in one eye and nearly broke his back. Leigh Day maintain that Zodiac knew the methods involved in dismantling vessels in Chittagong, yet it sold the Eurus London on in the full knowledge that it would be broken up in unsafe conditions. Mr Edris' claim has been successfully resolved.