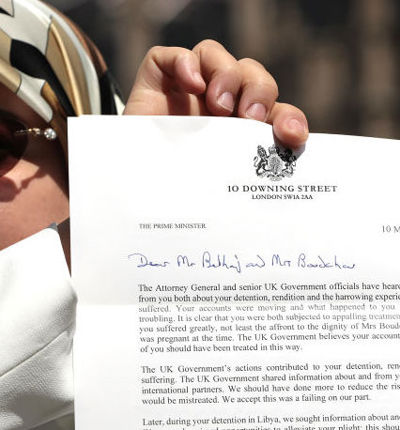 Rendition and torture
Leigh Day acted for individuals who were unlawfully transferred to Libya, with the help of the UK Government. This legal action led to an unprecedented apology by the Attorney General in Parliament.
In early March 2004, Abdul-Hakim Belhaj, a former opponent of the Gaddafi regime in Libya, and his pregnant wife, Fatima Boudchar, were detained and tortured in a CIA blacksite in Bangkok and then rendered to Libya.
Later that month another Gaddafi opponent, Sami al-Saadi, his wife and their four young children were abducted in Hong Kong and rendered to Libya. The children, who were then aged between six and 12, were utterly terrified during the rendition flight. They were held in an unlit section of the aircraft, not knowing whether their parents were on board.
Once in Libya, Abdul-Hakim Belhaj and Sami al-Saadi were both detained, tortured and subjected to flagrantly unfair trials before being sentenced to death. They were both subsequently released in March 2010.
Ms Boudchar was imprisoned in Libya for four months while pregnant. She was released just three weeks before giving birth, by which time her health, and that of her baby, was in a precarious state.
After the fall of the Gaddafi regime in Libya in 2011, confidential documents were discovered in the offices of Libyan intelligence officials in Tripoli which showed the apparent involvement of the British security services – MI5 and MI6 – in the extraordinary renditions of Abdul-Hakim Belhaj and Sami al-Saadi and their families.
These included a fax apparently sent from MI6 to the Libyan intelligence services on 1 March 2004, in which MI6 informed the Libyans of Mr Belhaj's whereabouts in Malaysia.
Leigh Day, working together with the non- governmental organisation Reprieve, issued proceedings in the English High Court in June 2012 on behalf of both families against Jack Straw (former Foreign Secretary), Sir Mark Allen (former Head of Counter-Terrorism at MI6), MI6, MI5 and various government departments.
In December 2012, the claim by Sami al-Saadi and his family was settled for £2.23 million in damages. Abdul-Hakim Belhaj and his wife offered to settle their claim for £1, but only on condition of a public apology and admission of liability. Their offer was not accepted.
In 2013, the Government attempted to get the claim struck out on the grounds that it involved the alleged acts or omissions of other states and might give rise to criticism of those states, particularly the USA.
Leigh Day successfully resisted the application. In a 2017 judgment that had a wide-reaching impact, the Supreme Court ruled in favour of allowing Abdul-Hakim Belhaj and his wife to continue their claims.
On 10 May 2018, the Attorney General, Jeremy Wright QC MP, gave an unreserved apology to Mr Belhaj and Ms Boudchar on behalf of the Prime Minister for the UK Government's role in their 'detention, rendition and suffering'.
The couple also received the apology by letter from the Prime Minister herself.
In a ground-breaking statement to the UK Parliament, the Attorney General unreservedly apologised for the 'harrowing experiences' that the couple suffered after they were detained in South East Asia before being rendered to Libya.
Mr Wright acknowledged that the UK Government had 'sought information about and from you' during the time Mr Belhaj was imprisoned and tortured by the Gaddafi regime.
Fatima Boudchar was at the UK Parliament with her son to hear the apology and witness this historic event. She is pictured above with full text of the Prime Minister's apology, delivered by the Attorney General on 10 May 2018.