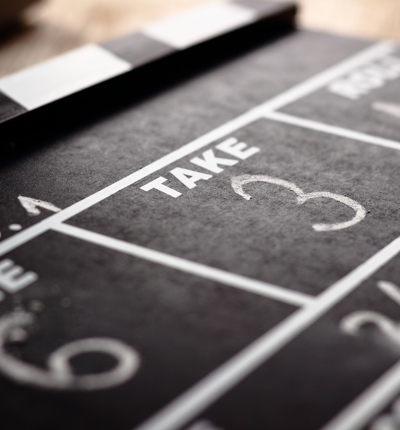 TV and film sets: Health and safety is still paramount despite the glitz and glamour
The recent tragic death of cinematographer Halyna Hutchins on the film set for Rust has brought into focus the issue of occupational health and safety on film and TV sets. Personal injury partner Ross Whalley, who specialises in health and safety cases, discusses the issue.
Posted on 29 November 2021
On 22 October 2021 it was reported that a prop gun which contained live ammunition had been discharged on the set of the film Rust, fatally injuring Halyna Hutchins and wounding another director.
The incident was not the first high profile fatal injury on a film set. In a disturbingly similar incident in March 1993, on the filming of cult film The Crow, American actor and martial artist Brandon Lee was accidentally shot and killed with a gun that was intended to fire blanks but contained a live bullet.
 
Film and TV sets may seem like glamorous and exciting places to work but they are a workplace industry like any other when it comes to health and safety regulation. In the UK, health and safety legislation applies to all work activities, whether conducted by UK nationals or those from overseas, whether employed or self-employed and even those workers not being paid. The industry uses large numbers of independent companies and freelancers and it is sometimes difficult to decide who the employer is. In the majority of cases, the employer will be the producer or production company. There is a duty upon them to provide a safe working environment for their workers, the TV and film industry being no exception. 
 
With deadlines to meet and discerning viewers to entertain TV and film sets can be fast-paced, complex logistical environments with many workers unknown to one another, confusion as to responsibilities and located across multiple environments. Having acted for various workers on film and TV sets, I have heard of cables snaking all over the floor and suspended up high, workers frantically running around doing a number of different jobs and injuries occurring from lifting, pushing and pulling heavy objects quickly. 
 
In recognition of the diverse but considerable risks posed by TV and film sets, the Health and Safety Executive (HSE) – the UK's regulatory body for workplace health and safety – has published its guidance for production companies; Health and safety in audio-visual production
 
As with any industry, there are universal key safety considerations for production companies: 
 
Risk assessments for TV and film productions
 
Whist a script provides a plan of sort, it is no replacement for proper planning of work activities, so conducting risk assessments before production begins is essential. Whether working with dangerous animals or heavy machinery, production companies must consider all risks and put in place systems to reduce the risk of injury to the lowest reasonable level. The greater the risk, the greater the onus for prior assessment and counter measures. Risk assessments in a dynamic work environment must also be reviewed more regularly to check that they are still fit to adequately control risks. 
 
The unique role of a stuntperson or stunt double brings its own risks. Encouraged by Hollywood productions, viewers are entertained by glamourised, dangerous stunts but at what cost? While playing Vin Diesel's stunt double in the 2002 film XXX, Harry O'Connor was killed when he hit a pillar of the Palacky Bridge in Prague, parasailing during one of the action scenes. Each stunt will need its own risk assessment to ensure that everyone involved is kept as safe as possible. 
 
Manual handling risks – video, technical and other prop equipment
 
TV and film sets will invariably involve heavy video, technical and other prop equipment which will need to be moved and transported. The HSE sets basic guidance for employers to follow to reduce the risk of manual handling injuries to their workers. The guidance echoes the statutory regulations of the Manual Handling Operations Regulations 1992 (as amended). Production companies must avoid hazardous manual handling operations so far as is reasonably practicable, assess any hazardous manual handling operations that cannot be avoided and reduce the risk of injury so far as is reasonably practicable. Considerations should include the weight of the load, how it is handled, who is handling it, whether mechanical equipment can assist and whether the operation needs more than one worker. Production companies also need to train their workers on safe handling techniques and ensure the working environment is safe and not cramped.
 
Electrical risks of set equipment
 
Much of the set equipment will be electrical. In the UK, all workplace electrical equipment must be PAT tested (Portable Appliance Testing) to reduce the risk of electrocution injuries through defective workplace equipment. PAT is a legal requirement as per the Electricity at Work Regulations 1989. 
 
Other common risks with electrical equipment, are slip and trip accidents. Wires and cables need to be taped down or covered and/or brought to the attention of workers. HSE statistics show slipping and tripping to be the single most common cause of major injury in UK workplaces. Again, risk assessments, hazard spotting and proper planning should be essential groundwork for production companies. 
 
Personal Protection Equipment (PPE) on TV and film sets
 
TV and film sets are often transplanted into various challenging and different locations; construction sites, climate-sensitive environments, situations at heights and involving substances hazardous to health. Personal Protection Equipment (PPE) and other industry-specific legislation and guidance should be adopted dependent upon the environment and location of the set.
 
The size and complexity of management systems for health and safety depend on the size and complexity of the production. For more complex, hazardous or specialist productions advice should be sourced from a competent external specialist. But an employer's legal duty to manage health and safety cannot be delegated.
 
While we all love to be entertained by diverse TV programmes and blockbuster films this should not be at the cost of lives or at the compromise of the safety of production workers. Be it a volunteer runner working at the start of their career to gain experience, to a Hollywood actor, every worker on set has the right to return home safely at the end of the day's shoot.
This blog was amended on 2 December 2021.