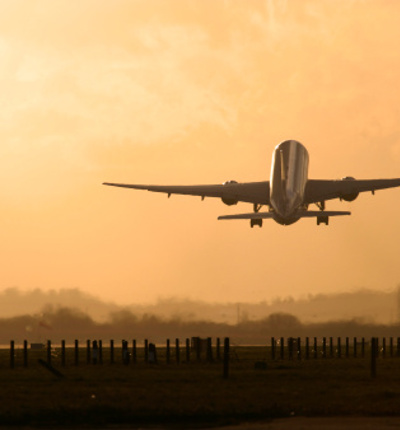 The holiday traffic light system – can I go abroad this year?
Head of our travel litigation team, Clare Campbell, answers some of your questions regarding the new rules and regulations for foreign travel for English consumers.
The UK Government has announced that as from 17th May the ban on international travel will be lifted and foreign holidays will resume under a "traffic light" system. Although the news is welcome, there are numerous rules and risks all consumers need to be aware of before booking your trip.
Below is some helpful updated guidance on consumer rights regarding booking holidays in the UK and abroad.
What is the traffic light system?
The UK Government has announced that there is a traffic light system consisting of green, amber and red destination countries. It should be noted that these rules currently only apply to England.
There will be different rules regarding quarantine, self-isolation and testing requirements upon your return to the UK depending on the traffic light status of each country.
The countries on the lists will be reviewed every three weeks. Countries can be added or removed at short notice.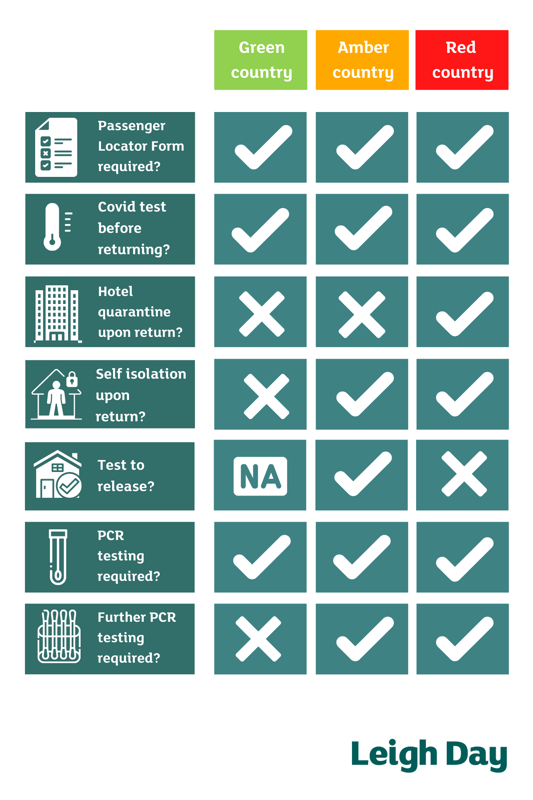 What countries are on the green list?
The current list of countries on the "green list" is limited - Portugal, Israel, Singapore, Australia, New Zealand, Brunei, Iceland, Gibraltar, Falkland Islands, Faroe Islands, South Georgia and the Sandwich Islands, St Helena, Tristan de Duna and the Ascension Island.
What does it mean if a country is on the "green list"?
If a country is on the green list, you can travel there for leisure purposes and you do not have to quarantine or self-isolate upon your return to the UK. You do however have to undertake an antigen (rapid flow) test before you will be permitted to re-enter the UK plus another PCR test within 2 days of arriving home. This even applies to children over 11-years-old.
You cannot currently rely on the NHS tests and instead you must purchase a PCR test from a government approved provider. The prices vary a great deal and can be more than £100 but it is hoped that prices will come down to make it more affordable for consumers. We recommend you check the government website to ensure that the provider is approved and the test is recognised.
How do I find out the entry requirements for my destination country?
It is worth noting that the rules are for entry back into the UK – you should also research the relevant rules applicable to your destination country. Singapore, for example, is a green country on our list but requires travellers to quarantine for 14 days after arrival. The best website to check is the government's foreign advice page.
How do I prove that I have been vaccinated?
The government have confirmed that the main NHS app (separate to the COVID-19 Test and Trace App) will be adapted to include a feature that shows when the user has had their COVID-19 vaccination. It is suggested that this will be used as a "Vaccination Passport" if this is an entry requirement of any destination country.
What happens if the green country I am holidaying in, suddenly changes to amber?
There is a green country "watch list" for destinations that may soon be taken off the green list so it is important to check this before you book. The government have warned that countries can be taken off the list with little warning, so it is important to ensure that if the rules change during your holiday you are in a position to adapt accordingly i.e. you may have to quarantine or self-isolate for a period of time upon you return. The message is simply - be cautious about travelling if you would be unable to adapt to any sudden rule changes.
Should I book a foreign holiday?
This really is a matter of personal choice. The travel industry has taken a massive hit during the pandemic and are understandably desperate to get people travelling again. As a result, many holiday companies and airlines are trying to give consumers some peace of mind and are offering flexible booking conditions and free postponements. It is really important to read the terms and conditions to see what the relevant cancellation policies are before you book.
How do I keep my money secure?
As always, we recommend that you book your holiday with an Atol-protected tour operator or agent to ensure that your money is safe should anything go wrong i.e. operator failure, cancellations. If you book your holiday with a company outside the UK, then it could be extremely difficult to get your money back if anything were to go wrong. An additional level of protection is to book your holiday on a credit card and take out appropriate travel insurance.
Can I holiday in the UK?
If you decide that you simply don't want to deal with the hassle of foreign travel this year, then you are already able to take a holiday with your household in self-catering accommodation in the UK. This extends to hotels and groups beyond your household after 17th May 2021 in line with the government's road map. Nevertheless, it is still important to ensure that the hotel or accommodation provider has a clear cancellation policy so be sure to check the terms and conditions of the contract before you book.
The return to foreign travel is much anticipated. However, we must proceed with an abundance of caution as we are only at the beginning of a long uncertain path to normality. Consumers are recommended to do their research on the destination before they book, comply with the relevant UK and foreign travel requirements of entry and re-entry, and ensure that their holiday has as much protection as possible to avoid disappointment if things go wrong.
If you have a query or complaint about your holiday then we may be able to assist. Please feel free to get in touch with our specialist travel lawyers at Leigh Day on 020 7650 1200 or email TravelNewEnquiries@leighday.co.uk