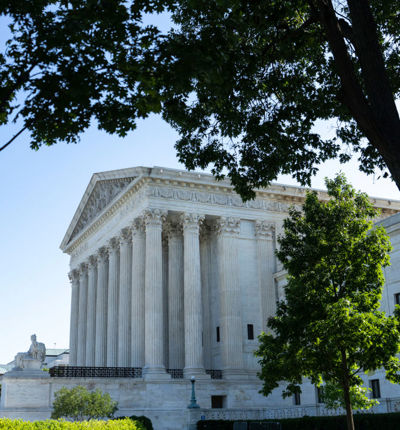 Nestlé USA v Doe: US Supreme Court bucks trend
Alex Wessely discusses a US Supreme Court ruling that it lacked jurisdiction in a case alleging links between Nestlé and Cargill and child slave labour.
In 2018, I wrote a blog on the US Supreme Court's (SCOTUS) decision in Jesner v Arab Bank. The case concerned the Alien Tort Statute (ATS), a statute many wish to use to hold corporations accountable in the US for egregious human rights violations committed abroad.
Last week, the Supreme Court handed down judgment in another ATS case: Nestle USA v Doe.
The claimants alleged that Nestlé and Cargill knowingly bought cocoa from farms in the Ivory Coast that used child slave labour. Nestlé and Cargill argued that the US courts lacked jurisdiction to hear the case. The Supreme Court found (8-1) for Nestlé and Cargill.
The judgment shows that the Supreme Court continues to interpret the ATS narrowly, hindering the ability of foreign claimants to use it to hold companies to account.
It also shows how the US is diverging from other jurisdictions in how cases involving human rights abuses committed abroad are decided.
Doe
The allegations in Doe are of the utmost seriousness. The claimants allege that they were trafficked to the Ivory Coast as child slaves and forced to farm cocoa. They were forced to work up to 14 hours a day and were whipped for not working fast enough.
The Defendants, Nestle and Cargill, bought cocoa from farms where the claimants worked. There is no allegation that they engaged in slave labour themselves. However, by providing the farms with technical and financial assistance, they were accused of knowing about and aiding and abetting the system of child slavery in the Ivory Coast's cocoa industry.
ATS
The ATS is a US statute, first enacted in 1789, which allows for US courts to hear claims brought by 'aliens' (non-US citizens) alleging torts "committed in violation of the law of nations or a treaty of the United States". To bring a claim under ATS against a US corporation, the claimant must show that:
The defendant violated a norm that is specific, universal and obligatory under international law; and
The courts should exercise judicial discretion to create a cause of action, rather than deferring to Congress.
Decision
Justice Thomas gave the leading judgment. He dismissed the suit for lacking a sufficient link to the US. Because of this he refused to exercise the Court's discretion under the second limb of the test.
The key point was that the injuries and alleged tortious conduct took place in the Ivory Coast, not America. This meant, according to the Judge, that the allegations fell outside the scope of ATS.
The claim therefore failed as being an "impermissible extraterritorial application" of the ATS. In the circumstances, SCOTUS declined to create a cause of action which would permit the claim to continue.
The Supreme Court's strict interpretation of when American companies may be held to account for abuses committed overseas is at odds with recent decisions in jurisdictions around the world.
For example, the judgment criticised the claimants for making unspecific allegations. The claimants focused on the corporate decisions to provide cash, training and equipment to the cocoa farms. These decisions were presumably made in American boardrooms. The claimants don't know exactly what was said in those meetings or documents, but placed reliance on them to establish a link to the US.
Justice Thomas disagreed. The Court held that "pleading generic corporate activity is [insufficient]. Because making "operational decisions" is an activity common to most corporations".
This implies the claimants should have identified at the outset individual decisions which they say "aided and abetted" child slavery.
Yet in England, the Supreme Court held in 2019 in Vedanta (a Leigh Day case) that it is "blindingly obvious" that internal documents held by corporate defendants, (1) will prove or defeat allegations, and (2) are unavailable to claimants at the start of a case, and won't be disclosed until deep into the litigation. If the core allegation is arguable, then it is sufficient to carry on even with these evidential gaps.
SCOTUS also refused to identify a new cause of action between the claimants and US companies. It was held that the judicial discretion to do this is "extraordinarily strict" as "that job belongs to congress". The court won't proceed if they can think of "one sound reason" that Congress would disagree.
A "reason" cited here is foreign policy. Finding for the claimants would implicate a US/Ivory Coast agreement, involving Nestle and Cargill, aimed at reducing child labour: "Companies", Thomas said, "may be less likely to engage in intergovernmental efforts if they fear those activities will subject them to private suits".
Perhaps a more pertinent question is whether companies will be less likely to aid and abet child slavery if they fear those activities will subject them to private suits. As Justice Sotomayor noted in dissent, "closing the courthouse door thus "gives rise to foreign-policy concerns" just as "invariably"" as opening it.
In comparison, in Nevsun, the Canadian Supreme Court allowed a novel claim to proceed based on an interpretation of international customary law. Combating human rights abuses, it found, is both a "moral imperativ[e] and legal necessit[y]". The Court identified a principle summarised (by the dissenting minority) as "Canada must prohibit and prevent slavery by third parties".
In Milieudefensie v Shell, the Hague District Court was unafraid to break new ground when it held that Shell owed a duty of care to protect Dutch citizens from carbon emissions.
Leigh Day continues successfully to litigate cases in the English courts on behalf of people living abroad who allege they were harmed by an English company or its subsidiaries. Far from seeing this as unusual, the UK Supreme Court has twice held that such liability raises "no novel issues of law" and depends entirely on what the parent company did or did not do when supervising, controlling, or advising a subsidiary.
It is hoped that SCOTUS one day takes a similar approach and will allow foreign victims of human rights abuses to challenge powerful companies through their courts.