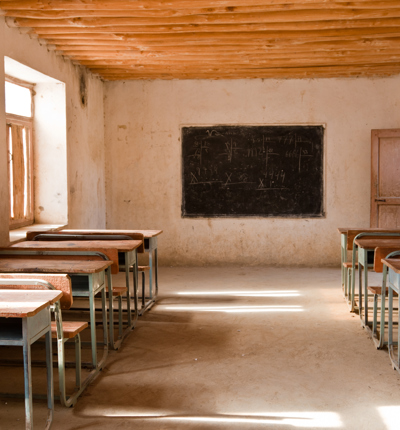 COVID-19 and child labour: what pandemic school closures mean for the world's poorest children
Oliver Holland and Anna Barr discuss the impact of COVID-19 on the lives of children in low-income countries.
Posted on 02 February 2021
Before the COVID-19 pandemic, child labour was widespread in hazardous industries including the garment, cocoa and mining industries. In 2019, the United Nations Children's Fund (UNICEF) estimated that more than one in four children were engaged in child labour in the world's poorest countries.
Several campaign groups and NGOs have been calling on companies involved to ensure their supply chains are free of child labour. However, it appears these calls are being ignored as child labour is increasing rapidly within supply chains worldwide.
According to UNICEF and Save the Children, developing countries are being hit hardest economically by the pandemic and the number of families falling into debt and poverty is increasing. In many cases, children of these families have little choice but to work. With schools closed, vulnerable children are not coming to the attention of services through the normal route of school, making it extremely difficult to protect them from working in some of the most dangerous industries in the world. By way of example:
India
Schools across India have been closed since mid-March last year as a result of the pandemic. The government has encouraged classes to resume online, but access to the internet and to online classes is dependent on location and household income. For marginalised children, poor connectivity is preventing them from learning, and for the large proportion of children who do not have any device to connect to the internet, they are being completely excluded, therefore low-income families are being affected disproportionately.
Reports suggest that many marginalised children in India appear to be going to work instead of school due to closures. In Tumakuru, children as young as six years old who are no longer in school, have been found rummaging through garbage dumps littered with broken glass and concrete shards in search of recyclable plastic to earn a few cents per hour. In Bihar, a bus carrying 70 children heading to a sweatshop in Rajasthan was recently stopped by the authorities.
In a recent interview with the Guardian, Prabhat Kumar, deputy director of child protection for Save the Children India, explained that the demand for cheap labour has risen enormously in India, as industries attempt to make up for pandemic-related profit losses. Kumar says that, at the same time, child labour is a coping mechanism for families falling into poverty during the pandemic. As schools are considered essential surveillance mechanisms, when they are closed teachers cannot identify children who are suffering or at risk of harm. Children from impoverished families who are struggling most during the pandemic are now more vulnerable to the industries seeking the cheapest labour possible.
Ghana
In Ghana, schools have been closed since March, 2020 but are due to reopen this month. Earlier last year, UNICEF noted that despite the Ministry of Education (MoE) and the Ghana Education Service (GES) launching distance and online learning platforms and lessons being broadcast on radio and TV, marginalised children have been unable to access these services.
As Fairtrade Africa recently explained, in normal circumstances marginalised children in Ghana are already vulnerable to hazardous work in the cocoa sector, and now they are not going to school, teachers are unable to identify children at risk.
Prince Gyamfi, Ghana's deputy country director for The International Cocoa Initiative (ICI), told VoA News that if the pandemic continues, there will be increased economic pressures on farming families, and ongoing school closures in Ghana mean children are more likely to accompany their parents to farms and be exposed to hazardous activities.
Zimbabwe
Zimbabwe has ratified all key conventions concerning labour, among them the International Labour Organisation (ILO) convention 138, which stipulates 18 as the minimum age for workers doing hazardous jobs. Despite this, according to the Zimbabwe Environmental Law Association, since the COVID-19 lockdown, which closed schools, the number of children involved in small-scale gold mining has soared. The Guardian reports that pandemic school closures and economic collapse are the reasons why more children are now undertaking this dangerous work.
Is there a long-term impact?
UNICEF says that previous shutdowns have shown that children who are out of school for extended periods are less likely to return.
It is worth considering the impact of school closures during the Ebola epidemic to understand the potential long term impact of coronavirus school closures, because the length and intensity of the Ebola epidemic is the only comparable health crisis in the past century for the school closures currently being experienced.
During the Ebola epidemic, schools in Sierra Leone and Guineas were closed for up to nine months.
A study by the University of Edinburgh on the epidemic found that youth in the poorest households saw the largest increase in dropout rates post-Ebola with a devasting impact that can persist for years.
Two years after being declared Ebola-free, an additional 22,000 of the poorest secondary age youth remained out of school.
Child labour is a devasting consequence of these dropouts which has been well documented by Save the Children in its Children's Ebola Recovery Assessment. This assessment found a direct correlation between school closures and increases of child labour.
It has been suggested that once a child starts working and earning even a small amount of money, they are unlikely to go back to school, and what follows then is a cycle of poverty, vulnerability and exploitation.
The current pandemic closures are not therefore simply a pause in learning, but an experience that is disproportionately detrimental to those on the margins, risking irreparable damage to millions of children.
What can be done?
The reports referred to above demonstrate that school closures and ad hoc emergency attempts at remote learning which largely evade the most marginalised are contributing to increases in child labour. Recovery for these marginalised students is therefore unlikely to be successful if all attention and resources are solely directed toward plans focusing on the immediate needs of schools and students.
Instead, a long-term, persistent effort must be established, including comprehensive financial support packages from governments to contribute to the return of the most vulnerable children to schools. There must also be a concerted effort by multinational companies that may be benefiting from these increases in child labour to ensure their supply chains are child labour free.