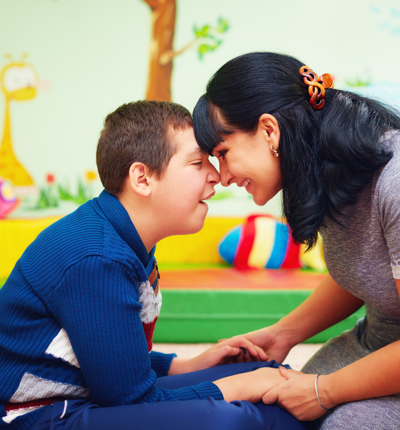 World Cerebral Palsy Day
Head of clinical negligence, Suzanne White's client, Zoe Picton-Howell explains how life during the pandemic has opened people's eyes to normal life for families living with disability.
Posted on 06 October 2020
This year's World Cerebral Palsy Day falls in the middle of the COVID-19 pandemic, a pandemic that has given people who have no personal experience of disability some insight as to what living with cerebral palsy is like for many families.

As a family, we feel that the lives that people in the UK have been living throughout 2020 echo the lives we lived throughout the 15 years of Adam's life.

The experience of dropping everything to care for Adam because he could not go to school, was normal for us.

In Adam's case it was sometimes because he was too poorly to attend school, but more often because the one-to-one support Adam needed to attend school, which had been agreed and funded, did not materialise.

So, as parents across the country have done throughout 2020, I dropped everything and overnight became Adam's teacher, (as well as his nurse and physio). But this lasted years, not months.

Not unusually for a child with cerebral palsy, Adam starting primary school was delayed for several months whilst his school placement was debated. He was absent from school for a whole year midway through primary after a decision was made, (the right one in Adam's case), by his educational psychologist to move Adam from special to mainstream school.

All the rhetoric from politicians and advice from education experts we have heard this year, about all the things children miss out upon when they miss just weeks of school, was met with a chorus of comments amongst themselves and on social media from parents of children with cerebral palsy and other disabilities, questioning why such concern is never expressed when it is children with cerebral palsy and other disabilities who are missing out on their education, as happens routinely.

Washing hands regularly, shielding and being extremely careful about who comes into your house, because of a vulnerable individual's real risk of dying was also normal for us, not due to an exaggerated fear on my and my husband Paul's part, but because Adam was immunosuppressed.  Indeed, it was a hospital acquired infection which tragically led to Adam's death from sepsis aged just 15 years.

Adam lived a very blessed and privileged life in many ways. He regularly went to the theatre, cinema, festival shows in our then home town of Edinburgh, and loved socialising with friends, family and our local community. But cancelling events at short notice, as many have had to do over the last year, was normal for us, with all the disappointment and loss of finance that incurred.  Trips anywhere took months of planning, with no certainty that they would actually happen, just like life for many today. Whenever we went out and about with Adam we always had to book and plan ahead, turning up spontaneously simply was not an option. Travelling abroad was impossible as it has been for most in the UK this year and even a simple trip to the supermarket took planning.

All this has made living through the pandemic probably easier for us than for many, the so called 'new normal' was our old normal. 

Tragically Adam is no longer with us, so we have not had the real worry so many families with children with cerebral palsy have had of their child catching COVID-19 which could realistically be their death sentence, or their child's support and routine healthcare being withdrawn as public services go into retreat.

I hope the many living the life of the few during the COVID-19 pandemic will lead to a new empathy which follows through to proper provision.

I hope COVID-19 has given politicians, the public and service providers a better understanding of how the stresses of isolation, lack of key public services most take for granted, combined with a realistic and rational fear for your child's health and safety, impact on children with cerebral palsy and their families.

I hope that as Adam wrote, all disabled children can now come out of the ghettos and fully participate in life.