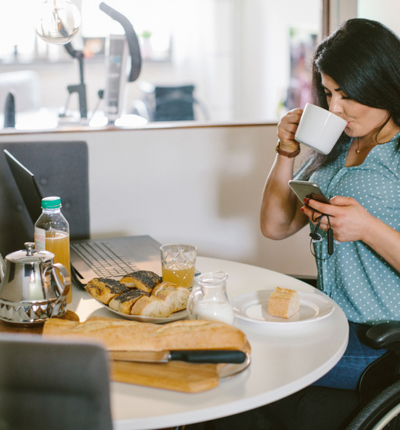 Working from home wish list for life after COVID-19
Alice Ramsay and Sonya Cassell from Leigh Day's Employment and Discrimination Department consider whether working from home could become the 'new normal' after the Covid-19 pandemic is behind us.
If we were putting together a wish list for life after the pandemic, obviously the main thing would be for everyone to be safe, healthy and well. 
 
However, we would also like to see a positive shift in how employers view flexible working requests and, where appropriate, a normalisation of working from home. 
 
Here Sonya reflects on her experience of home working over the last few weeks:
 
"Working from home has promoted a better quality of life for my family.  I believe it also helps with employee productivity.  
 
"My husband in particular has also seen a real benefit to home working since the lockdown. 
 
"He normally leaves the house at 6.15am and returns around 8.45pm.  He commutes to London to attend his place of work (as do I). 
 
"Now, thanks to working from home and the extra time available without the daily commute, he is able to make time for running during the week, and still be able to start work at the time he would have been at his desk in the office. 
 
"He has also been able to see his son more during the week as normally he leaves the house before he wakes up and gets home after he is asleep in bed.  Working from home has helped promote a better relationship between father and son, and, for us all, an overall better balance of family life." 
 
In addition to lifestyle changes such as a better work/life balance, shifting from office-based to home working can also lead to financial benefits, for example, where employees are saving costs on travel and where employers can reduce the amounts they spend on renting large offices.  
 
We accept that working from home requires an appropriate space to do so and is not possible for everyone or desired by all.  For some people, a combination of some days in a shared workplace and some days working from home suits them best. 
 
Working from home is not without its challenges.  It can be harder to keep a firm boundary between work and 'downtime' when you are not physically leaving the office at the end of the day.  In addition, people working from home may feel more isolated at times than those in the workplace.

There are, however, ways to mitigate such risks, including employers promoting the importance of 'switching off' at the end of the day and ensuring that any staff working from home can participate 'virtually' in meetings, if not in person.
 
Having tried working from home during the pandemic, many employees may now be considering whether to request home working on a permanent basis going forward.
 
Legal Framework
 
Employees with 26 weeks' service have a statutory right to request flexible working arrangements such as home working, compressed hours (for example, working a five-day week across four days), changing when hours are worked, and/or reducing the number of hours worked.

Employers have to deal with such requests in a reasonable manner, including assessing the advantages and disadvantages of the application, holding a meeting to discuss the request with the employee, and offering an appeal if the request is refused.

A statutory request can only be made once in any 12-month period and so employees should consider the proposed change(s) they are seeking carefully before submitting the request.
 
Statutory requests for flexible working must be in writing and must include the following information:
 
The date of the application
Details of the proposed change(s) to the employee's working conditions
When the employee would like the proposed change(s) to come into effect
What impact, if any, the proposed change(s) would have on the employer and how any such impact might be dealt with
A statement that the request is made as a statutory request and confirmation of the dates of any previous application(s) for flexible working.

If the employer intends to approve the request, it is not necessary to hold a meeting with the employee. If, however, the employer needs to discuss the application with the employee before granting it or is considering not granting the request, they must hold a meeting with the employee to discuss the application and allow the employee to be accompanied by a work colleague at that meeting.

An employee should also be allowed to bring a work colleague to any appeal meeting following the refusal of a statutory request for flexible working.
 
Employers can only reject a request for one of the following business reasons:
 
The burden of additional costs
An inability to reorganise work amongst existing staff
An inability to recruit additional staff
A detrimental impact on quality
A detrimental impact on performance
A detrimental effect on ability to meet customer demand
Insufficient work for the periods the employee proposes to work
A planned structural change to the business. 

Statutory requests must be dealt with by employers within three months from the date of receipt, unless the employee agrees to a longer period for the request to be dealt with.
 
If you have not worked for your employer for long enough to make a statutory request, you can still make a non-statutory request for a flexible working arrangement, although your employer does not have to go through the same process in considering the application. 
 
Six months can feel like a long time to work for an organisation before you can make a statutory request for a flexible working arrangement.  Flex for All, a campaign alliance supported by the Fatherhood Institute, the Fawcett Society, Mother Pukka, Pregnant Then Screwed, the TUC, and the Young Women's Trust, is calling for the right to request flexible working to be available from the start of a person's employment. We think this is sensible and hope that the Government pays attention to the campaign and takes action accordingly. 
 
Before the recent spike in home working forced by the current COVID-19 pandemic, there were unfortunate reports of employers taking a negative approach to flexible working requests, including requests to work from home.

According to research from the TUC in September 2019, one in three flexible working requests are refused by employers.  People submitting flexible working requests after a period of maternity or other parental leave may be particularly concerned whether their employer will respond positively or will refuse their proposal.  The Equality and Human Rights Commission found, in May 2018, that one in five mothers reported having experienced negative comments from their employer or colleagues in relation to their pregnancy or flexible working request. 
 
Employers must not, however, discriminate unlawfully when determining any flexible working requests.  An example of unlawful discrimination would be if the employer refused a flexible working arrangement because the employee making the request had recently returned from maternity leave or other parental leave.  For clarification of whether you have grounds to bring a claim following the refusal of a flexible working request, we suggest you seek specialist legal advice.
 
The Future
 
In light of the coronavirus pandemic and the Government's announcement on 23 March 2020 that people should work from home where possible, the Office of National Statistics has released some recent information on home working in the UK labour market.  The results come from a survey conducted between January and December 2019.
 
The main points arising from the survey are as follows:
Over the past five years, the proportion of people who say that they mainly work from home has increased.
Of the 32.6 million in employment, around 1.7 million people reported working mainly from home, with around 4.0 million working from home in the week prior to being interviewed for the survey.
Around 8.7 million people said that they have worked from home; this is less than 30 per cent of the workforce.

It is too early to tell what impact COVID-19 will have on flexible working practices in the UK.  We think, however, that many employees will wish to spend more of their time working from home in the future and that employers will have found during the lockdown period that home working can work well and does not necessarily conflict with the needs of the business.
 
We hope that, once life returns to normal (so far as possible), employees and employers will be able to work together to make productive and well-supported home working a lasting positive outcome from COVID-19.